Working as a Team: The Primary Care Physician and the Hospice Plan of Care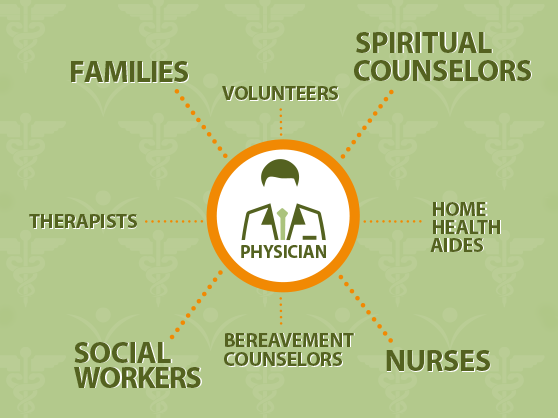 As our company prepares to transition to a new electronic medical records system, I was reviewing our care plan format with the developers and became a bit nostalgic. I remembered back (way back) in nursing school, sitting for hours and hours at my kitchen table, with a cup of hot coffee, sheets of legal-size paper, a pencil sharpener and a box of colored pencils. I was developing a "masterpiece" care plan (or so I thought) only to have my nursing instructor destroy it because I failed to comprehensively include the primarycarephysician (PCP) in the planning.
Years later, I found myself at Crossroads Hospice where we strive to ensure the PCP is part of the hospice team and the care planning process. For example, all physician orders are incorporated into the care plan. Any treatments ordered by the physician are included. We review all physician summaries, notes and history, and include any pertinentinformation written by the physician, into the care plan.
Our nurses contact the PCP with any changes in the patient's condition. This is typically done via the route requested by the individual physician. Some prefer to receive updates via telephone call, some prefer secured email while others prefer secured fax. In addition to this, the actual patient-specific interdisciplinary group (IDG) team conference summary, completed by the hospice team no less than every 14 days, is sent to the PCP after each IDG meeting.
Another way Crossroads strives to ensure the PCP is included as a team member, and as part of the care planning process, is having an open door policy that encourages the PCP to attend pre-scheduled IDG conferences. When the PCP can attend, it is enlightening for the hospice staff and the PCP, and has been tremendously beneficial to the overall care planning process.
A common myth in the field of hospice is that the PCP is required to turn the care of the patient over to the hospice medical director upon admission. This is not required and, in fact, we encourage PCPs to remain involved as the patient's "attending" from admission to departure. This not only benefits the patient, it brings a valuable resource to the hospice team. Aside from clinical expertise, the PCP typically has a unique view of the patient-family dynamic and any complications the terminal condition has caused.
As Crossroads Hospice moves into the future, we realize we no longer need colored pencils and legal-size paper, but we do need -- and want -- the PCP involved in the care planning process.
DeAnna Looper, RN, CHPN, CHPCA

Senior Vice President
of Clinical Operations