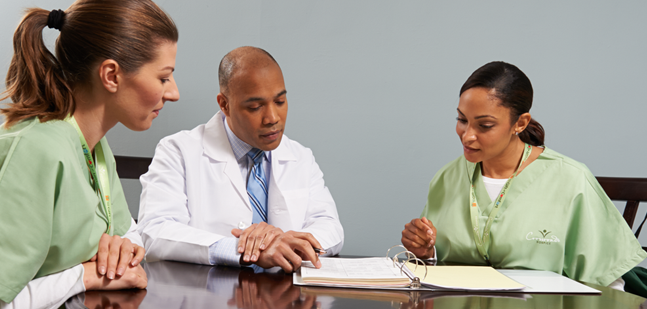 State Tested Nursing Assistants (STNA) Jobs in Cleveland, Ohio
Crossroads Hospice & Palliative Care is hiring State Tested Nursing Assistants in Greater Cleveland.
Please know that STNA aides are at the heart of the care we provide. Your contributions are what help make hospice so valuable to patients and their families. At Crossroads, we know that hospice aides are there for their families every step of the way, providing care and holding their hands in their final hours.
Crossroads is one of America's leading hospice care providers because we spend more time each week with our patients than the national average. We also offer our unique Evenmore Care program, which allows us to keep a member of our care team at bedside to provide support to patients and their families when they need it most. 
If you are ready to make a real difference in peoples' lives, join a team who shares your commitment to others, and be a part of a beautiful mission, Crossroads is waiting for you. We share your belief that in healthcare our goal is to care for others more than we care for ourselves. To that end Crossroads enthusiastically embraces all CDC, NIH, FDA guidelines and the government mandate for vaccines. If you want a home where people care for their patients and their families, caring staff and families, Crossroads is waiting for you. When we take steps to personally care for thousands of people that means thousands of people are also caring for you.
We are currently filling Greater Cleveland STNA job openings for a variety of shifts.
State Tested Nursing Assistants (STNAs) at Crossroads enjoy:
Competitive wages
Health, Dental, Vision, PLT, 401(k)
Continuing Education Reimbursement
Full and part-time schedules
State Tested Nursing Assistant (STNA) qualifications:
Must have completed an Ohio State Department of Health Competency Test from an accredited program with a minimum requirement of 75 hours of certification

3-6 months of experience as a hospice aide or nurse's aide required

Hospice or home health agency experience preferred

High school diploma or G.E.D. required
Personal transportation, motor vehicle insurance, and an unencumbered driving record.
A desire to see patients in both homes and facilities to support them with hands-on patient care.
Strong interpersonal skills to effectively interact with patients, families, and peers. 
To learn more about the current STNA job openings throughout Greater Cleveland, call us at 1-888-564-3405 or submit your resume via the simple form below.