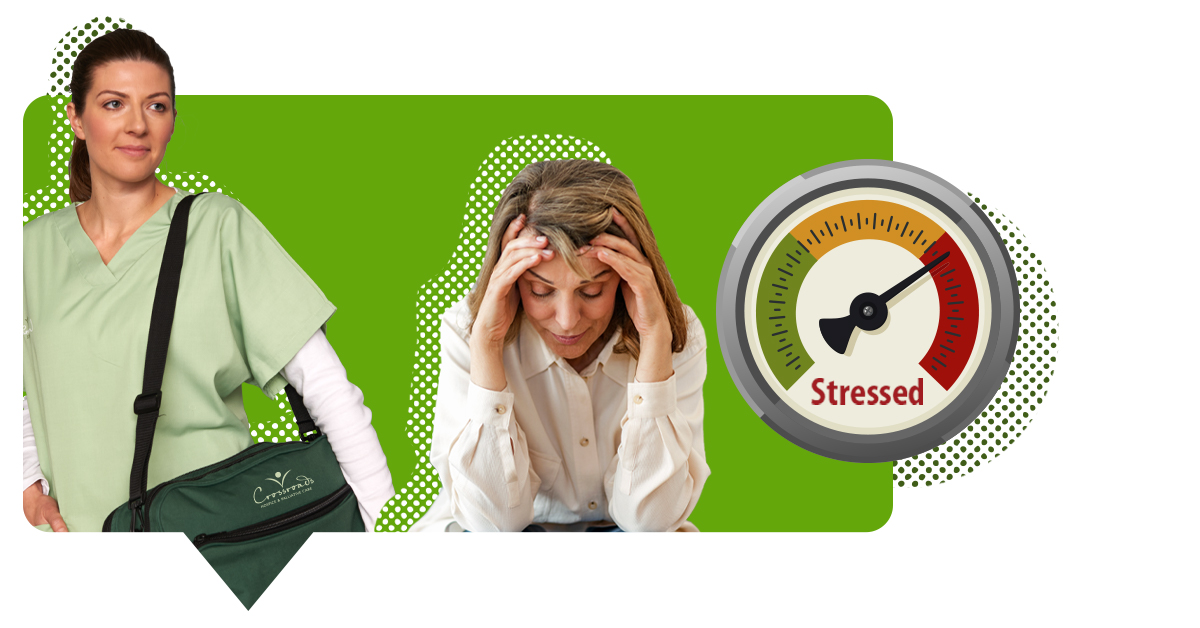 Dear Crossroads,
My mother is facing end-stage heart disease. It is emotionally devastating to watch her get through the day. It's taking a toll on me. Because I'm the only person she has, I've stepped into a caregiving role. But honestly, I'm so overwhelmed by managing her care and medications that I rarely have a moment for myself. 
Some days, I feel like I'm making mistakes that will make her even more uncomfortable, but I don't know what else to do. Since it's my mom, I'm doing whatever I can to make her feel comfortable. But I'm not a nurse. I'm nearing the end of my rope and not sure how much longer I can keep hanging on. Can Crossroads help me be a better caregiver for my dying mom?
Thank you,
Exhausted Caregiver
Dear Exhausted Caregiver,
Thank you for reaching out. I know the fear and emotions you are experiencing can be overwhelming, but I am here to let you know that you are not alone. At Crossroads Hospice & Palliative Care, our hospice team of nurses, chaplains, bereavement counselors, social workers, volunteers, and doctors are always available to provide support. We are here to talk, listen, show up, and provide emotional support during this challenging time. With Crossroads, you are never facing this alone. 
From my experience in caring for patients and their family members, it sounds as though you're experiencing caregiver burnout. This is a real and serious issue that happens when taking care of someone around the clock. It's common for family members in the caregiving role to become overly exhausted and extremely fatigued, but also to want to keep going through these challenges. I know you'd probably do anything for mother, even at the expense of your own health and wellbeing.
That's why Crossroads offers the benefit of "respite care," which is exactly what it sounds like. Respite care is a five day break for you to take care of yourself, while we do all the work. What that means is, Crossroads handles all of the logistics and responsibilities for your loved one while you take some much-needed time for yourself. 
During this time, we set up and provide transportation to your home, where we'll pick up your loved one and take them to an approved facility for hospice care. Once there, we handle all of the paperwork, including requests for medications or special needs. We also provide a "tuck in" service at the facility to make sure your loved one is comfortable and has all of their needs met. Throughout their stay, we monitor their needs and make sure they are in good hands, so you can rest without worry. Then, when the five days are over, we bring your loved one back to you. 
If respite care feels out of reach, another thing I like to remind caregivers of is the importance of taking small breaks through the day. This is something you can do right now. With just five minutes away from your daily routine, a mindful reset can go a long way in helping you destress and reconnect with yourself. Just keep it simple. Some things you might consider are going for a walk or taking a relaxing drive. You can draw yourself a bath or cook a nice meal. Some people enjoy unwinding by listening to a favorite playlist or album. The important thing here is to disconnect from the stress and take some time to experience joy, even if your loved one is in the other room.
I also want to suggest that you speak with a social worker on your Crossroads team. These hospice team members are here to help connect you to community resources or online groups that can be valuable sources of information and community. Sometimes, meeting individuals who are experiencing the same thing can help alleviate the isolation that comes with taking care of a loved one. You might even help someone who feels the way you do or make a new friend.
Remember, there's no need to feel guilty or ashamed of needing a break. Something I like to tell people is that you can't fill the Grand Canyon with a wheelbarrow. In other words, we all need help at some point in our lives. It's normal and often necessary to need help when you're caring for someone at the end of life. I have been in your shoes. I have cared for a family member while they passed away. Even with my nursing experience, I struggled with feeling overwhelmed with all there was to do. 
Don't be afraid to reach out to someone on your hospice team and ask for help. It will be for the best — for both you and your mother.  
Sincerely, 
Sam Hartsfield
Site Educator, RN MSN
Crossroads Hospice & Palliative Care
For more information on how Crossroads supports patients and their families, give us a call at 888-564-3405.
If you found this information helpful, please share it with your network and community.
Copyright © 2021 Crossroads Hospice & Palliative Care. All rights reserved.