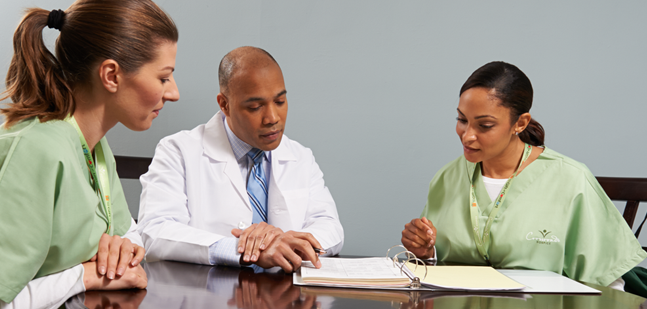 Hospice Does Not Replace Doctors – It Works With Them
The doctor-patient relationship is a sacred one. Patients put their trust in their physician during their most vulnerable moments. Whether the relationship is built over time or forged quickly in a time of crisis, it is a key foundation to patient care. That role does not end when a patient begins hospice care. Instead, hospice works alongside a patient's primary care physician to ensure all their needs are met. 
Partnering with hospice care.
Hospice care is a team effort. It begins when a physician refers their patient to hospice. Part of the referral process is an order for hospice from the patient's doctor.  
Once Crossroads Hospice & Palliative Care receives a referral, we schedule an appointment to meet the patient to confirm their hospice eligibility and begin the registration process. A care plan is developed in coordination with the patient's physician, and hospice care begins. But the key point here is that hospice patients can go to their doctors and continue to see them as often as needed. 
Hospice care is focused on keeping the patient comfortable and pain-free. These services are provided wherever the patient calls home, whether that is their family home, an assisted living facility or a nursing home. Medication related to the patient's hospice diagnosis is delivered at no cost to the patient or their family. Any necessary medical equipment or supplies related to the patient's terminal diagnosis is also delivered at no cost to the patient or their family. This includes medical equipment like hospital beds, lifts, or wheelchairs and medical supplies including bandages and continence supplies.  
In order to meet the unique physical, emotional, and spiritual needs of each patient, the hospice care team includes nurses, aides, a social worker, a chaplain, and volunteers who all make visits to support the patient and supplement the care provided by family or facility staff. The hospice care team provides updates to the patient's attending physician so they stay informed and up-to-date on the patient's care.  
In addition to this care, Crossroads provides quality of life programs to honor and celebrate the patient's life. All patients have the opportunity to create a Life Journal, a hardcover book cherished by family members which includes photos and stories from their lives. We also work with patients to give them a Gift of a Day, one perfect day where they can forget their illness while doing something they love or always wants to do. In addition, Veterans are given a Veteran Recognition Ceremony in appreciation of their service to our country.  
We're there in the final moments.
Throughout the patient's care, our hospice team works with their attending physician, adjusting medication and care plans together as the patient's needs change. 
When a patient is approaching their final days, Crossroads increases visits from the hospice team. Our Evenmore Care program is designed to allow a member of the patient's hospice care team to remain bedside in the patient's final hours, providing support to their patient and their family through this final transition. 
Because of the close relationship that many primary care physicians have with their patients, their continued involvement helps to ensure the patient receives the care they need based on their medical history. Meanwhile, the hospice team is able to bring their end-of-life expertise into the patient's residence. Working together, the patient receives the best care for their all their needs.