Volunteer Spotlight: Lory Martinez and Ellie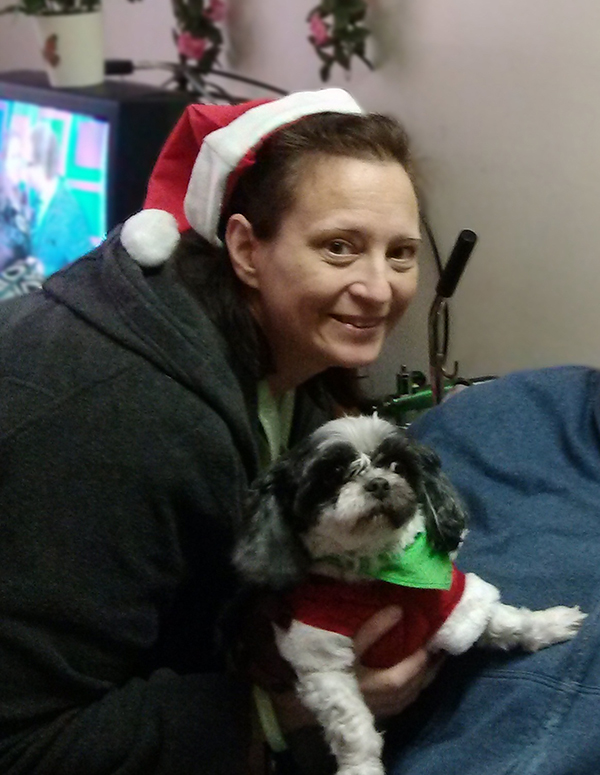 We often use superlatives when describing volunteers, such as: Great! Wonderful! The best! A god-send! The most reliable! Talented!
These superlatives are an apt description of SUPER volunteer Lory Martinez.
Lory has been with the Memphis team for two and a half years, and she has more than exceeded expectations.
Lory came to us after learning about Crossroads Hospice in a naval base publication when she was looking for employment. She was in the Air Force for ten years and brings a strong work ethic to her role as a volunteer. If there is a need, Lory will try to fill it.
She routinely participates with Crossroads in community outreach events such as the annual Nursing Home Olympics, Relay for Life, Zoo Day, and many more. Lory bakes for our patients' birthdays, veteran recognitions, and anniversaries. An extremely creative individual, Lory has made hundreds of holiday and birthday cards for our patients.
Her biggest role is visiting with her sweet dog, Ellie, at Covington Manor.  She and Ellie are regular visitors there and are a welcome sight for our patients and other residents at the facility.
Lory says she got into volunteering because she enjoys helping people and seeing them smile.
When asked what 'words of wisdom' she has for other volunteers or those considering volunteering with Crossroads, she says, "You get out of it what you put into it. It's very rewarding!"
The Volunteer Department and the entire staff of Crossroads Hospice, Tennessee, give a big shout-out to Lory!