Home Hospice Aide Spotlight: Bonnie Porter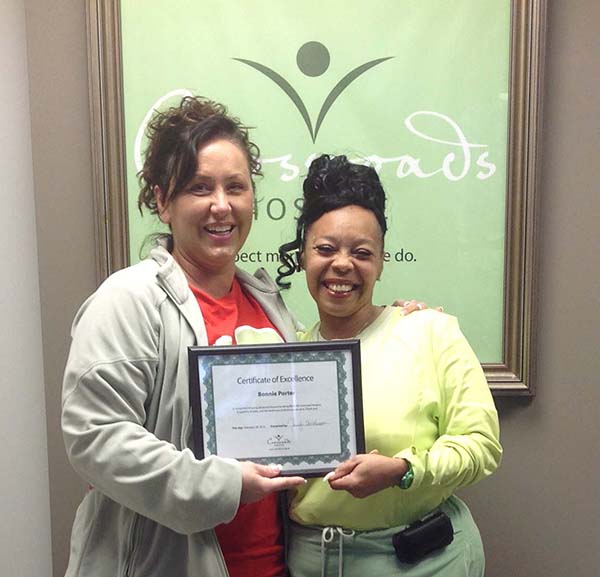 Through the Storm:
Bonnie Porter joined the Crossroads team in Atlanta after fearlessly serving patients and their families through Hurricane Katrina. A hospice aide with Memorial Medical System in New Orleans, she stayed by her patients' sides through the storm as the waters flooded the hospital floors beneath them.
"My family was not sure if I was alive for several days, but I was there for my patients whose family members could not get to their mothers and fathers," she said. "I saw a lot during that time. I was truly blessed to be there with my patients."
Bonnie was a loan officer before an experience with hospice inspired her to commit her life to serving others. "When my grandmother became ill, a hospice showed so much compassion to my family. I wanted to give the same care to others. Nobody should die alone."
Listening Ear, Comforting Hand, Caring Heart:
Bonnie enters all patients' homes with a "strong listening ear, a hand that provides comfort and a caring heart." Patients' needs are Bonnie's priority, but she has a keen awareness of family dynamics. "A family may have seven or eight siblings, but when their mother or father needs the most care, just one of these siblings may have the bulk of responsibility.  You're there to support the patient, and their family on their journey."
Bonnie goes above and beyond to make her patients feel comfortable, safe and supported.
She recalled a time when she first visited a patient with Parkinson's and dementia, who lived alone and did not have family involved in her care. "She needed to be bathed, and her house was in an unsanitary condition. I knew another nurse was on his way, but I couldn't let her stay in that situation a minute longer, so I bathed her and cleaned the house until it looked like a cleaning service had been there. I wanted her to feel to feel safe and supported, and to know that we were going to be there for her."
A Pot of Gold:  
Bonnie's goal is to make all patients smile, through gestures large and small. She shared that one of her most memorable experiences was bringing a patient a Crossroads Hospice blanket and socks because she knew she always liked to be warm. "Her Ultimate Gift was riding in a limo with her family to go out to a special dinner, but I knew she always loved to have something warm around her and wanted to bring her something extra. When I walked up to that bed, you would have thought I had a pot of gold! She sat up and wrapped her arms around me. Her husband, children and mother were sitting on the bed with her – and her mother said, 'You just don't know how happy you made my daughter."
In My Patient's Shoes: 
The youngest patient who has passed away in Bonnie's arms was just five-years-old, and the oldest was 102. "Any day, any time, I can become a patient, so I put myself in the shoes of the person I'm serving and treat them as if they are a family member. Knowing any of us can become patients is the first thing on my mind every day. I came through a storm – and I feel blessed to be here. I want people to know that life is good, and I want to help people enjoy the time they have."
Honoring Our Home Hospice Aides:
We're proud to honor Bonnie as our Crossroads Hospice "Staff Spotlight" recipient of the month, and recognize our home hospice aides across our sites who are doing more for our patients and families each day, such as: Robert Mitchell in Cincinnati; Sean Novak in Cleveland; Tina Wasmuth in Dayton; Jolene Rosenfeld in Kansas City; Betsy Riegert in Memphis; Tasha Canary in Oklahoma City; Shevelle Williams-Oglesby in Philadelphia; and Tina Jones in St. Louis.