Remembering our Veterans on Memorial Day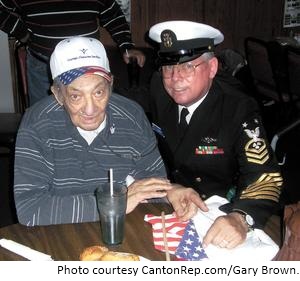 On Memorial Day, we pause as a company and as a country to honor the military men and women who have sacrificed everything to protect our freedom.
At Crossroads Hospice, we have the privilege of caring for many Veterans. To better care for patients who are Veterans, our staff and volunteers are educated and trained to provide the support they need at the end of life.
We also have the great honor of acknowledging their service through our Veteran Recognition Program.
In April, our patient and WWII veteran William Campolieto was featured in the Canton Registry.
William was drafted into the Army in 1941, but injured his knee in training and served the majority of his service in Alaska.  There, he was part of the supply team that helped get much-needed provisions to the Pacific Front.
Once the war was over, he began working in his father's shoe repair store.  For many years, William gathered with his friends for lunch to socialize, celebrate and reminisce about old times. Many of those friends, like William, were Veterans. Their shared experiences and history built a strong common bond.
For his Gift a Day, we brought William and his friends back together again at their favorite spot, the Arcadia Grill in Canton, OH. And since William's "cronies" were also Veteran's, we wanted to honor them, too.
During the party, our chaplains handed out a Certificate of Appreciation to each of the Veterans in attendance. They were all also pinned with a Service Medal of Honor. Read a touching article in The Canton Registry about this special event.
William Campolieto passed two weeks after his Veteran's Recognition Ceremony. Crossroads Hospice was grateful to be able to help honor William and his friends.
Today, we remember him and all of our Veterans who are no longer with us.