Community Nurse Educator Sherry White: A Compassionate Communicator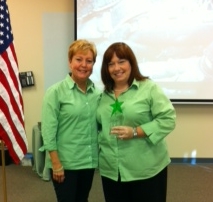 Fate Steps In
Social work and counseling were early career choices for Sherry White, but after several years caring for seniors in assisted living facilities and nursing homes, she took a cue from encouraging co-workers and pursued her passion for nursing. With the degree under her belt, Sherry began to climb the career ladder from floor nurse to director of nursing. With a knack for managing teams, Sherry was often tasked with administrative roles, but found herself searching for more.
As Sherry was preparing to send out her resume, she received a call from Crossroads Hospice, which she believes was an act of fate. Sherry was familiar with Crossroads' commitment to patients through her previous positions at nursing homes. "I still remember one of the first patients Crossroads served at my facility. He didn't have any family and Crossroads helped find someone to give him a proper funeral. We did the service right there at the facility. It was just a wonderful thing."
Upon joining the team as a nurse case manager, Sherry became a Certified Hospice and Palliative Care Nurse (CHPN) and lead staff training and orientations. Her passion for the company stood out as she built valuable relationships organizations like the American Cancer Society, National Kidney Foundations in her evolving role as a provider relations representative. In June, Sherry was tasked with a new focus as the community educator for the Memphis area, and she has since developed important connections with more than 20 are senior facilities.
Jack of All Trades
Being a community nurse educator requires Sherry to be a "jack of all trades," but she defines her primary role as helping others learn about the benefits of hospice care and options for patients and families at the end of life. While giving guest lectures at nursing schools or providing in-services to healthcare professionals at hospitals and senior centers, she raises awareness around important topics in the hospice industry, such as pain and symptom management. "We want to make sure healthcare professionals understand the benefits of hospice early so our patients can be comfortable and have access to services."
Sherry does her best to make her educational programs enjoyable by creating monthly themes along important healthcare topics. During Infection Control Month in October, she focused on flu shots, hand washing, and how to avoid infections. "Infection control is not naturally exciting, so I came up with a game for the in-service. One of the participants came up to me and said she had no idea infection control could be so much fun. That's when I know I'm doing a good job."
Doing More to Save Others
During a typical morning, Sherry provides blood pressure screenings to dozens of residents at local nursing homes – an initiative she pioneered that helps residents while fulfilling screening requirements for area facilities.
"Nobody said: 'Sherry, this is what you have to do.' My job is to reach people that I have not reached before, so I took this on as a mission," she says. Now, Sherry completes more than 300 blood screenings each month at 10 to 15 area facilities.
 In addition to serving Crossroads patients, Sherry provides necessary blood pressure screenings in underserved areas of Memphis. "We once held a blood pressure screening in a remote area that barely had any healthcare presence and I was able to help save a woman. Her blood pressure had reached a stroke level, and she didn't have a lot of education, any medication, or even a doctor. With my social work skills I was able to connect her with the resources she needed. And she is still here today."
The Ultimate Memories
Sherry began her hospice career as a nurse case manager with Crossroads eight years ago. She still looks back on her experiences with the Gift of a Day program as some of the most memorable moments of her life.
"We had a 42-year-old patient who came from a very poor family. His Gift was probably the most magical night of my life," she remembers. "We got a stretch white limo and took him to Hard Rock Café. The managers offered him anything on the menu, and while I was expecting him to order something really big, all he wanted was a hamburger. After that, we took him to a Grizzlies game. This was years ago, but I can still remember the look on his face like it was yesterday. It was like taking a kid to Disneyland."
Even though Sherry no longer serves patients directly, she continues to provide support to fulfill patients' Gift of a Day requests. "I try to help with any of the celebrations that I can because that's what it's all about – the special moments celebrating life with our patients."