Volunteer Spotlight: Finding Light After Loss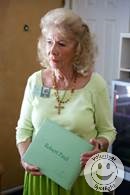 When Judi Bukaty's husband passed away, there was one thing she knew for sure. She was going to find a way to give back to those that had supported them during his final days.
So in June 2011, Bukaty signed up as a volunteer with Crossroads Hospice to serve alongside those who had taken care of her husband. "She was very happy with what Crossroads did for her husband," says Volunteer Manager Veronica Evans. "As a caretaker herself, she knew how hard it was not being able to take a break, so she wanted to provide support to other families." Now retired from her career as a real estate agent, Judi is very active in her community. She belongs to a group in Joplin County, MO that sings in area nursing homes and has brought her own sweet voice to sing patriotic songs at the Crossroads Hospice Veteran's Recognition ceremonies. As a volunteer, she has offered companion visits to patients and respite for families, as well as participating in a Gift of a Day and creating a Life Journal for a patient. "She takes her volunteer role very seriously," says Robert, a patient she currently visits as a volunteer. "You can sit and talk to her about all situations; she is a joy to have conversations with. We each share our experiences," he says. "When you talk to people, you never know who you've helped. She helps me and I help her." Do you have time you can spend with a hospice patient? Please call us at 888-564-3405 or visit our Volunteer Application to learn more about how you can help hospice patients and their families.
If you found this information helpful, please share it with your network and community.
Copyright © 2015 Crossroads Hospice. All rights reserved.