These Fab Five Care More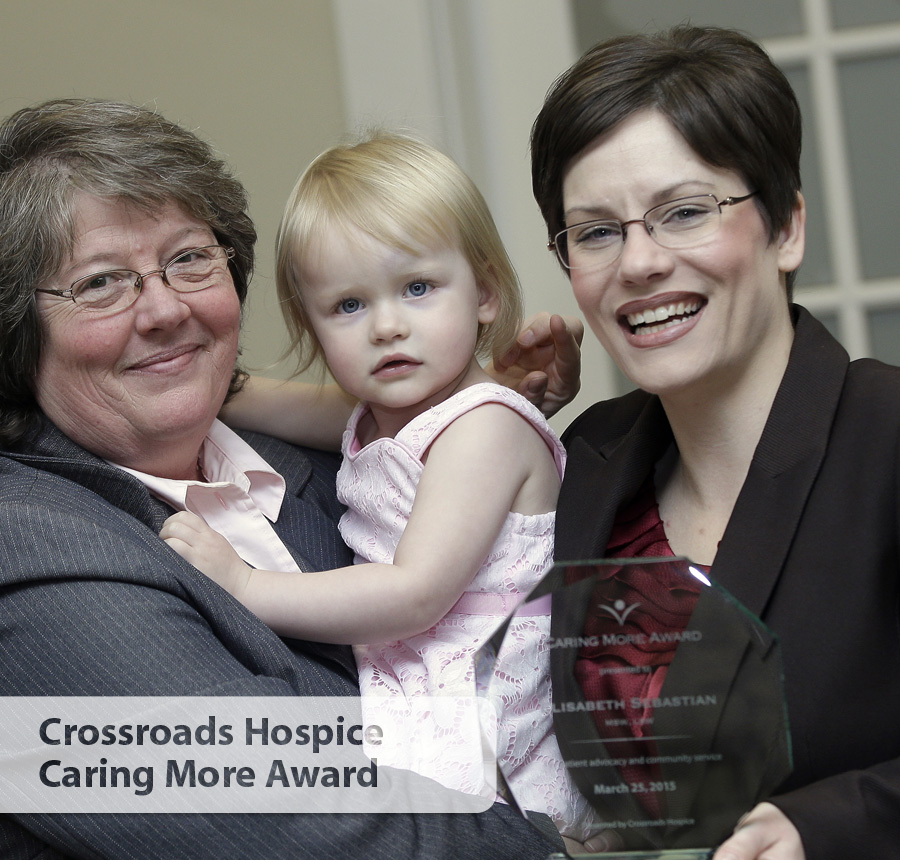 Putting Social Workers in the Spotlight
They believe that they should fight for what's right, that life's hardships make them stronger, and that they can single-handedly change the world.  The five recipients of our "Caring More Award" are truly exceptional social workers, who stand out in a field of selfless givers.  Selected from 15 finalists, each of this year's winners was recognized at a breakfast ceremony in her honor during National Social Work Month.  Surrounded by family, friends and colleagues, the winners received accolades and a crystal trophy, and Crossroads made a $500 donation to the non-profit of her choice.
Learn more about our 15 nominees and their non-profit selections.
We are happy to introduce the very special 2015 "Caring More Award" winners.
Elise Sebastian, MSW, LSW. Director of Professional Education and Outreach, The Alzheimer's Association of Greater Cincinnati, OH.
She is an innovator, an advocate and a hands-on agent of change. For the Alzheimer's Association, Elise created "NextSteps" which connects concerned families directly with the Association's clinicians.  She's on the front lines, helping some of the 50,000 Alzheimer's patients in the area navigate the system.  Her research laid the groundwork for Kentucky House Bill 440 which keeps those 25 and younger on their parents' insurance plans.  It was one of the state laws that became part of the Affordable Care Act.  Today, her voice is heard throughout the Kentucky state house as a tireless political advocate for the rights of seniors.  
"This Caring More Award, this honor, helped me recognize that my life's hardships were nothing more than a sculptor's etching tool, making me strong and carving my character," Elise said. "For each person ever touched by Alzheimer's disease, this award is for you."
Lisa Van Horn, LSW. Director of Social Services, Sunrise Pointe Care Center, Maple Heights, OH.
She's an incredibly busy woman—caring for 74 residents, raising money for cancer and Alzheimer's, cooking for the homeless and collecting items for a shelter through her synagogue.  Still, it's a priority to see each resident every day. Among her many accomplishments is a comprehensive schizophrenia treatment program that she developed for Northeast Ohio Health Services.  The goal?  Preventing re-hospitalization.  Inspired by her own mother's battle with Alzheimer's, she is a fierce advocate for patients as they navigate the Medicaid/Medicare process.
"When I was nominated for the Caring More Award, I was asked 'how do you keep doing this job every day?' I can make a difference. I can touch people's lives," she notes.  "I have always said that I can single-handedly change the world. Well, that may be setting my standards a bit high, but who says you can't reach for the stars?"

Visit our CMA Winner's Tab on Facebook
Lisa Schreck, LSW.
Social Worker
, Graton Oaks Nursing Home, Dayton, OH.
Lisa Schreck is a great example of the expression, "no job too small."  She's carried mattresses up step for her clients, created Facebook pages so they can keep in touch with their grandchildren, and every day at 3 pm you can find her taking a walk around Grafton Oaks with an elderly resident.  Her latest after-hours project:  a "music of memory" program that will offer therapy to dementia patients.  Although not in her written job description, these things are in the "job description in her mind" and make her a perfect candidate for the Caring More Award.  
"I try to find 'that something' that makes a resident feel hopeful and happy, whether it is a daily walk, a special meeting time or writing a letter," Lisa said. "I do my best every day to go the extra mile with a hug, a kind word and smiles."
Shelbe King, LMSW.
Social Worker
, Freudenthal Home Health, St. Joseph, MO.
She has a huge heart and a positive spirit, and she uses both to support anyone in her path. For the patients of Freudenthal Home Health, she works tirelessly to ensure they get the care they deserve.  She's revamped a long-term care facility's customer service program, launched a pillow drive for the residents of a small nursing home, started her church's youth group and offers her services as a certified critical-incident stress debrief and grief therapist.  The winner of the inaugural national "Community Favorite Award" voted on by Crossroads' social media community, Shelbe received $1,000 donation to her favorite charity, the Red Cross of Northwest Missouri.
"It's just plain awesome for social workers to be recognized by Crossroads for the amazing work that they do," Shelbe said. "Social workers are out there fighting for what's best for people, fighting for what they need, fighting for what's right."
Laura Lee Naron, BSW, LSW.
Social Worker
, The King's Daughters and Sons Home, Bartlett, TN.
A pillar of support for over 100 elderly tenants, Laura Lee is fiercely loyal.  No wonder she's spent 15 years at the King's Daughters and Sons Home, ensuring that each resident is comfortable and happy, even decorating their rooms with touches of home, giving haircuts when the beautician isn't available and finding Christmas presents for all. In the community, she helps to feed the hungry, participates in a 5K for breast cancer research and is heavily involved with the Tennessee Health Care Association.  
"I am truly honored to be the recipient of the Caring More Award," she said. "I want to thank Crossroads for this award and recognizing the work that social workers do."
Read more about the role of the hospice social worker.
If you found this information helpful, please share it with your network and community. Copyright © 2015 Crossroads Hospice. All rights reserved.