New Year's Resolution Idea: Become a Hospice Volunteer
As 2015 comes to a close, it's a great time to reflect on the year and think about what you want to accomplish in 2016.
It's a time full of hope and so much promise.
Realistically, though, if you've made past resolutions to lose weight, quit smoking or learn something new, you probably didn't stick to them. And you're not alone. They're among the top commonly broken New Year's resolutions.
Maybe — just maybe —  you would be more likely to stick to a resolution if someone else is depending on you. That is why the New Year is a perfect time to make a resolution to give back to your community as a hospice volunteer.
Hospice volunteers are an essential part of our team, helping to provide comfort and companionship to terminally-ill patients and their families. There is a wide variety of ways you can help accomplish this.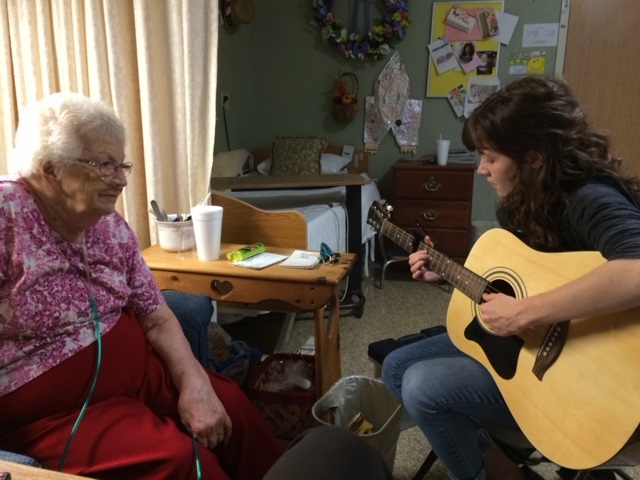 Companionship Volunteer
Companionship volunteers visit patients in their homes or assisted living facilities. These visits brighten the patient's day and give caregivers a much-needed break. Companionship volunteers spend their time reading, playing music, sharing stories or playing games.
Pet Volunteer
Is your dog howling for a chance to help? There are few things that make a patient light-up like seeing a furry friend come through the door. We welcome friendly, well-behaved pets who are up-to-date on their shots to visit with our patients. Pet visits can have a profound impact on them.
Gift of a Day Volunteer
Inspired by Jim Stovall's book, The Ultimate Gift, our Gift of a Day program gives patients and their families one perfect day. For some, it's a trip to see their favorite sports team. For others, it's a chance to relive an experience from their past. It's as unique as each of our patients. Gift of a Day volunteers help to make these events possible by providing assistance in planning them and support the day of the event.
Read stories from past Gift of a Day events.
Vet-To-Vet Volunteer
Are you a Veteran? There's no one who understands what our Veteran patients have experienced like a fellow Veteran. That common ground puts Vet-to-Vet volunteers in a position to provide invaluable support and companionship. Veterans can also participate in our Veteran Recognition Program that acknowledges the service our Veteran patients have provided to our country with a certificate and an honorary presentation.
Office Volunteer
Our busy offices are always on the lookout for clerical and administrative stars who can lend a helping hand. From the basics like filing to helping plan and facilitate events in our offices, there is always something to do. Your valuable support in the office means our staff can spend more time in the field visiting patients.
These are just a few ways to give back. Our Crossroads Hospice Volunteer Managers are waiting to match your interests and talents to the perfect volunteer position.
Click to Tweet: My New Year's Resolution: Become an @AskCrossroads Hospice Volunteer http://bit.ly/1I1t7Zk #2016 #GivingBack
Ready to get started on your New Year's resolution? Apply online or call 1-888-564-3405 to connect with a Volunteer Manager near you.
If you found this information helpful, please share it with your network and community.
Copyright © 2015 Crossroads Hospice. All rights reserved.