Meeting Willie
Hospice patient Ben Shaw's Gift of a Day included idols, autographs, and a chance to pay it forward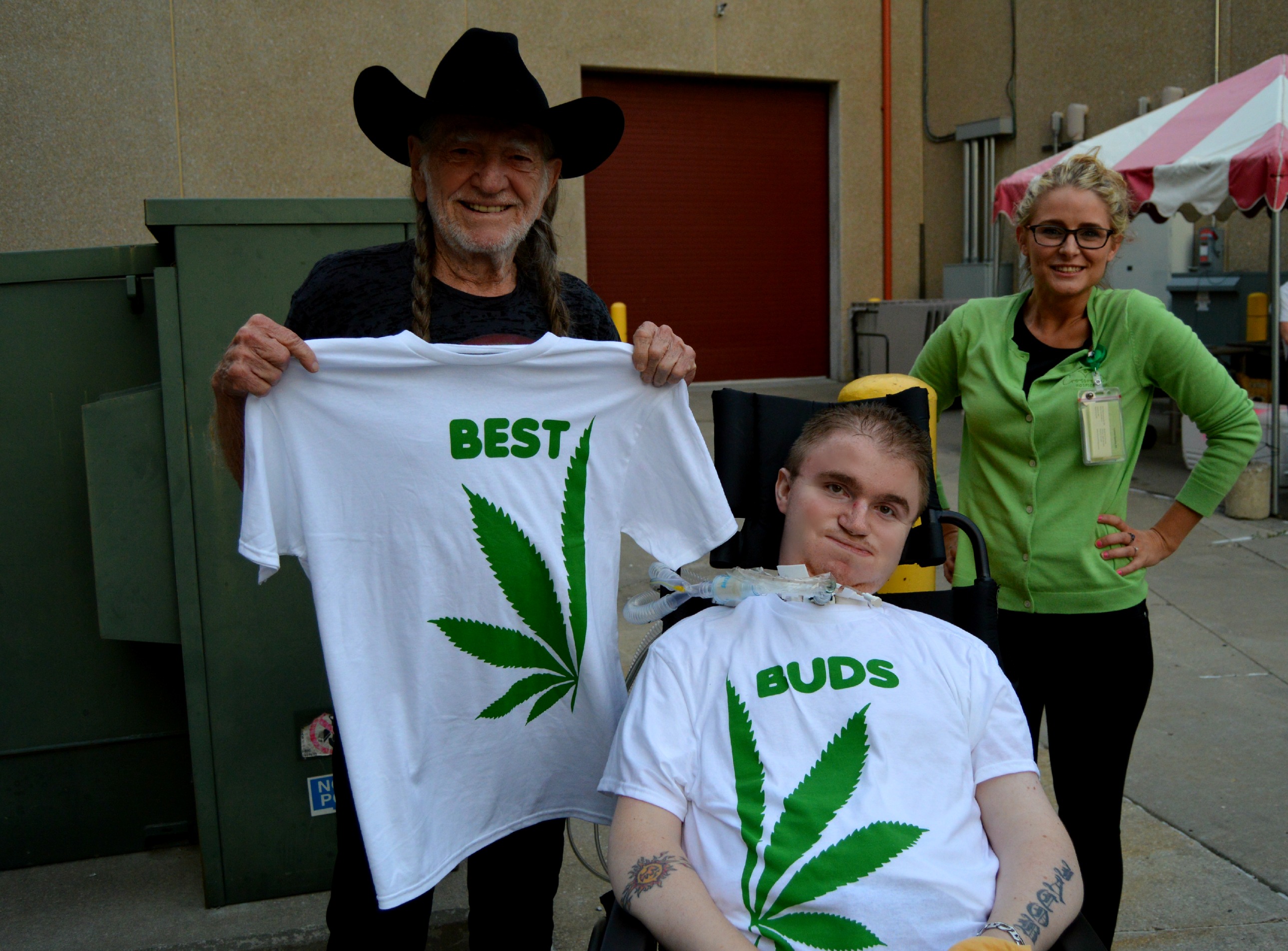 Every music fan has a secret (or not-so-secret) wish to meet their idol.
Ben Shaw, 28, a country music fan and Crossroads Hospice patient, is no different.  His wish was to meet Willie Nelson, Grammy Award winning country singer, songwriter, actor, and activist.
"We always knew that Ben was a Willie Nelson fan," said Tracy Bunch, volunteer coordinator for Crossroads Hospice in Kansas City, "because he listens to classic country music all the time."
Tracy and her team have some experience in reaching out to celebrities on behalf of hospice patients as part of Crossroads Hospice's Gift of a Day program. "The Gift of the Day provides our patients with the opportunity to experience their "perfect day," one that offers them joy during their end of life journey," said Joyce White, Crossroads Social Worker. "The event is also extremely memorable to those with whom they love."
To make Ben's dream of meeting Willie Nelson come true, his Crossroads Hospice team secured tickets to a local Willie Nelson concert from Nelson's staff.
"I've always loved the old country music," said Ben. "And Willie is an icon that anyone would want to meet."
On May 15th, Ben and his family, along with a support team from Crossroads, celebrated by going out to dinner and attending the Willie Nelson concert in Kansas City. Afterward, Ben was able to visit with his hero outside the star's tour bus. Ben gave Willie a t-shirt to match his own, and Willie chatted and signed autographs for Ben. "He's really down to earth; he hasn't let his career to go this head." Ben even got to see Trigger, Nelson's famous guitar that he's played since 1969. "It's got holes in it, but he still plays it in concerts," Ben added.
"I'll frame one of the items Willie signed," said Ben. "And one of the items will be auctioned off, after I die, so the funds can help support my nephews' life fund. I'd like to pay it forward."
And what does Ben think of the Gift of a Day program?
"I want to say that what the Crossroads Hospice staff does when they make a Gift of a Day happen is very important. It gives people [on hospice] something to look forward to. It's nice to know that if there's something in life that you want to do, Crossroads can help with that."
The Gift of a Day program asks patients what their perfect day would be. Then staff and volunteers work to make it a reality. The process begins as soon as a patient is admitted into hospice care. It brings out the best in the community, with Crossroads staff, volunteers and area organizations coming together to create special hospice patient stories. The requests have been as varied as the patients Crossroads serves.
It was inspired by Jim Stovall's novel, "The Ultimate Gift." Blind from age 29 due to a degenerative eye condition, Stovall went on to become an International Humanitarian of the Year, a national Olympic weightlifting champion, Emmy-award winner, world-renowned author and speaker.
Find out more about the Ultimate Gifts program or call us at 888-564-3405.
If you found this information helpful, please share it with your network and community.
Copyright © 2015 Crossroads Hospice. All rights reserved.