The 7 Commandments of Spiritual Care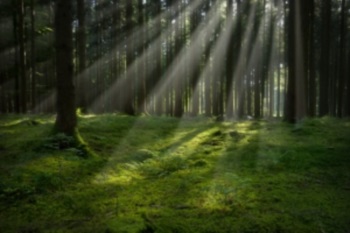 Every life is filled with blessings and hardships, love and loss, goals achieved and expectations left unfulfilled. Throughout a patient's decline, the role of the chaplain is to help the terminally ill reach a place of gratitude for a life well lived. At Crossroads Hospice, chaplains provide emotional comfort and spiritual care to our patients. Chaplains also offer grief support to patients' families, who are coping with the reality of losing their loved one. Built on a relationship of trust and respect, the following are the guidelines I use when providing end-of-life spiritual care.
THE 7 COMMANDMENTS OF SPIRITUAL CARE
1. Thou Shalt Allow the Patient and Family to TELL THE STORY
The chaplain should listen more than he or she speaks. Facts concerning a person's history are important, but the information about a person's birthplace, number of siblings, schooling, military service, marriage, children, occupation and religious affiliation cannot be truly appreciated until they are woven into "the story." Each story includes the past, the present, and yet-to-be written future. The chaplain should allow the person to describe what their story was, how the current chapter is unfolding, and what they hope their ending will be.
2. Thou Shalt Encourage the Patient and Family to REMEMBER THE GOOD
End of life it is not the time to see the glass as half empty. As people evaluate their years, they should be able to summarize their experiences as "a full life." What keeps the glass full is choosing to remember all the good in one's life. If hospice patients can count their blessings, remember all the meaningful relationships and priceless moments throughout their lives, they can die knowing the good truly outweighed the bad.
3. Thou Shalt Help the Patient or Family to DROP THE ROCK
Anna Mae was an 82-year-old woman who spent 40 years carrying an emotional rock with her husband's name on it. Charlie died unexpectedly at age 42 and left her to raise 10 children on her own. Because of her faith as a Baptist, Anna Mae said she looked forward to Heaven one day—not for eternal peace, but "to give Charlie a piece of my mind and what's coming to him for leaving me all those years!" People can become emotionally weighed down by anger and an unwillingness to forgive. Sometimes, they are determined to carry those rocks to the grave (and beyond). Chaplains can help the burdened let go of the past and to die with a heart full of love. With a chaplain's help, Anna Mae learned to forgive and died gazing at her wedding photo of her and Charlie.
4. Thou Shalt Ask the Patient and Family to EXPRESS THE LOVE
With limited days and the patient's diminishing health, there is no time to waste. Now is the time to ask for forgiveness, say "I'm sorry," "I'm proud of you" or "I love you." If possible, one should not wait for tomorrow, the next holiday or birthday to express emotions. A patient can let go comfortably if he has made peace with others and their past. Chaplains facilitate opportunities for families to reconnect, reconcile and reaffirm their love for each other. Just as the right medicine can heal the body, the right words can heal the soul.
5. Thou Shalt Remind the Patient and Family to KEEP THE FAITH
Crossroads Hospice believes in the importance of providing holistic (physical, emotional and spiritual) care through an interdisciplinary team of professionals. When clinical support can no longer provide a preferred level of comfort, chaplains guide patients and families back to their source of strength. Reconnecting to once-strong relationships—religious and otherwise—increases one's "inner strength" even though physical strength may be waning. The patient is holding on—not to life, but to someone or something greater. This brings comfort, hope, reassurance, and strength.
6. Thou Shalt Join With the Patient and Family and CELEBRATE THE LIFE
While a terminally ill patient is still with us, it is essential to enjoy the company of loved ones, to participate in favorite activities in settings that are familiar and memorable. (See examples of how Crossroads patients do this through the Gift of a Day program and Veteran Recognition program.) Even when the terminally ill patient begins to decline, it is good for relatives to retell stories and to remember what makes the patient interesting and unique. Chaplains also officiate funeral and memorial services, creating a special tribute on behalf of the family for their loved one.
7. Thou Shalt Reaffirm the Patient and Family's HOPE FOR THE FUTURE
A chaplain never imposes his or her spiritual or religious beliefs upon a patient, but supports the patient in their own faith (or decision to not profess any faith).  The patient can express what and where they hope to be, and who they hope to see. If the patient finds comfort in their belief that death will mean no more suffering, the chaplain also looks forward to that day of freedom. If the patient longs for the day in which they will see their Creator and be reunited with deceased loved ones, the chaplain also rejoices in that. Having hope that something will end or that something new will begin is a powerful force that can carry someone there.