Crossroads Hospice Anniversary: Getting Better with Age
On September 1, 1995, Crossroads Hospice began auspiciously in the living room of a small house. It was there that my family and I decided that we would enter the hospice industry. When I think back to how we began, the people involved and combined experience of zero hours (in hospice or palliative care), it's truly amazing to see what we have become as we reach the milestone of our 20th anniversary.  
My first "office" was the corner booth at a Denny's in Broken Arrow, OK. From that booth, I interviewed most of the staff that would later serve our first patients. Unaware of the National Hospice and Palliative Care Organization's policy and procedure manual for sale, we began by writing our own. After we were fully staffed and caring for our first "practice" patients, our first location in Tulsa, OK was licensed on February 16, 1996.
The hospice philosophy, as I understood it, began with two promises:
1. You shouldn't die in pain.
2. You shouldn't die alone.
I was shocked to find a study that had just been completed, had surveyed Medicare recipients and found that only one in four to one in five deaths were actually attended by the hospice provider. That was only 20 to 25 percent of the time! We committed, very early on, that Crossroads Hospice would set extraordinarily high goals, then hire staff to meet them.  
More than a few eyebrows were raised when we doubled the number of direct care staff that had been recommended by the industry, but I had learned, through earlier healthcare experiences, that compassionate people strive to do better for themselves and their patients if they know that the company is putting the patient's needs above all other considerations.
The only thing left was to decide on a high, but attainable, goal. Through careful calculations, we believed that we could be there 80 percent of the time. This was three-to-four times the average rate, but there were even more daunting questions: Was it necessary? And, if it was, how are we going to pull it off?
As to necessity, let's look at the obvious case of the family and/or the family and patient wanting to keep this experience sacred and private. We would be meeting their needs by NOT being there.  But more often than not, children may live out of town, and spouses and others may have already passed or are not physically able to be there. Many times I have witnessed patients "passing in the night" with no one to notice or hold a hand. We've all had experiences in the hospital and waiting for the healthcare staff to say "it's time."
I believe we have a tremendous responsibility and the very least I can do is to help guide a health care delivery system that comforts and eases the pain of patients and their loved ones.
Pulling it off was another issue. After missing a death in a nursing facility in Tulsa, the facility's leadership said, "We thought you were the expert!" In that moment I realized that we had to be there every day. What I was looking for was not just to swing by, but to spend an hour of providing quality healthcare every day.  
So, we set up a schedule where patients were seen more than five times a week, Monday through Friday, and left the weekend visits for emergencies. Had we scheduled only routine visits every day, we would not have been able to meet our goals of being there at the time of death or crisis. At that time, that was far from normal. Even today, our time spent with our patients is extraordinary.
Now that we've reached our 20th anniversary, have we been successful? The graph below shows the progress of Crossroads Hospice from our first license and patients in Tulsa in 1996 to the present day, with 11 locations in seven states.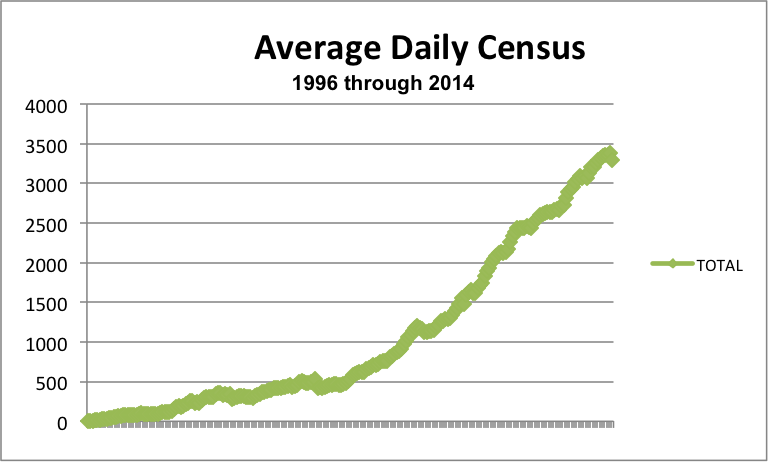 Our first promise of being present at the time of death 80 percent of the time was indeed difficult and lofty. Many of our sites routinely not only reach that mark, but surpass it. As an average across the entire nation we have always been close. However, in 2014 we crossed that mark for the entire company average. Here's a graph of the last 10 years: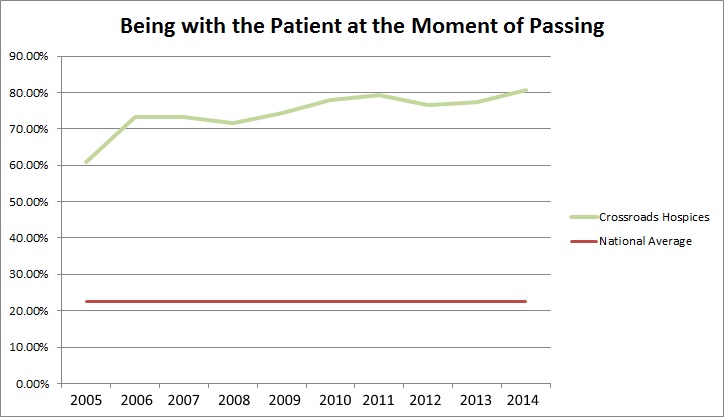 Most hospices are taught to look at what the staff does to find norms, production and quality. We reverse that and look at what the patient received to find our quality, production and norms. "It's not what you do, it's what they receive," is our philosophy in a nutshell.  So, our goal of averaging an hour a day, every day, for the length of your stay over the last 10 years looks like this:
One could argue that our growth would indicate that we're heading in the right direction with our philosophies. But to make that a fact, rather than an assumption, would mean research and a Quality Assurance and Performance Improvement program. 
To find out whether our philosophies are working, we survey our families one month after the passing of their loved one and again at 13 months. We also survey physicians and other healthcare facilities every quarter. Finally, and most importantly, we surveyed our patients 14 days after they chose to select Crossroads as their healthcare provider.  
Across all respondents and across the last 10 years, the graph below represents their responses with "10" being a perfect score.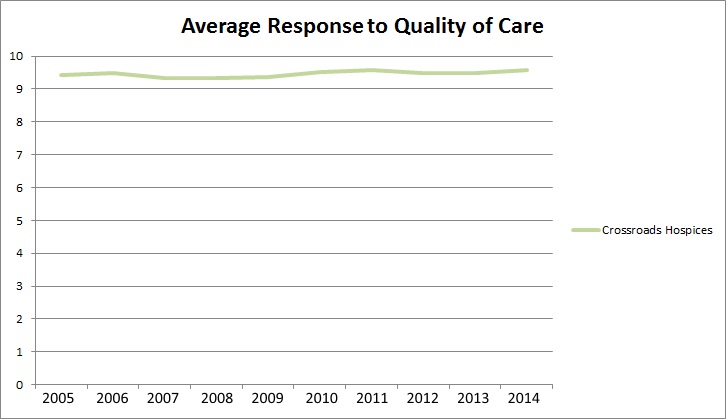 Of course, over the years, we didn't stop with those two promises or ideals. We stepped up personnel requirements along with many other specialized programs. The most recognizable program was our first, The Ultimate Gift. This program, of giving a patient a day that answered the basic question of, "If you had one day left to live, what would that day look like?" led to new care plans and new ways of improving the quality of life.  
From there, the Ultimate Gift became The Gift of a Day and spawned other Ultimate Gifts, like The Gift of Gratitude, The Gift of Giving and The Gift of Education. Other programs initiated, developed and delivered by the staff at Crossroads Hospice include:
Grief Recovery©
Evenmore Care™
Veterans Recognition
Got 45™
Happiness Hours
Vet to Vet volunteering
Getting better with age? I think so. But in keeping with our motto, "Expect more from us. We do," it's not enough to just get better at what we do. We must continue innovating, challenging and expanding our service, knowledge and programs.  
In 2016, look for the Crossroads Palliative Care program to serve patients and families when hospice isn't the answer. Also, after years of designing and testing, look for Crossroads staff carrying tablets instead of binders. Finally, a HOSPICE-designed software will be utilized to assist in handling the enormous amount work that each of our employees do every day!
To our patients and families: I want to thank you for giving us the opportunity to serve you. So many times our journey together ends very quickly. Even in those few hours or days, you have such tremendous impact on our lives. Much more than you will ever know. The staff here at Crossroads Hospice deals with death and pain on a daily basis. So much so that many people question us as to "How you can possibly do that?"
The answer is you. Your cards, your letters, your good wishes, even your tears on our shoulders, let us know that we are necessary and counted upon.
To the staff of Crossroads Hospice: For 20 years, you have given me inspiration for what one human being can do for another. Without you, there is no Crossroads. Every time I see you, you astound me with your enthusiasm and pride in your work. Continually asking "what's next" and striving to reach your highest potential, you drive me to be a better person and to meet your challenge of doing and being more. I couldn't be more proud to stand with you. Happy Anniversary.
Perry Farmer 
Crossroads Hospice CEO
If you found this information helpful, please share it with your network and community.
Copyright © 2015 Crossroads Hospice. All rights reserved.