If Hospice is an Essential Service, Why is Crossroads Banned?

Long-Term Care Facilities Lock Out End-of-Life Care Providers
Refusing deliveries of supplies and equipment.  Limiting visits to RNs only.  Requiring that one person per facility be designated to deliver care and that this individual not be allowed to see any other patients outside the facility.  
These are some of the frustrating and unnecessary barriers the Crossroads Hospice & Palliative Care team is facing on the frontlines of the Coronavirus Pandemic at nursing homes and assisted living facilities throughout our 11 locations in seven states.
While well intentioned and meant to protect residents, visitation bans have left Crossroads unable to care for patients with life-limiting illnesses too many times in the last few weeks.  
The Centers for Medicare and Medicaid Services (CMS,) Centers for Disease Control and Prevention (CDC) and National Institutes of Health (NIH)
have all deemed hospice care an "essential service."  But there's a lot of confusion about the definition of "essential service" and it's truly hurting the long-term care patients we care for.
Along with family members, hospice physicians, nurse practitioners, RNs, LPNs, aides, social workers, chaplains, and bereavement specialists are being locked out of caring for the most fragile, sickest and closest-to-death individuals residing in facilities.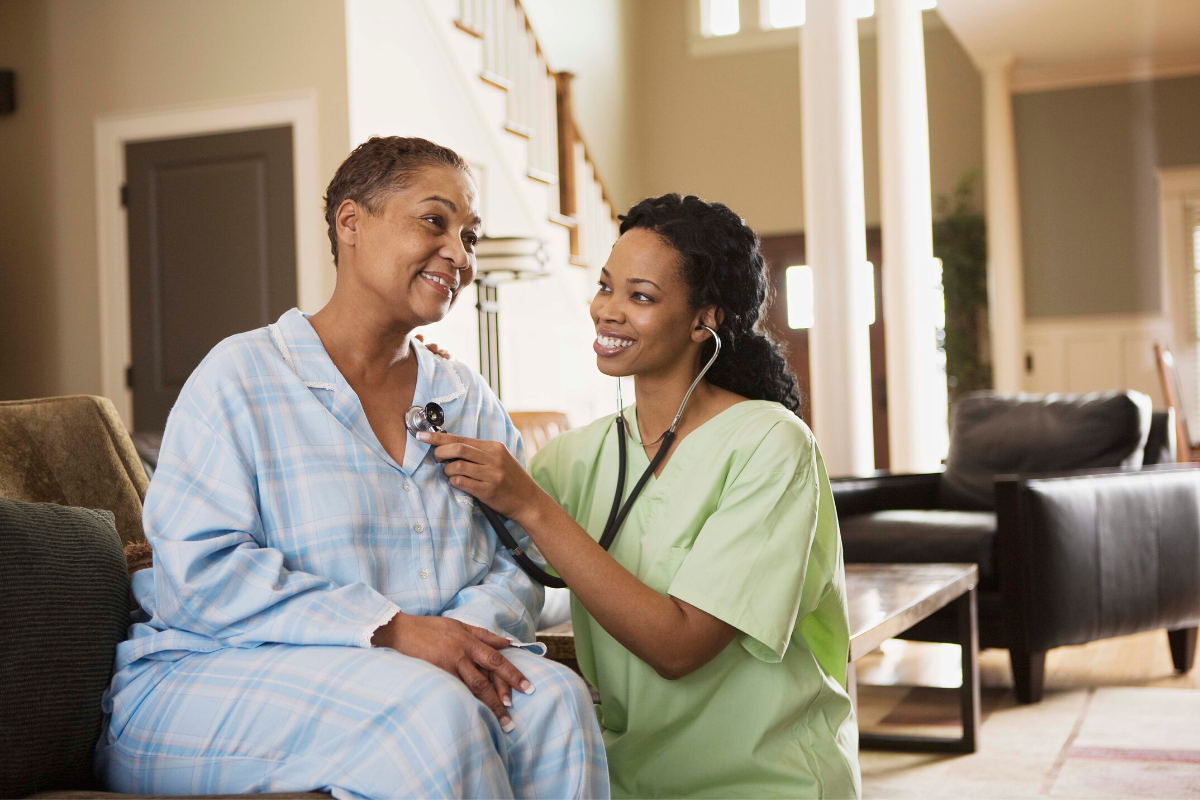 Created to Deliver Better End-of-Life Care
This is a personal pain point for me because, unlike other end-of-life care providers, long-term care facilities have been the focus of our service since we created Crossroads 25 years ago.  
As a member of a third-generation long-term care operating family, Crossroads Hospice was created as an innovative and creative pioneer in the hospice industry.  We know first-hand all of the challenges facing facilities and we also know that when left alone, no one can do it all.  Hospice doesn't conflict with long-term care, it complements it, and together we can face almost any crisis.
Because of our history, we are passionate about and understand many of the conflicts that facilities face when partnering with a hospice.  One of the hardest concepts for nursing home operators to understand is that because of Medicare capitation and regulations, the hospice, not the long-term care operator, is given the responsibility for all medical management.  In Medicare's eyes, it is the hospice that balances the patients' safety against the need for in-person visits.  Where the patient resides does not relinquish or change that, but many operators don't understand this or won't accept it.  
We recognize each person we serve in a nursing facility is also a legal resident, not a patient. Because they are residents, they have additional rights added to the Patients' Bill of Rights.  As a hospice we need to respect the facility as our patients' home and treat it as such.  The only difference is that since the resident has elected to receive services at home, the two providers, Crossroads and the long-term care facility, must come to an agreement.  Each must treat each other with respect and understanding.  
At times, long-term care facilities act as residents' primary caregivers.  Because hospice provides primary caregiver support, giving facilities as much support as possible is not just helpful, it's actually a focus of hospice.  Of course, fear of this Pandemic may be affecting facilities' staff and their willingness to even come to work.  I think most would agree that this isn't the time to limit help. This is the time to accept as much support for those at the end-of-life as possible.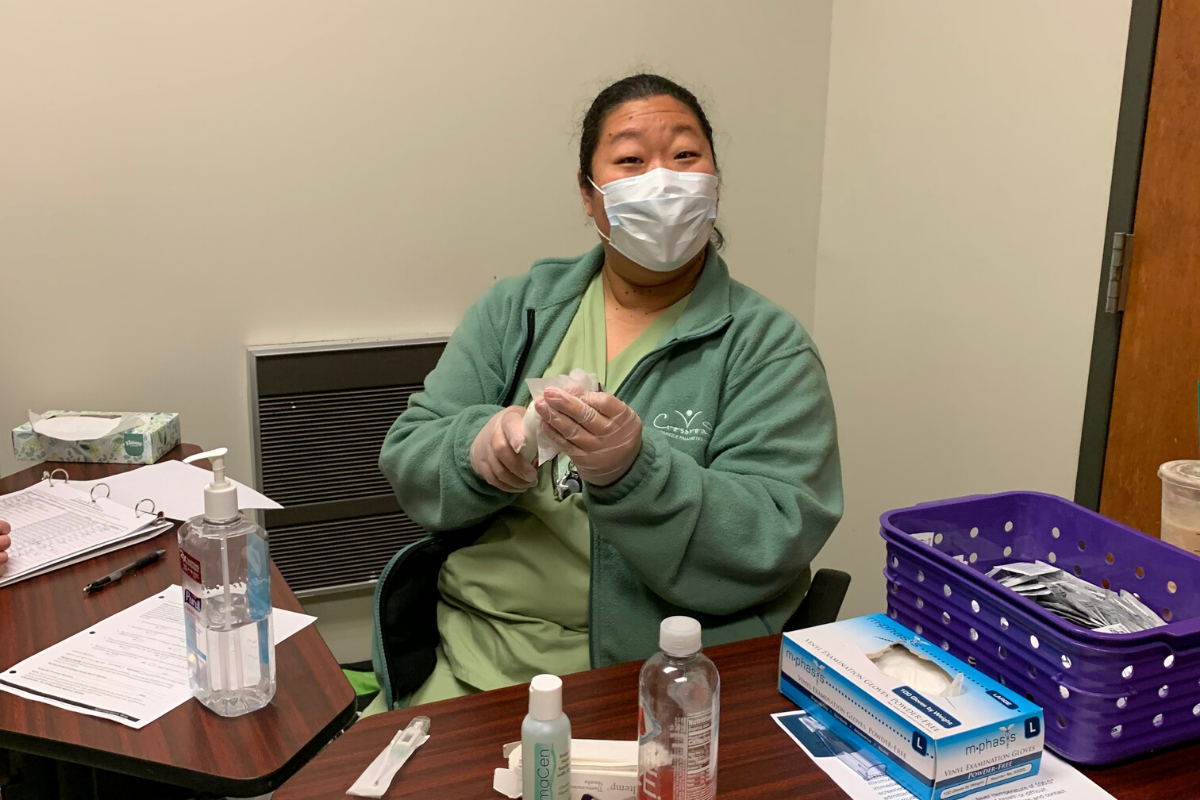 Every Employee Screened Daily
In case there was any doubt, Crossroads follows all the Laws stringently in the way you would expect from a responsible leading healthcare provider that serves both patients at facilities and in their homes:  
We screen every employee every day.  This screening interview and daily responses can be provided to any facility that requests it. 
We make use of Telehealth when necessary or when indicated.
Direct care staff are restricted from being around 5 people at a single gathering.  They no longer gather daily in the office before and after seeing patients. 
Direct care staff will stay 6 feet away from patients and families unless performing hands on care.
Sadly, COVID-19 has put compassionate end-of-life care directly in opposition to resident and staff safety.  What is the answer?  How can residents receive the care that they are legally entitled to while at the same time respecting facilities' emergency management procedures and standards?  My answer is that we have to collaborate on solutions in partnership together.
Our country and the world are facing one of the most dramatic events in our combined history.  As the COVID-19 outbreak continues across the U.S., please join me in imploring facility administrators to leave their doors open to hospice personnel so we may continue caring for those who need it most at end-of-life now.  This Pandemic should not prevent Crossroads from delivering desperately needed end-of-life care.
Perry Farmer
CEO and Founder
Crossroads Hospice & Palliative Care