Gift of a Day Program Improves Quality of Life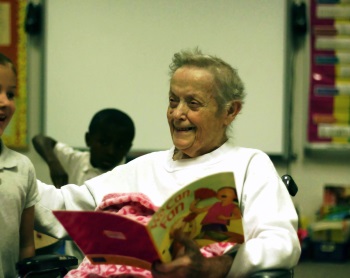 The Gift of a Day is one of Crossroad Hospice's signature programs, and it's beginning to get academic recognition.
Inspired by Jim Stovall's book, The Ultimate Gift, we ask all Crossroads Hospice patients: "If you had one perfect day, what would it look like?" Since the program began, we have helped hundreds of patients enjoy touching Gift of a Day events, ranging from special family dinners to musical performances and unique activities like helicopter flights and meeting a favorite performer.
Recently, two academic articles took a closer look at the program.
Robin Lennon-Dearing, PHD, MSW, wrote about one of our events in the National Association of Social Workers Aging Section Connection, in an article titled "Activities Can Provide Emotional Support for Terminally Ill Clients." In this article, Lennon-Dearing noted that "many clients experience growth toward self-actualization at the end of life, inspiring those around them in the process."
One such person was Katherine Macre. A former elementary school teacher for children with learning disabilities, she wanted to go "back to school." Her care team arranged for Katherine to visit an elementary school where she worked with kindergarteners, reading to them and giving each child special attention.
In her article, Lennon-Dearing observed: "Activities and interventions that address clients' emotional needs at end of life are vitally important…Helping terminally ill individuals identify priorities for the end of life should be an integral strategy in developing client-centered care plans."
Another academic article, Embracing Life: The Gift of a Day Program, authored by Thomas McAdory, Susan E. Elswick, Robin Lennon-Dearing, Deanna Nick, Alice Edis, Jame Scott and Jennifer Maley, sought to measure the impact of the program on patients' quality of life and found that "participating in activities that are pleasurable and personally meaningful may improve clients' emotional well-being at the end of life."
Some events that they noted included Katherine Macre's classroom visit and a unique Gift of a Day planned for Jerry Brelsford, who wanted to attend his own Irish wake.
In evaluating the program, they found 30 Crossroads Hospice patients who had participated in a Gift of a Day and received completed surveys from 13. While the sample size was small, they found "significant improvement of the clients' self-rated emotional state after the Gift of a Day event."
They went on to note that "providing clients and families the 'extra' service of the Gift of a Day program requires greater staff time commitment to plan, implement and evaluate. Yet, it has been a 'gift' that is appreciated by both the clients and the interdisciplinary team. It offers clients the opportunity to have a meaningful experience that adds breadth and depth to their hospice experience."
At Crossroads Hospice, we see firsthand the effects these days have on patients and their families on a daily basis. Their perfect day is our perfect day.
See more Gift of a Day stories here.
If you found this information helpful, please share it with your network and community.

Copyright © 2015 Crossroads Hospice. All rights reserved.