Rain Delay is OK: More Time for Family at a Cardinal's Game
It was my first Gift of a Day as a nurse case manager at Crossroads Hospice, and I was thrilled to be taking Curtis Bryant and his family to see the St. Louis Cardinals play the Cincinnati Reds, complete with access to the UMB Champions Club.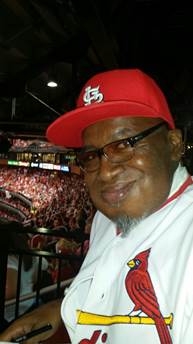 Taking his family to see the Cards play was Curtis's idea of a perfect day. And, because Crossroads Hospice is committed to providing that perfect day to our patients through our Gift of a Day program, Curtis was going to host that event in style. Joining him were his wife, Alissa, and his son, Manuel, and the whole family sported Cardinals' jerseys. (So did I!)
I was nervous and excited because this patient and family were so kind and I wanted to insure they would have a good time. We ignored the rainy weather forecast because we were all determined to go and have fun. When you are a hospice patient, you are acutely aware of the limits to the time you will have to make a memory, let alone undertake an outing to a stadium full of steps and crowds.
The first pitch was good; the game was on. Two batters into the first inning our weather-luck changed and the sky opened up and it began to pour! Buckets of rain. Sheets of rain. Torrents of rain. Fans were advised to seek shelter immediately.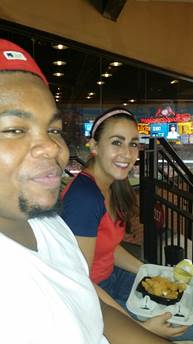 But the Bryant family was not to be deterred. We sat it out, watching the tarp be rolled out over the field not once, but twice, teasing us each time. My hope began to dwindle that we'd get to see a whole game. Curtis was undeterred. The Cards would play, and he would watch the game, in the stadium, with the people he loved most.
As if acknowledging Curtis' positivity, the rain stopped as suddenly as it started. The tarp was removed and the game was on.
We had such a fantastic time together. To see my patient's family so loving with one another and having such a grand time was incredibly special. I know that this afternoon at the ballpark will never be forgotten by Curtis, Alissa, and Manuel, and it will forever be instilled in their memories as a precious time.
As hospice nurses, we are part of a very personal journey with each of our patients. It's one of the things that sets hospice nursing apart from other careers, and one I cherish. But helping to create and then be part of this day, making a dream come true and sharing happiness with the Bryants was an honor and a blessing to me.
I am so very proud to be part of Crossroads Hospice…and even though the Cards lost that day, it was a win for our little group of fans.
Natalie Chudoba, RN , BSN
Nurse Case Manager
Crossroads Hospice
St. Louis, MO