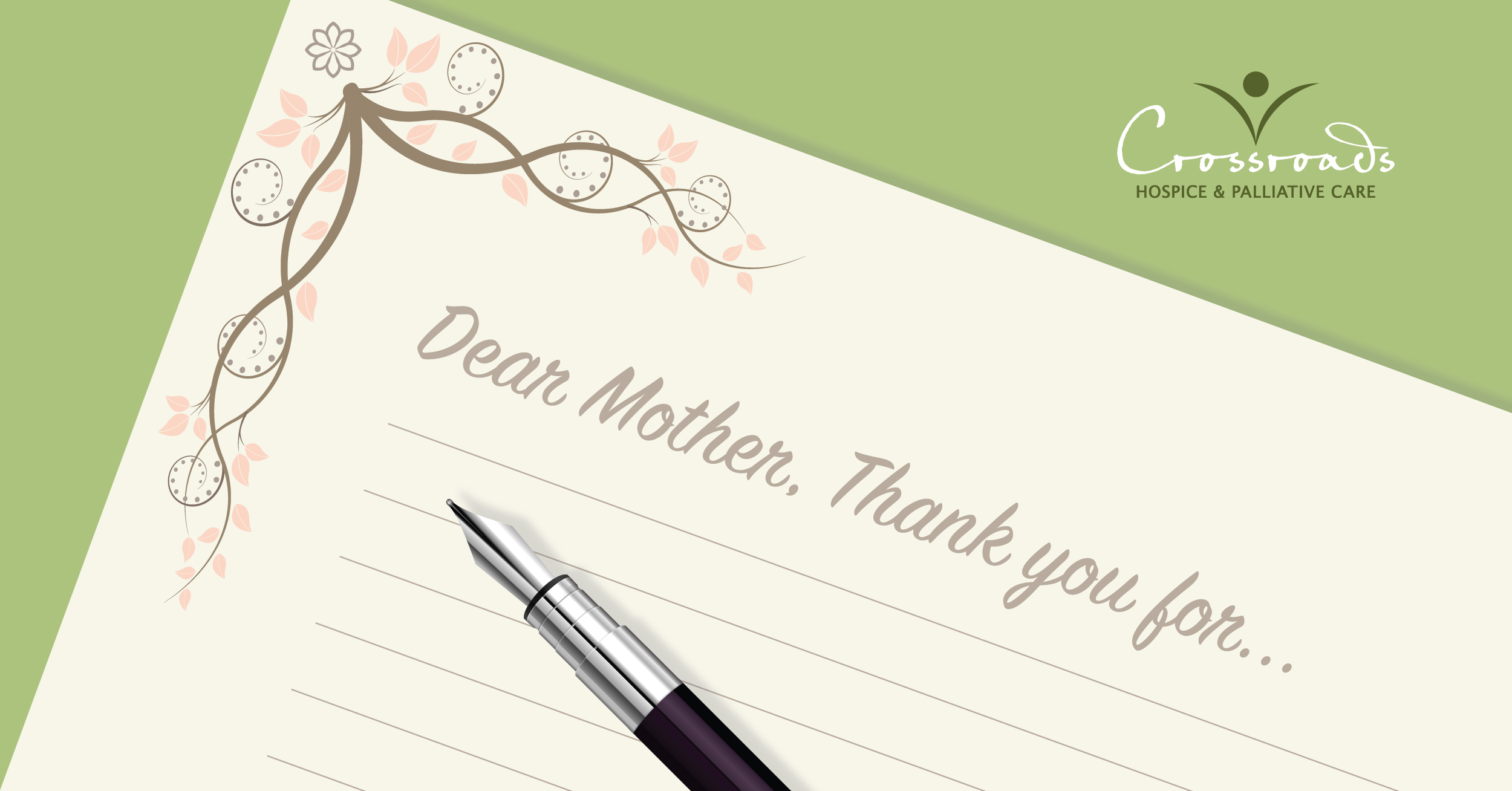 Every May, many people face Mother's Day having a deceased mom. The day can be difficult for some people. Sharing messages and stories can help change this holiday from a time of grieving to one of warm remembrance.  
We asked members of our Crossroads Hospice family who have lost their mothers to share their Mother's Day messages for their deceased moms.
Just One More Day
"If I had just one more day . . ." is a common thought among people who have lost a mother, especially as Mother's Day commercials are shown on television and greeting cards are on display at the store. If you have a deceased mom on Mother's Day, it can be a reminder of how you'd give anything for just one more day with her.  
"Every day, I try to use the good counsel she gave me in my daily walk. I underestimated all the love and sacrifice from her in the short life I had her with me. I would tell her I think she would be proud of me and that if she were in Africa, I would walk all the way there to see her just one more time." - Jean Harrison, Executive Director
"For the past two years I have been wishing for just one more day with my mom. She was a caring, supportive mother, my best friend and a gracious lady. I would love to reminisce with her about all the amazing trips and adventures we had together. She knew how much I loved her but it would be wonderful to be able to tell her one more time. I love you, Mimi."  - Vicki Noble, Clinical Director
Lessons for the Next Generation
For many people, this holiday is a reminder of what they didn't get to say their mom before she passed away. These Mother's Day messages for deceased moms reflect the gratitude that can only be felt toward an amazing mother.
"I would tell my mom how proud I am to be her daughter, and that I wish with all my heart that she would have had the pleasure of meeting her great grandson Charlie." - Micki Ferrando, Assistant Executive Director
"I would thank my mom for everything she did for me growing up. She instilled a work ethic into me to pass on to my children. I now appreciate what she did for me, which I could not understand as I was growing up. I also would thank her for being so patient throughout my growing up process." - Scott Christ, Executive Director
First Mother's Day with a Deceased Mom
Every Mother's Day with a deceased mom is hard, but the first one is likely the hardest for many people. It can be a time of reflection for the recent passing and hopefully some comfort, knowing that you stood by your mother at the end of her life.  
"This is very difficult since I just recently lost my mother in December 2015. There are several things I would like to tell her. First, I would tell her how much I love her and appreciated all the things she did for me and my family, even though I would get agitated with her stupid little quirks that I truly miss now. I wish my mother knew what a wonderful company I work for, Crossroads Hospice as their Clinical Director, and the wonderful support she and I have received during and after her passing. I would want her to know I did my best to make her as comfortable as possible, which I promised her, during her journey. I consider myself an excellent hospice nurse but when it is your loved one it is a different ballgame. This is when I knew I made the best career decision ever going back to school and becoming a nurse. I knew she was proud of me because she would call me with every ache and pain, which I miss. I hope she knows how much I truly love her and how privileged I am to work alongside the best who provide the best end-of-life care." - Kimberly McElwee, Clinical Director
If you're facing a Mother's Day having a deceased mom, consider this: What message would you have for your deceased mom?
If you're interested in learning more about the hospice program offered by Crossroads Hospice & Palliative Care, call us at 1-888-564-3405.

If you found this information helpful, please share it with your network and community.
Copyright © 2016 Crossroads Hospice & Palliative Care. All rights reserved.