From Hospice to Harley: A Final Motorcycle Ride Results in a Perfect Day for a St. Louis, Missouri Hospice Patient and Vietnam Vet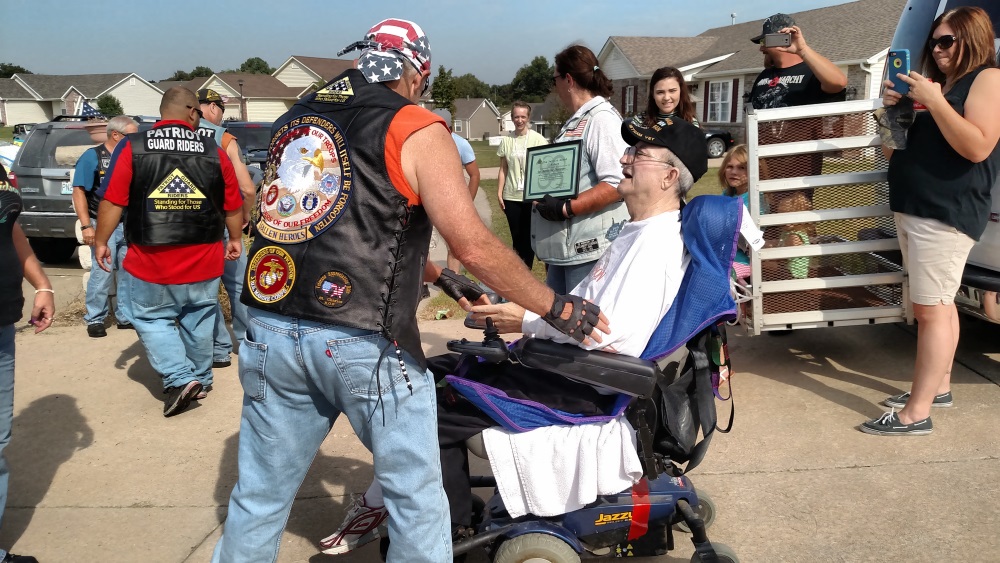 Benny Thompson is a proud U.S. Army Veteran who served his country as a sergeant and artilleryman during the Vietnam War (1971-72). He is also the father of two, grandfather of eight, and great-grandfather of five.
In addition, Benny is an avid fan of motorcycles. In fact, prior to a stroke that he suffered about a decade ago, he and his wife, Wanda, had planned to buy a bike and tour the country together.
That was a big reason why a recent tribute – which included a motorcycle motorcade led by members of the Patriot Guard Riders and some of his former military friends and colleagues – was so special to him.
Motorcycle Motorcade
Benny's Gift of a Day wish was to once more ride on the back of a motorcycle. So on Sunday, September 25th, Crossroads Hospice arranged a perfect day for him. Fellow military Veterans from the Patriot Guard Riders came from miles around to meet Benny and his wife at his home. For safety considerations, rather than strap him in on a motorcycle, they instead opted to transport Benny via van for the mile-long parade, complete with an escort provided by the local Troy, MO, police force, to take Benny to a local park to meet several dozen family members, friends, fellow veterans and former coworkers for a celebration of his 68th and what will most likely be his final birthday.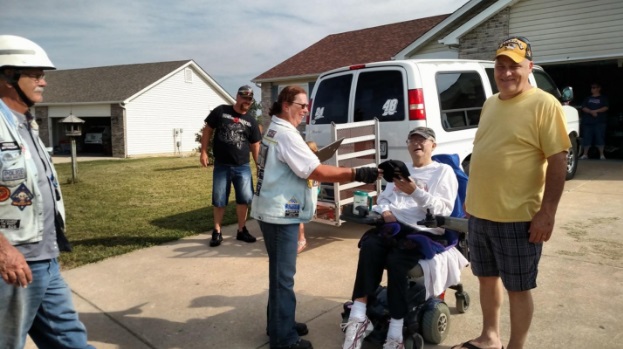 Flag Ceremony and Honors
Once at the park, Benny's fellow military veterans had one more surprise for him. As Benny and his wife watched, the veterans lined up to salute him in a colorful flag ceremony. This was followed by the presentation of a certificate of appreciation by a uniformed officer to honor Benny for his service to his country. That honor was bestowed by Steve Dalbey, Bereavement Coordinator for Crossroads Hospice, St. Louis, Missouri office.
"When all those bikes showed up at the house, he was just all smiles. I think it meant the world to him that his fellow veterans and friends took the time to come out and help him enjoy the celebration, and it meant the world to me as well," said Benny's wife, Wanda.
After the ceremonies, friends and family all gathered together at the park's pavilion to toast Benny once more with chocolate birthday cake and other refreshments.
A Perfect Day
"This really turned out to be a perfect day for Benny, his wife and family," said Sara Swinson, a chaplain in the Crossroads Hospice, St. Louis, Missouri, office.
"So many friends and family members turned out to not only pay their respects, but also to help celebrate a life well-lived," she said. "It was a very heartwarming experience and we are just so happy to have the opportunity to help make it possible."
The Gift of a Day program is designed to give each patient the chance to have one perfect day. Each event is as unique as the individual patients. 
Read more Gift of a Day stories.
To learn more about how Crossroads Hospice & Palliative Care supports terminally ill patients, please call 1-888-564-3405.
If you found this information helpful, please share it with your network and community.
Copyright © 2016 Crossroads Hospice. All rights reserved.