On Ol' Blue Eyes' Birthday, Sinatra Fan Has Perfect Day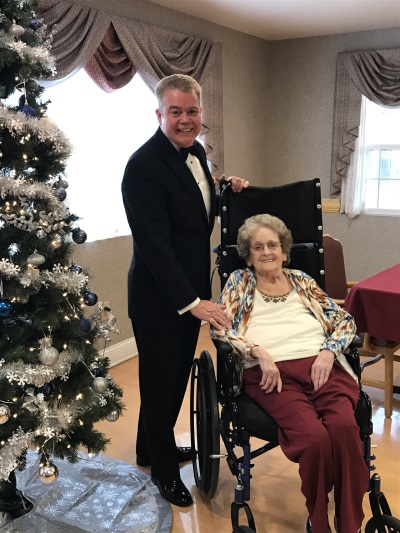 Crossroads Hospice & Palliative Care patient Elizabeth Welch has loved the music of Frank Sinatra ever since she was a young woman. The romantic songs that bobby soxers swooned to back in the day still bring back fond memories for her.
"Elizabeth has had a long journey with her illness and expressed an interest in having a special afternoon of music," said Jennifer Case, a social worker in Crossroads' Cincinnati office. "She particularly enjoys romantic ballads that Frank Sinatra sang during the early part of her life.  It literally was the music she grew up on."
"We thought it would be a fun idea to arrange a perfect day for her by having a professional singer come in and serenade Elizabeth with some of her favorite Sinatra tunes," Jennifer said. "So we arranged for a local celebrity, Matt Snow, who is billed as 'The Cincinnati Sinatra' to appear and sing to Elizabeth and her fellow residents at Pristine Three Rivers."
The effort is part of Crossroads' Ultimate Gift program. It's goal is to bring to life a patient's vision of what the perfect day looks like.
A perfect birthday!
Making the event even more special was the fact that it took place on what would have been the original Frank Sinatra's 101st birthday, Dec. 12th.
The Cincinnati Sinatra did not disappoint. Dressed smartly in a tuxedo and backed by a bevy of Big Band instrumentals, Matt Snow performed an array of romantic ballads and an assortment of holiday songs for the enjoyment of Elizabeth and the other residents.
"This was so much fun," Matt said afterward.  "I know they said that my appearing here was supposed to be an ultimate gift for Elizabeth, but being able to perform before these wonderful residents on Mr. Sinatra's birthday was a gift to me, as well.
"One of the things Frank Sinatra was known for was his generosity. He never made a big deal out of it, but often if someone he knew had some kind of problem, he would – very quietly – do what he could to help them out. He had a great voice, but he also had big heart – and being able to do something like this on his birthday is extra special," Matt said.
Matt and his company, The Casino Players Ensemble, have worked with various charitable endeavors since 1971, keeping that spirit alive. 
The Ultimate Gift.
"Elizabeth was absolutely thrilled," said Jennifer, "You could just see her eyes light up when Matt drew up close to sing her a personal serenade."
"Thanks to Matt and his music and the special attention he showered on her, it really did turn out to be a perfect day for her."
The Gift of a Day program is designed to give each patient the chance to have one perfect day. Each event is as unique as the individual patients.  
Read more Gift of a Day stories.
To learn more about how Crossroads Hospice & Palliative Care supports terminally-ill patients, please call 1-888-564-3405.

If you found this information helpful, please share it with your network and community.
Copyright © 2017 Crossroads Hospice. All rights reserved.