Musician Josh Turner Gives Hospice Patient a Night To Remember
This week, country musician Josh Turner's latest release Deep South debuted at No. 1 on the Billboard Top Country Albums chart. Last night, he was No. 1 in our hearts after giving a Crossroads Hospice & Palliative Care patient the night of her life.
Kay Ray has been a long-time fan of Josh Turner and last night she had the opportunity to attend a special Meet & Greet at Kansas City's Uptown Theater for her Gift of a Day.
After meeting Josh and snapping a photo, Kay settled into her seat in the front row for the show.
Josh made a point of introducing her to the audience and dedicated "Long Black Train" to her.
After such a big night, you'd think Kay would be exhausted, but she stayed awake for the whole drive home, reliving this very special night.
Reporter Tom Dempsey came along for the big night. Check out his story on 41 Action News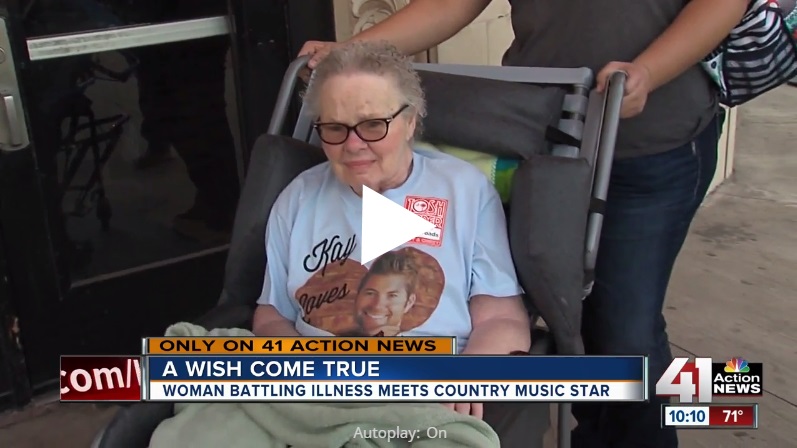 Gift of a Day
The Gift of a Day program provides terminally ill patients with the opportunity to have one perfect day planned by our team and supported by members of the local community. For some, it's a special night with their family. For others, it's a chance to cross an item off their bucket list. For Kay Ray, it was a warm hug from her favorite musician.
To learn more about the Gift of a Day program or if you know someone who could use the support of hospice, please call 1-888-564-3405.
Recommended Reading:
Blake Shelton Grants Hospice Patient's Birthday Wish
Patient Heads Strait to Vegas for Magical Gift of a Day
Gift of a Day: Meeting Willie Nelson
If you found this information helpful, please share it with your network and community. 
Copyright © 2017 Crossroads Hospice & Palliative Care. All rights reserved.