For Crossroads Hospice Patient, The Force is With Him
Crossroads Hospice & Palliative Care patient Jonathan Falitico, has been a huge Star Wars fan since he saw his first movie at the age of two. But he turned into an avid collector at the age of six, when he received two Imperial shuttles as Christmas presents – one is still in its original box. (Jonathan refers to it as his "retirement plan.")
Today, Jonathan has a bevy of stuffed animals of Star Wars characters. When they were first married, he and his wife had crossing lightsabers decorating the head of their bed. They've also enjoyed dressing up in costume for Star Wars movies and amassing other collectibles.  
Making Movie Dreams Come True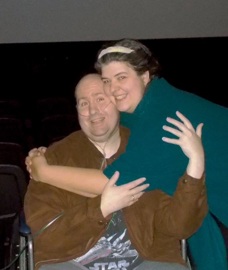 Recently, Jonathan, his wife, and friends were guests of Crossroads and Kent Plaza Theaters, a movie cineplex located in Kent, OH, where as a special ultimate gift, they were treated to a special screening of Star Wars: The Last Jedi. Jonathan says it's the only Star Wars movie they've missed since getting married 20 years ago.
But there was much more to the perfect day that Crossroads staff had planned for him.
Jonathan and his wife arrived in a limousine and were escorted to a waiting red carpet, where they were met by a costumed Darth Vader, standing all of 7'2", along with Imperial Officers and Jedi Knights in full costume.
A Legion of Love
After greeting Jonathan, they were then escorted into the theater for their private screening. The costumed characters were provided by the 501st Legion (a.k.a "Vader's Fist"). The Legion is an all-volunteer organization formed for the purpose of bringing together costume enthusiasts under a collective identity within which to operate and promote interest in Star Wars through the building and wearing of quality costumes, and to facilitate the use of the costumes for Star Wars-related events as well as contributions to the local community through costumed charity and volunteer work.
"The folks from Kent Plaza Theaters went completely above and beyond to make this occur," said Peter Moraghan, Support Services Director in Crossroads' Northeast Ohio regional office. "We really couldn't have done this without them; in fact, we were told that they even had to procure special licensing for this event to happen. They really went out of their way to make this work."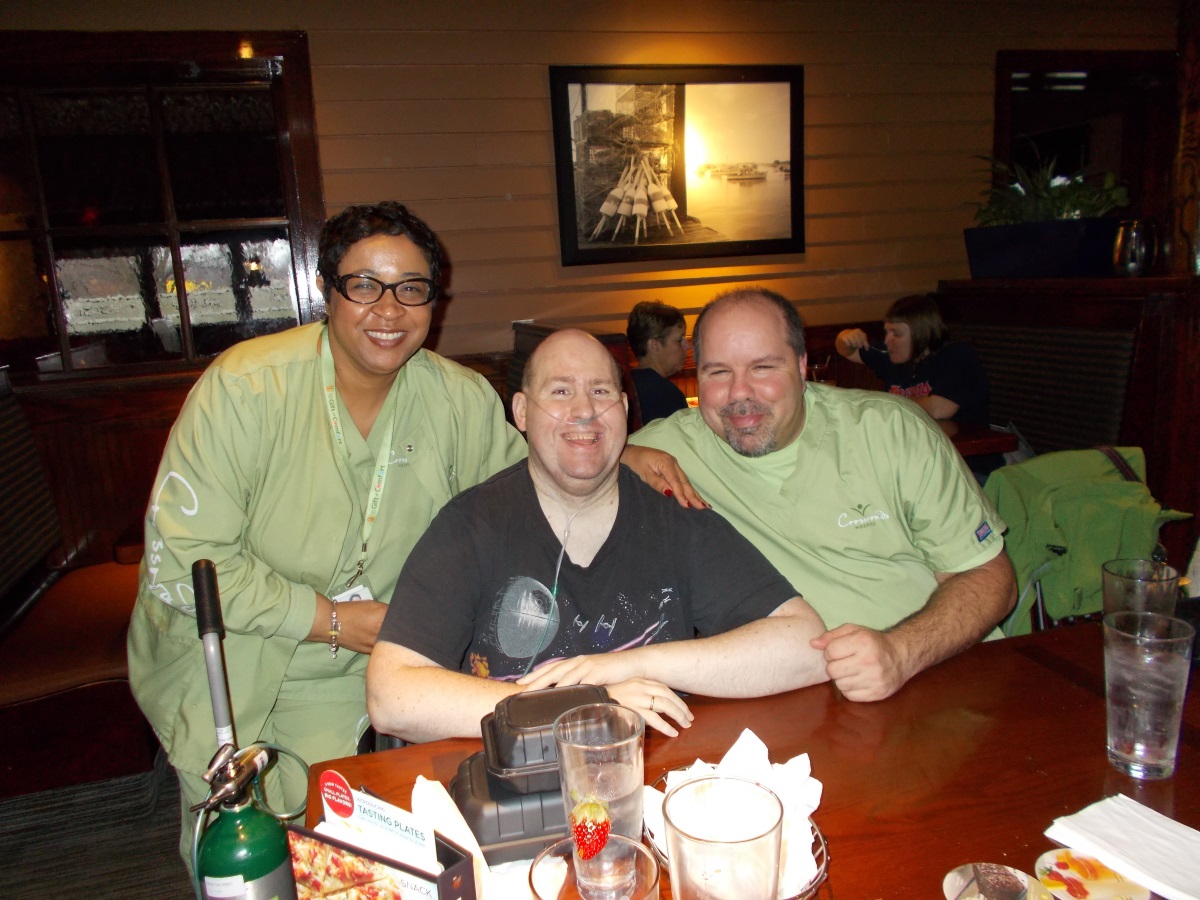 A Perfect Day
"It was a perfect day for Jonathan; you could tell he really enjoyed meeting some of his favorite characters – and having a 7'2" Darth Vader was icing on the cake," said Fawnia Trogdon, Volunteer Department Assistant for Crossroads, who helped coordinate the Gift of a Day.
The effort is part of Crossroads' ultimate gift program. Its goal is to bring to life a patient's vision of what the perfect day might be.
The Gift of a Day program is designed to give each patient the chance to have one perfect day. Each event is as unique as the individual patients. 
Read more Gift of a Day stories.
To learn more about how Crossroads supports terminally-ill patients, please call us at 888-564-3405.
If you found this information helpful, please share it with your network and community.
Copyright © 2018 Crossroads Hospice. All rights reserved.