Student Hospice Volunteers Make a Positive Impact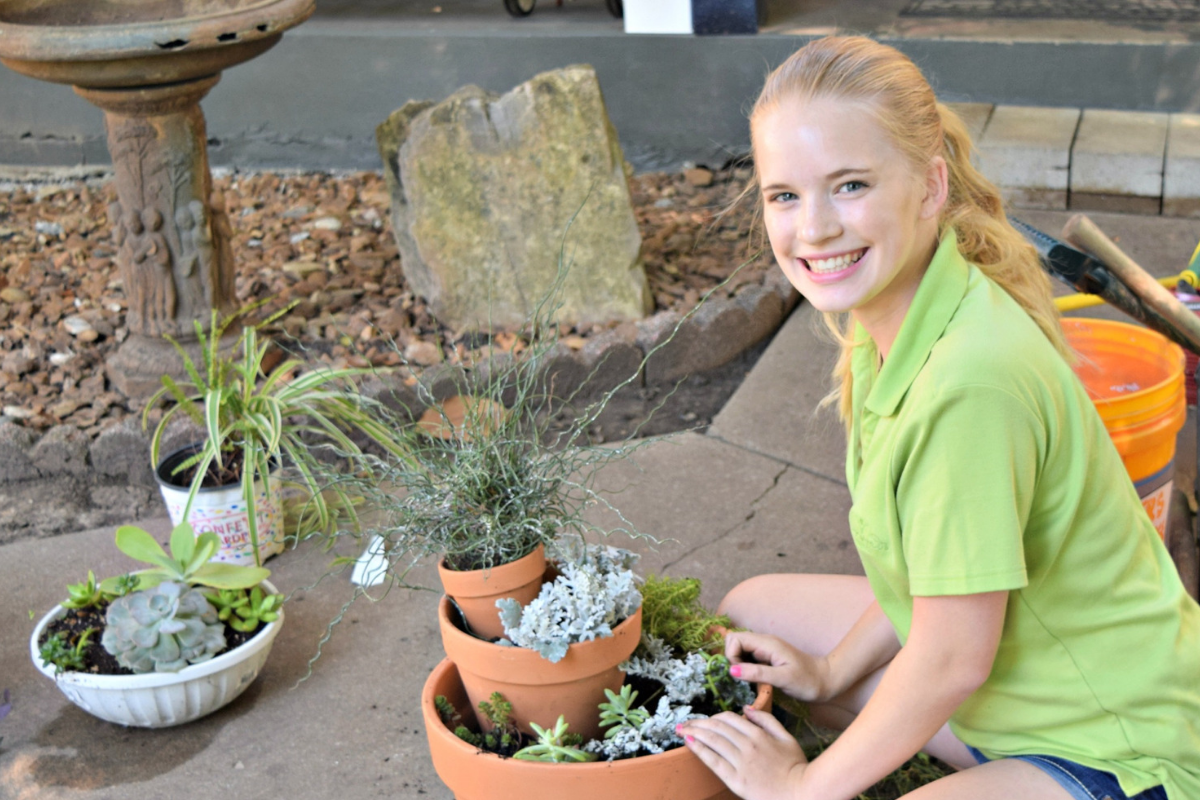 Across America, students are returning to school as summer fades to a distant memory.  And many of them will be thinking about volunteering this school year.  The Corporation for National & Community Service, the federal agency that engages more than five million Americans in volunteer service and grant-making, reported that in 2015, 25.7 percent of college students volunteered, delivering 286 million hours of service with a value of $6.7 billion.
Volunteers have always had a significant role at Crossroads Hospice & Palliative Care. Included are students, both high school and college, who make a big impact while learning important life lessons.
Life Lessons You Can't Learn in the Classroom
Samantha Nolte, a rising senior at the University of Missouri Kansas City (UMKC) is one of these student volunteers.  The double major in chemistry and psychology with a minor in biology has volunteered at Crossroads in Kansas City for two years.
"I've learned so much about life, love and acceptance," Samantha reflects. "These are lessons you would never learn in the classroom."
She says that her volunteer experience assisting a Crossroads hospice patient in setting up a new apartment showed her "the amazing qualities of a human being. Even with a terminal diagnosis, she was optimistic and caring of others."  
Currently applying to medical school, Samantha says her Crossroads volunteer experience opened her eyes to the specialty of geriatrics.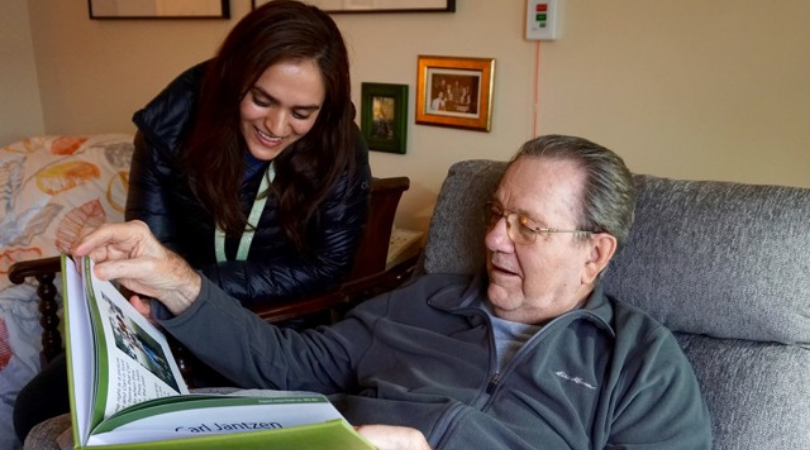 Volunteering Can Be an Outlet for Creativity
Julia Flores, a rising high school senior at St. Teresa's Academy in Kansas City is a volunteer at Crossroads' Lenexa, Kansas site.  She is following in her older sister's footsteps as a Crossroads volunteer for her junior and senior years of high school and the summer in between.  
"I know in terms of a career path that I'll be doing something that involves creativity and working with people. That has been reinforced," Julia says.
Working on a Crossroads Life Journal has been the highlight of her volunteer experience, Julia says.  A Life Journal is a special gift to the family of a Crossroads hospice patient.  Beautifully bound in leather, it's a personalized keepsake, a scrapbook of important and memorable milestones in a patient's life. 
With the guidance of Crossroads Lenexa Volunteer Manager Barbara Poe, Julia just completed one for a gentleman who has since passed away.  She learned about his life growing up on a dairy farm and later as an airline mechanic living in Leavenworth, Kansas after serving in the military in Japan.  Most special for Julia was the opportunity to be present when the Crossroads team presented the Life Journal to the patient's widow.
A Friendly Bichon Frise Delights a Dog Lover 
Natalie Chase, a rising senior at Walsh Jesuit High School in Cuyahoga Falls, Ohio, is a volunteer at Crossroads in Cleveland.  Because she grew up with a grandmother who lived in several long-term care facilities, she says she's always felt comfortable with older people and followed in her mother's footsteps as a Crossroads volunteer.
In addition to volunteering in the office, Natalie likes to visit patients with her Bichon Frise. Her most memorable volunteer experience was participating in a Gift of a Day with several other dog owners.
The Gift of a Day program is a signature Crossroads patient initiative where a perfect day is specially created for a hospice patient.  The one Natalie joined was for a patient who loved dogs but wasn't able to keep one in a long-term care setting. She and five other dogs and owners participated in the visit.
"The joy that it brought him was so incredible," Natalie says. 
She was clearly moved and said volunteering at Crossroads has helped her grow as a person.
"An incredible willingness to help and learn," is how Crossroads Dayton Volunteer Manager Krissy McKim-Barker, describes the typical student volunteer. "They glean so much from the experience."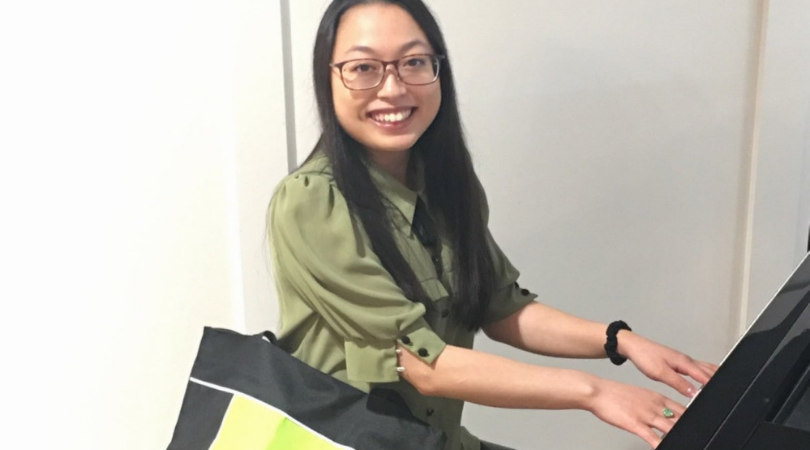 On-the-Job Social Work Experience
In some fields of study like social work, volunteering as an intern for a full year is a curriculum requirement. That's how Karen Tull-Jordan, a social worker at Crossroads' Atlanta site was first introduced to Crossroads.  While earning her Masters of Social Work (MSW) online through the University of Southern California, she completed a survey of her interests and was matched with Crossroads. 
"I loved it from day one," Karen says.  
As a volunteer, she created a Gift of a Day for a patient who had been a life-long gardener.  During companion visits, they would go outside to admire the greenery.  So, the special experience Karen created for her patient was a trip to the Atlanta Botanical Gardens.  Karen applauds the warm and encouraging environment of Crossroads where the team has supported her every step of the way in her transformation from student volunteer to full-time social worker.
Tre'Ana Payton, a social worker at Crossroads in Cleveland, also began her career as a student volunteer intern in the second year of her MSW program at Cleveland State University.
"I loved sitting with patients to watch their favorite TV shows or to hear their life stories," she says. "It was an opportunity to see special, intimate moments with patients and their families firsthand."
Tre'Ana admits she had limited understanding of hospice and palliative care before coming to Crossroads.  Now as a full-time Crossroads social worker for more than three years, she embraces and advocates for the field passionately.
Her message to individuals considering volunteering with Crossroads is that "If you take a chance and give it your all, it can be very rewarding to be part of the last moments, hours, weeks or months of an individual's life."
Krissy, the Crossroads Dayton site Volunteer Manager agrees.
"You will find that hospice work is joyful and fulfilling as you make a lasting impact on families as they receive the best in end-of-life care from Crossroads Hospice & Palliative Care."
To learn more about volunteering at Crossroads, visit our website or give us a call at 1-888-564-3405.
If you found this information helpful, please share it with your network and community.
Copyright © 2019 Crossroads Hospice & Palliative Care. All rights reserved.