Gift of a Day: A Family Hits Their Target.
Desi Pena had always loved archery. While his friends were off playing baseball, Desi was in the woods with his bow. As his buddies boasted of hitting home runs, Desi told stories of stalking game, tracking a fox, and deftly hitting his target. His proudest shot was of an eight-point buck.  
It had been years since Desi drew back that taut string and released, sending an arrow screaming…but he never forgot the thrill. Remarkably, a member of Desi's Crossroads Hospice & Palliative Care team was a registered USA Archery coach. After all, it's not every day that you come upon an archery coach, let alone someone who is providing care for a bow hunter!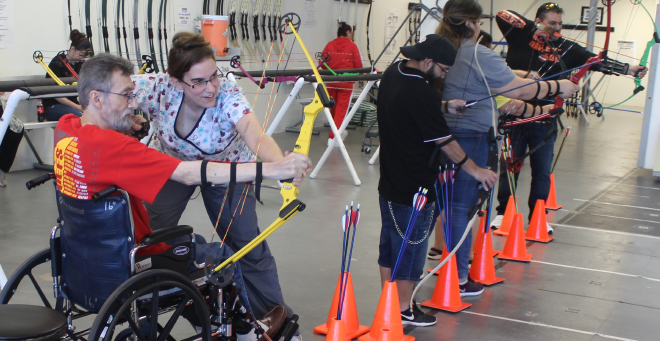 Fate or karma – whatever brought these two together, it was not by accident. To Desi's excitement, he was soon whisked away to the Archery Excellence Indoor Range in nearby Independence, MO for an experience he would never forget.
When Desi arrived, not only was he greeted by his familiar instructor but also his four children and two grandchildren who traveled from Texas to share Desi's favorite pastime one last time. Thanks to the expert instruction of Crossroads' Social Worker Ashley, these first-timers were drawing and releasing bows in no time. Desi's grandson even discovered that he shared in his grandfather's passion for archery, vowing to continue working on his aim back home.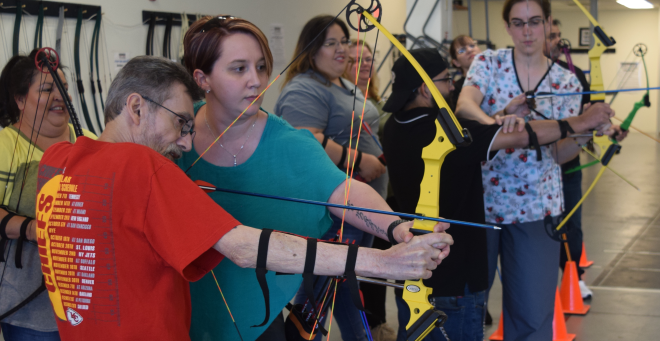 With just a little help, Desi drew back on the bow and felt the tight string against the side of his nose. Finally, he proudly let it fly, hitting the target. A smile washed over his face. Next, Desi challenged Ashley to see who could pop the most balloon targets, laughing playfully as though he were that rugged 15-year-old boy again.
With the trajectory of a speeding arrow, Desi's joy spread through the hearts of his children and grandchildren. Bullseye. It was clear that Crossroads had hit its target, too.