25 Shades of Green: Introducing Project Manager Laura Buxton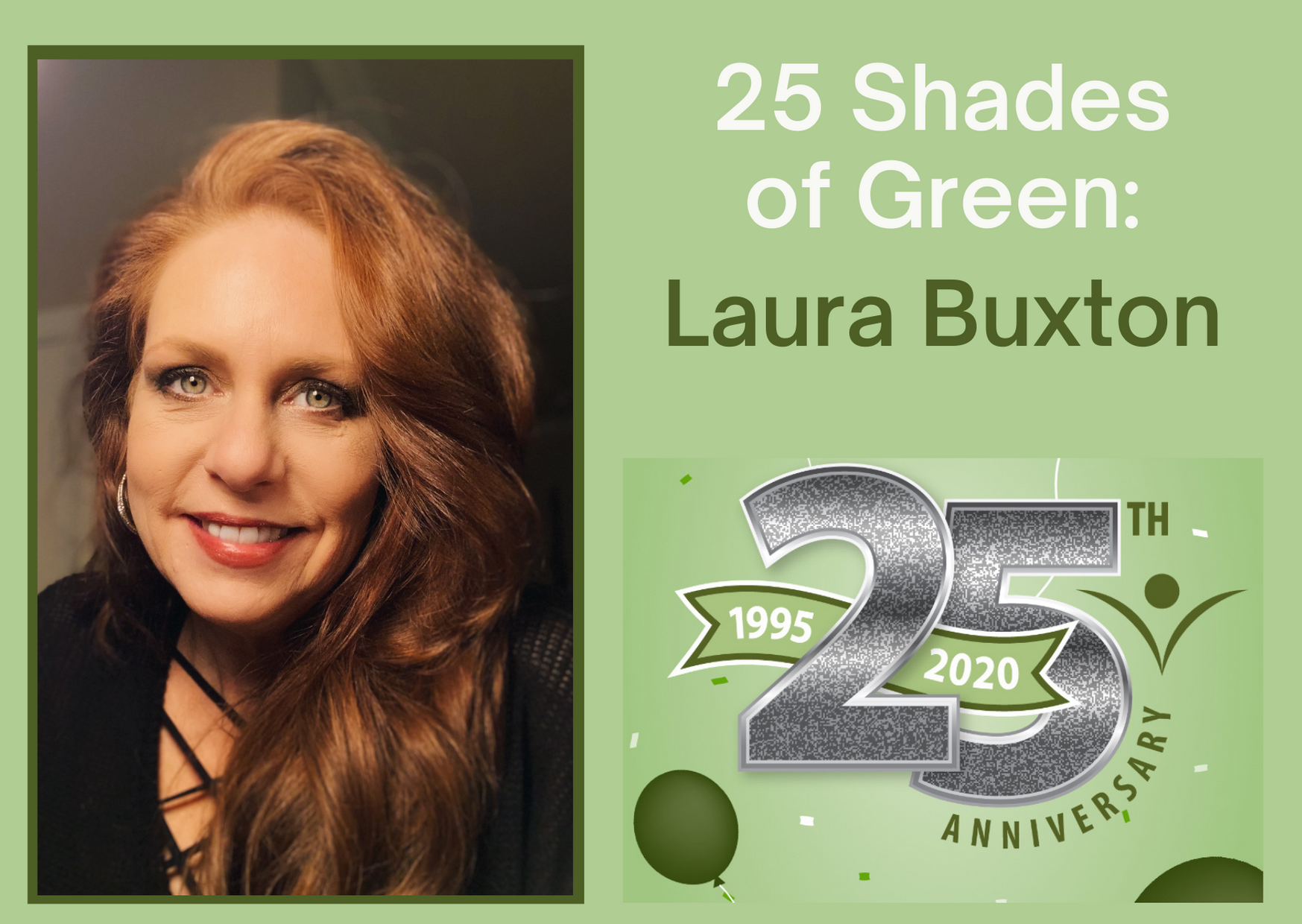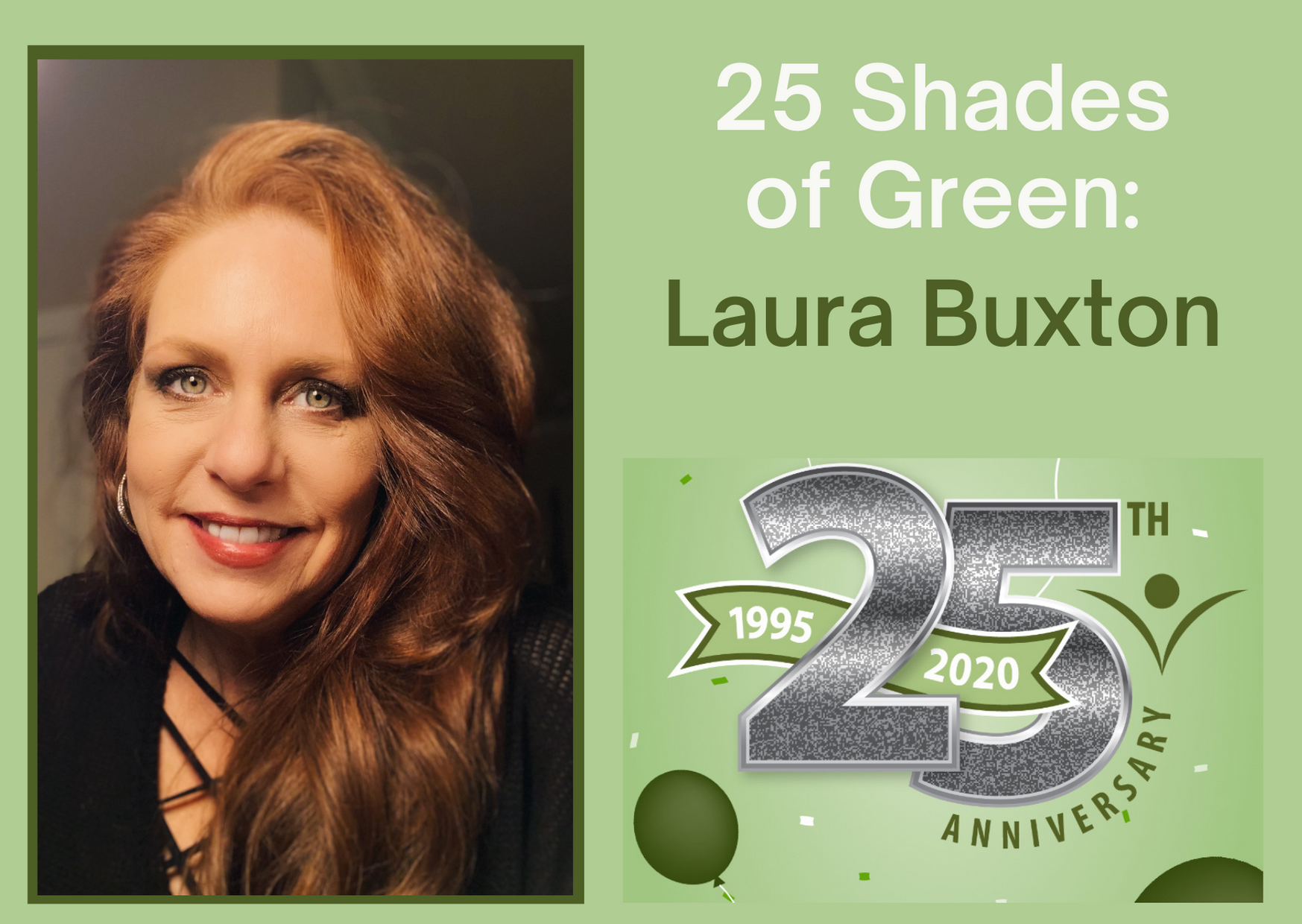 Carrefour Associates, LLC is the management firm for Crossroads Hospice & Palliative Care.  Headquartered in Tulsa, Oklahoma, the corporate team of 45 is small but mighty, overseeing the growing interstate provider of hospice and palliative care with 11 locations in seven states serving 2,300 patients with 1,350 employees. 
When Laura Buxton joined Carrefour nearly 20 years ago, there were only three Crossroads locations and less than 120 patients.
"Oklahoma City (the site) was just getting certified," Laura said.  
Driving Business Success
Back then – like today – Laura was already wired with the aspirational, anything-is-possible perspective that fuels Crossroads' promise to elevate the end-of-life experience.  She embodies the ideals of Crossroads' mission to always "do more" for patients and the communities Crossroads serves every day. But Laura has never personally provided patient care.  Her contributions are operational and administrative.
"The only thing I haven't done is clinical care," she said.
Instead she has dedicated her career to providing the infrastructure Crossroads needs to provide excellent care to patients at their end of life. She is part of the 75 percent of Crossroads leadership team that has been with the company for more than 10 years.
Converting Crossroads' accounting system to the cloud is the current monumental initiative Laura is overseeing.  Laura warmly admits, like with other huge operational changes she's led for the company, "it's consuming my life!"
Because of her value understanding the innerworkings of the departments and reporting, Perry and Clayton Farmer moved her out of the position she held for more than 18 years, Carrefour Controller, and into a special project manager role a year ago.  Whereas she was once the only employee with an accounting degree, now there are more than 15 at Crossroads.
Growing, Changing and Evolving with Crossroads
Watching Crossroads "grow, change, and evolve," has been a labor of love for Laura.  She reminisced about helping Crossroads establish and form LLCs for eight of its 11 sites.  She also first enrolled eight of the 11 sites of the company in Medicare and Medicaid and "brought all Medicare/Medicaid and financial filing in house."
At the Crossroads sites, many IT, finance, and operations professionals have been trained for their roles by Laura.  With humility she agrees that she has had a major impact on the company's advancement.
Carrefour wasn't Laura's first employer.  She worked in public accounting, construction, and for a 38-physician multispecialty medical practice before joining the firm. 
Born and raised in Mount Ida, Arkansas and a graduate of Mount Ida High School, Laura was on both the basketball and softball teams.  She also played the flute and was captain of the majorettes.
Laura then earned a Bachelor of Science degree in accounting at the University of Arkansas at Little Rock and, 11 years after graduating from college and while employed full time with Carrefour, she went back to sit for and successfully pass the CPA exam.
The mother of a grown daughter and son, Laura truly appreciates that Carrefour "still has a family atmosphere" in spite of its size and success.  She reminisced about the incredible love and support she felt earlier this year when she lost her own mother to congestive heart failure.
While she doesn't have much time for hobbies and personal interests, Laura said two things are her "therapy."  Horses and music.  She's interested in piano and guitar and hopes to have her own horse again one day.
Until then, at the Carrefour Home Office, Laura will continue to embrace Crossroads' shared promise to strive to achieve the highest ethical and service standards while providing compassionate end-of-life care that consistently exceeds patients' and families' expectations.
Note:  Laura Buxton is being featured in our 25 Shades of Green blog about employees who exemplify Crossroads' culture of "doing more."  These 25 fine professionals are being celebrated in recognition of Crossroads' 25th Anniversary.  
To learn about more of the hospice team at Crossroads, give us a call at 1-888-564-3405.
If you found this information helpful, please share it with your network and community.
Copyright © 2020 Crossroads Hospice & Palliative Care. All rights reserved.