25 Shades of Green: Introducing Eric Kerwood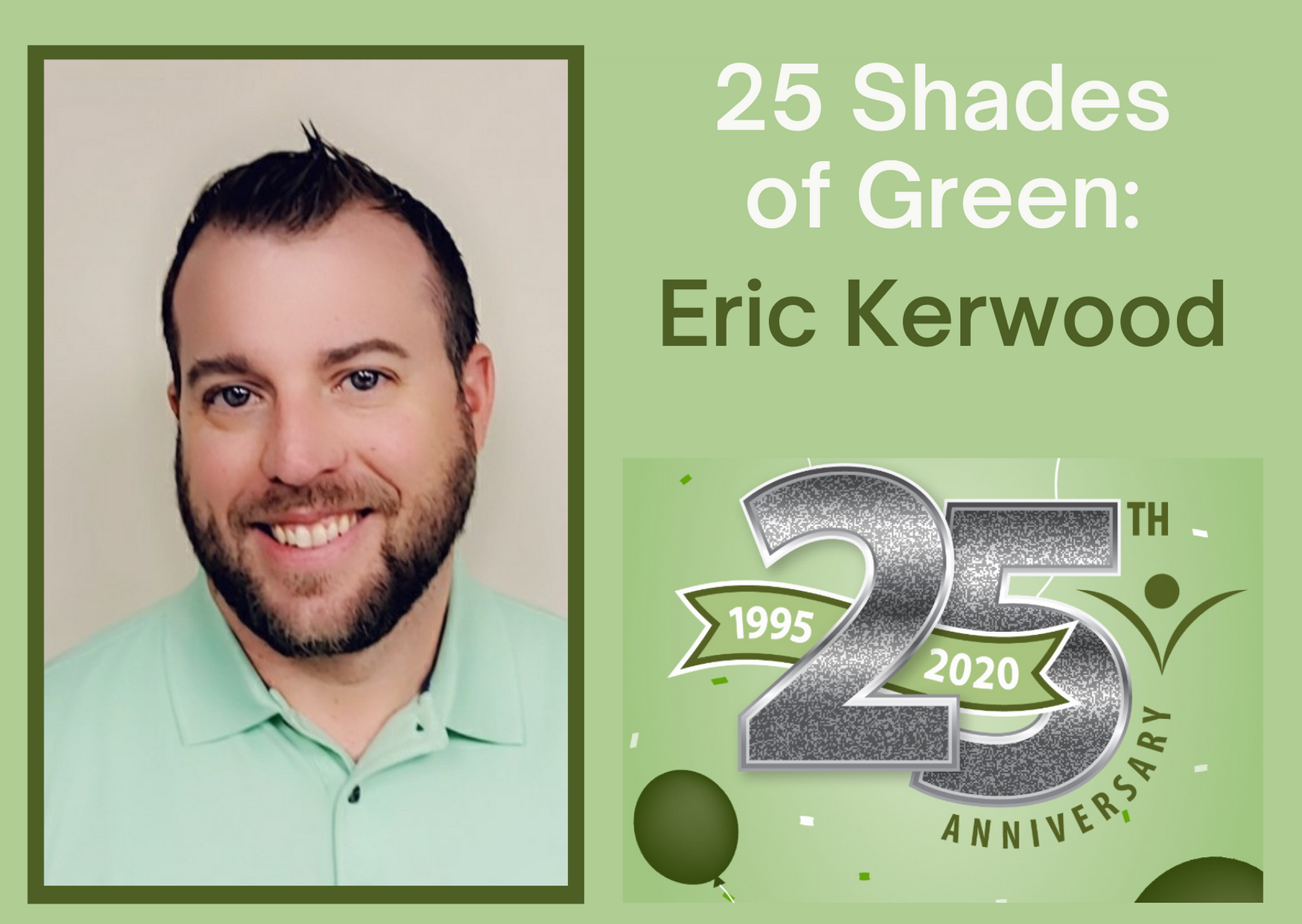 "It breaks my heart when I hear a family say, 'We wish we would have called you sooner,' said Eric Kerwood, a provider relations manager at Crossroads Hospice & Palliative Care in Warrensburg, Missouri. "This is the last thing you want to hear." 
"I want to spread the word that the quicker you're on (hospice) service, the longer you will benefit," Eric continued. "We are looking for the best quality of life possible in the time remaining."
As a provider relations manager, Eric spends his time going out to educate doctors, families, and communities on end-of-life care and the benefits that hospice can bring to people.
Using Humor to Lighten the Atmosphere
Eric likes to take a realistic approach to the fact that he's often educating and talking about a topic that, frankly, many people just don't want to discuss.
"Yes, I'm talking about dying," Eric said. "Dying is a very normal thing. I'm one of those people who's able to have those conversations (about dying.)  Like it or not, we all go through it at some point. I try to use tactful humor to lighten the atmosphere."
Eric joined Crossroads seven years ago.  While he currently works in provider relations, he started out as Warrensburg's first volunteer manager. He held that position for four years. 
There was lots Eric loved about his volunteer manager positions – but his favorite part?
"[My favorite part was] the rewarding aspects of the way a patient received a volunteer," Eric said. "This is different than the way they interact with clinicians. There's no hidden agenda.  They (the volunteers) are just there for you. They are there because they want to be."
Reflecting on his journey to provider relations, Eric said he always thought the two positions were actually quite similar.
"One brings volunteers to hospice," he said. "The other brings people to hospice.  And both require recruiting." 
It was the other Crossroads provider relations team members who eventually saw Eric's potential and suggested that he join their department.
Making People Smile
Eric's got the gift of gab and is a true lover of people.
"I embarrass my wife in lines," he said. "She says there's no stranger I won't talk to. I really do like making people smile, even if I'm the brunt of the joke."
Prior to joining Crossroads, Eric worked in a nursing home as a busy activities director. The residential population suffered with mental health challenges as well as physical needs. He was up to the challenge with his creativity and drive, of course.
Before he began his professional life, Eric attended Missouri Valley College where he earned a B.S. in Exercise Science. He later earned a M.A in Management from Lindenwood University.
But it was when he was attending middle school in Blue Springs, a suburb of Kansas City, that he became interested in community service, participating in church mission trips to the Northern Cheyenne Indian Reservation in Montana. On the reservation, Eric and the other students helped rebuild a church. A memorable part of these trips for Eric was being put up in the humble homes of congregants.
A Gift for Delighting Others
Today Eric likes being a "go-getter" for Crossroads. He relishes finding things that only he can do to delight others, like when he used his 3D printer to make mask holders for frontline healthcare workers at the beginning of the pandemic. 
Eric is married to Leah, a 2nd grade math teacher, and is the proud father of Elias, 8, Judah, 5 and Demaeris, 1.
His beautiful family can confirm that Eric prides himself on having a "going above and beyond" attitude. He's always on the lookout for new, special, and sometimes unusual things to do that will make someone smile. Now he's learning how to use a laser wood burning tool so he can engrave messages on wood, a new way to surprise and please people.
Note:  Eric Kerwood is being featured in our 25 Shades of Green blog about employees who exemplify Crossroads' culture of "doing more."  These 25 fine professionals are being celebrated in recognition of Crossroads' 25th Anniversary.
To learn about more of the hospice team at Crossroads, give us a call at 1-888-564-3405.
If you found this information helpful, please share it with your network and community.
Copyright © 2021 Crossroads Hospice & Palliative Care. All rights reserved.