25 Shades of Green: Introducing Bethany Holohan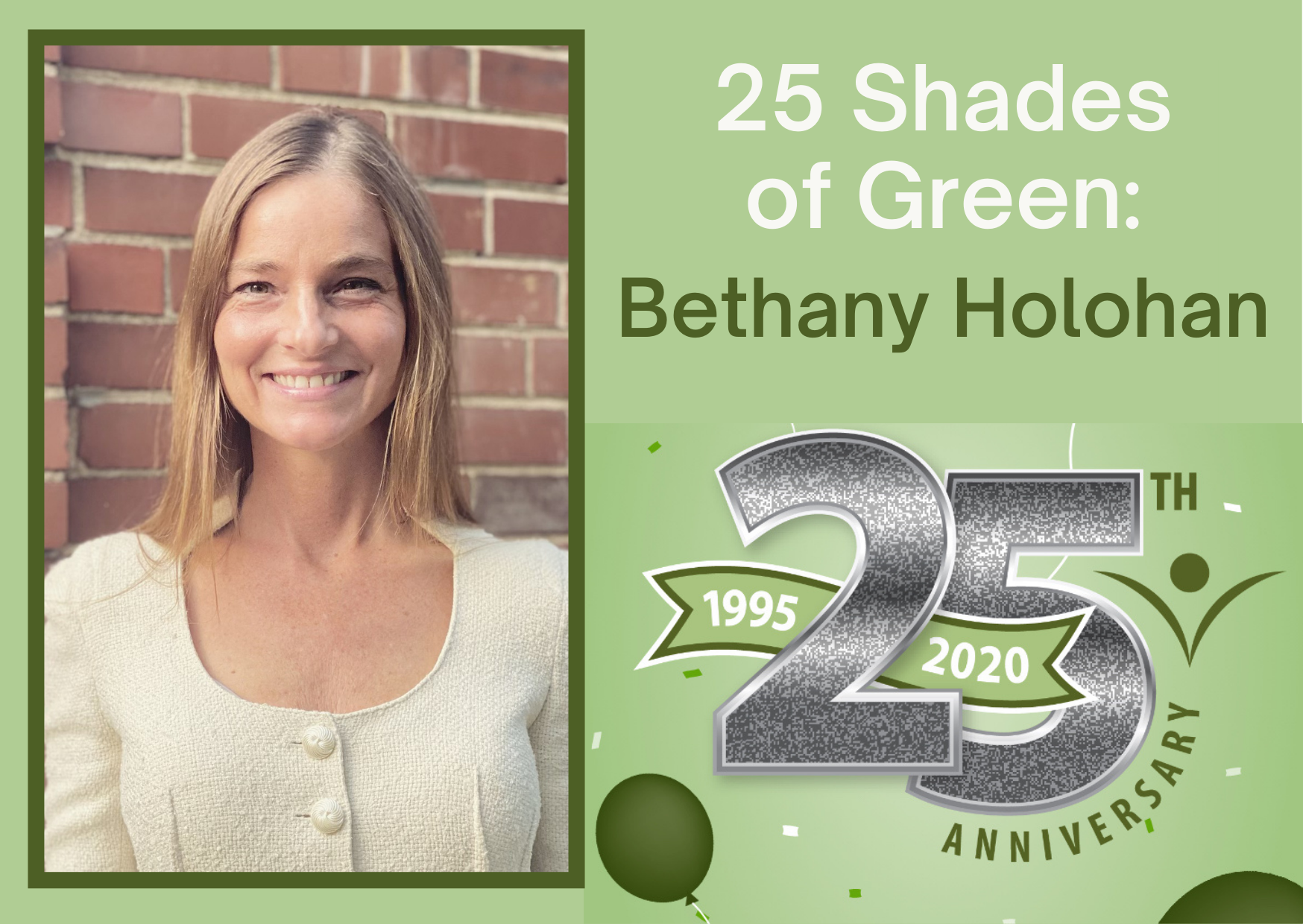 Bethany Holohan began her provider relations position at Crossroads Hospice & Palliative Care in St. Louis just days before the COVID-19 pandemic shut down the country in March of 2020.  In a very short time, the self-professed "animated person with a strong personality" has made a big impact at Crossroads.
An Instant Impact at Crossroads in St. Louis
Like so many of the end-of-life care professionals at Crossroads, Bethany is wholly dedicated to patients and she has always had a soft spot for seniors.  That's what led her to Crossroads, one of the many hospice and palliative care providers in the highly-competitive St. Louis region. 
Bethany said she "took a leap of faith and left a job I loved" to join Crossroads.  Bethany was with mobile payment platform Square, owned by Jack Dorsey, the founder and owner of social media platform Twitter.  
Before working at Square and taking some time off to care for her now seven-year-old son Gavin, Bethany worked in hospice care.
"I worked at a very large and respected hospice in St. Louis for 11 years," Bethany said.
Because of the Non-Judgmental Care
Bethany says that she appreciates end-of-life care because, for a lot of people, it's the most care and the most love they ever have.
"I have seen so much gentleness come out of otherwise hard or sad situations," she says. "If a patient is compromised, hospice provides appropriate 'non-judgmental' care. 
Bethany holds this philosophy in the highest regard.
The Oaknoll Retirement Center in Iowa City, IA is where Bethany got her professional start. She began there "the Monday after graduating" from the University of Iowa with a Bachelor of Arts Degree in American Studies, focusing on urban studies and cultural diversity.  Bethany excelled at life enrichment and volunteer management at Oaknoll. 
"It was the best place ever," she says.
While Bethany was in college, her parents moved from New Virginia, IA to Southern Missouri to rehabilitate a family home on her dad's side.  After growing up in a small town and then going to school in and starting her career in a college town, Bethany decided to move to the much larger St. Louis.  Now, her brother and sister also live in St. Louis.
Partner in a Vintage Dandelion Liqueur
Before she had Gavin, Bethany liked to work a second job at night as a fine dining food server.  At one farm-to-table restaurant owned by chef friends, Bethany helped create the world's first dandelion liqueur with a vintage wine recipe in partnership with the restaurant owners.  She had nothing to do with the final beverage itself, but everything to do with the financing, insurance, marketing, bottle, and label.  It was Bethany who found the distillery and all the pieces to make it work.
Bethany is the type of person who can turn any ho hum moment into a party because of her ebullient personality and quick thinking.  Her son Gavin has been making cards for seniors since the time he could hold a crayon.
"He likes to have gray crayons," Bethany says, "So he can match card recipients' hair color.  He also knows how to draw wheelchairs."
Jokingly, because he's made so many cards in his short life, Bethany worries that he might "go on strike."
With a big heart for a little guy, Gavin seems to be following in his mom's footsteps.  Bethany said she lives her life inspired by Mark Twain's quote, "Kindness is the language which the deaf can hear and the blind can see." 
According to Bethany, she has seen firsthand the impact kindness can make at the end-of-life.  As a provider relations professional at Crossroads, she strives to ensure as many people as possible are afforded that opportunity at their end-of-life. 
Note: Bethany Holohan is being featured in our 25 Shades of Green blog about employees who exemplify Crossroads' culture of "doing more." These 25 fine professionals are being celebrated in recognition of Crossroads' 25th Anniversary.
To learn more about the hospice team at Crossroads, give us a call at 1-888-564-3405.
If you found this information helpful, please share it with your network and community.
Copyright © 2021 Crossroads Hospice & Palliative Care. All rights reserved.