25 Shades of Green: Introducing Joe Hamman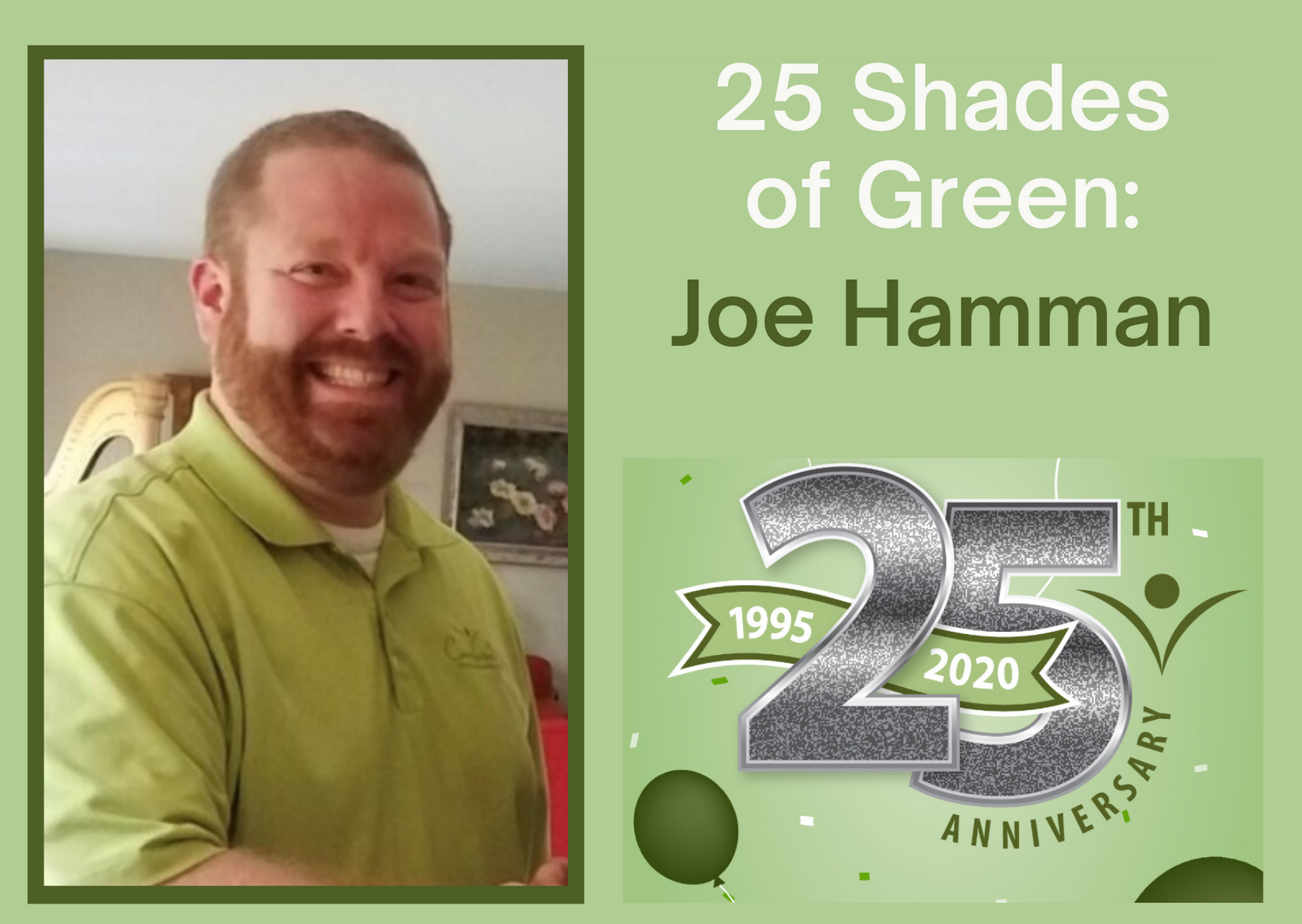 Joseph Hamman, or Joe as everyone knows him, is an accountant at Crossroads Hospice & Palliative Care of Dayton, OH. It's a position he's held since 2010. He oversees all aspects of the location's financial management, including timesheets, payroll, and billing.  Top IT skills and financial acumen are required.
As a numbers guy, Joe admits that he tends to see the world in black and white. He has an incredible attention for detail and drilling down to solve issues.
Outside of his professional role at Crossroads, Joe has earned many stripes as a family caregiver.   His service to his family began when he was an accounting and financial management student at Franklin University in Columbus, OH. 
"I was a lifelong student," Joe said, explaining why it took more than four years to earn his dual Bachelors' degree.
"It took a while. Life happened."
Caregiving was a family calling. 
After Joe's grandfather passed away in 1995, Joe and his mother cared for his grandmother for many years. 
"We did her laundry and her shopping," Joe said. "She was our responsibility." 
Then, after his grandmother passed, Joe's mother eventually developed her own health issues. Joe's only sibling, a sister, lives a few hours away near Toledo. But Joe stayed local to the Springfield, OH area where he grew up.
"I said I would always be there for Mom," Joe said.
The loss of her this past October is still very fresh for Joe. He feels grateful that his mom was able to be a Crossroads patient.
"It was eye-opening to experience hospice firsthand," Joe said. He was very pleased with the care she received.
Crossroads was there for his family.
"She had been in a facility where there were problems," he reminisced. "I was that over-involved family member. But she wasn't getting the care she deserved."
Crossroads eventually stepped in and helped get her into a nice place. That was when she went on hospice care. Joe gets choked up when he thinks about the special, caring individuals at Crossroads who cared for his mom so elegantly.
"These are the same people I'm chasing down for their timesheets!" he joked. "At the end of the day, they are really like family. They have been there for me."
Joe's real family, wife Kasey, daughter Madisyn, 18 and son Jacksyn, 8, would agree. Joe is appreciated at home and work.
Joe's experience as the loved one of a Crossroads patient leaves him with a regret shared by many in end-of-life care: that people wait too long before they go on hospice.
"It's about making sure life is fulfilling and comfortable to the end," he said.
No one should miss out on that.
With more time on his hands now, Joe will continue loving the Ohio State Buckeye football team and adding to his celebrity memorabilia collection. He'll also have more time for golf, being outside, and enjoying his lucky family.
Note:  Joe Hamman  is being featured in our 25 Shades of Green blog about employees who exemplify Crossroads' culture of "doing more."  These 25 fine professionals are being celebrated in recognition of Crossroads' 25th Anniversary.
To learn about more of the hospice team at Crossroads, give us a call at 1-888-564-3405.
If you found this information helpful, please share it with your network and community.
Copyright © 2021 Crossroads Hospice & Palliative Care. All rights reserved.