End-Stage COPD: When is it Time for Hospice?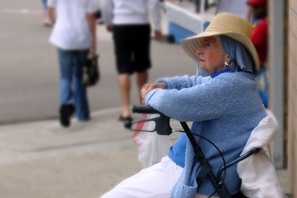 Chronic Obstructive Pulmonary Disease (COPD) is the third leading cause of death in the United States, affecting over 11 million people. What's scary is that many don't even know they have the disease. A chronic and progressive condition, the early warning signs of shortness of breath and fatigue are often dismissed as a normal part of aging.
While someone may live and be able to manage their COPD for many years, the symptoms will eventually worsen because there's no cure for COPD. That's why it's important to understand the symptoms of the disease, its progress and when it's time for hospice.
Symptoms of End-Stage COPD
As a patient moves through the four stages of COPD, additional support such as inhalers and pulmonary rehabilitation can help manage symptoms. When a patient is no longer responding to treatments, they should consider a hospice referral.
Some signs of this include:
An inability to perform daily tasks despite pulmonary rehabilitation
An increasing number of hospital visits
Limited improvement after hospital stays
Worsening fatigue
Exploring hospice options early, instead of waiting until a crisis, gives a patient the opportunity to choose the provider who will best meet their needs.
Benefits of Hospice
One of the top benefits that COPD patients experience on hospice is an increased level of support for themselves and their caregivers. Nurses and aides visit their place of residence to provide medical and personal care. Plus, planning and emotional support is provided by social workers, chaplains, volunteers and bereavement specialists.
In times of emergency, additional care is provided when symptoms worsen, instead of another late night ambulance ride to the emergency room.
Many hospices also offer additional services to patients. Crossroads Hospice offers a variety of programs and services to patients, such as honoring those who served in the military with a Veteran Recognition Ceremony, or creating a Life Journal and experiencing a Gift of a Day, tailored to their individual wishes for a perfect day.
See the hospice eligibility criteria for COPD now.
The Final Days
Many with COPD worry about what their final days will feel like. With the support of hospice, death from COPD can be quite peaceful as the body slows down. Medications such as morphine can be very effective at treating air hunger, which helps the patient relax and breathe easier. At Crossroads Hospice, our Evenmore Care program provides additional round-the-clock support when death is imminent.
If you know someone with worsening COPD symptoms, Crossroads Hospice can assist in determining if the time is right for additional support. Contact us now to ask questions or set up an evaluation.
If you found this information helpful, please share it with your network and community.