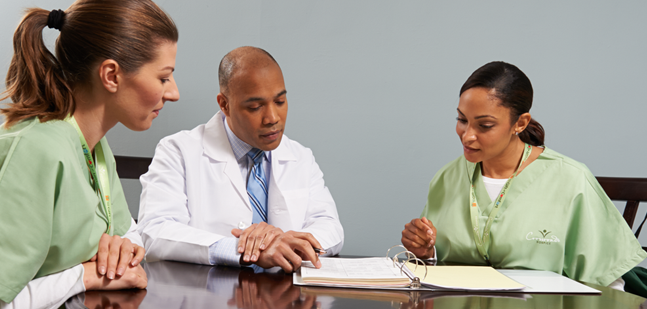 Hospice RN Jobs Available in Atlanta, GA
Crossroads Hospice & Palliative Care is hiring Registered Nurses in the Greater Atlanta area to join a team with the passion and commitment to do more for patients.
Crossroads opened its doors in 1995 with two founding principles:
Patients shouldn't die in pain.
Patients shouldn't die alone.
This commitment has led us to create a unique staffing model that prioritizes time spent with your patients giving them the care and support that led you to dedicate yourself to a career in nursing in the first place.
Crossroads ranks among the nation's leaders in patient care, spending more time per week with our patients than the national average for hospice provider. As your patient reaches their final days, we increase that support with our Evenmore Care program, which allows us to keep a member of the Crossroads team at bedside with the patient and their family through this final transition – just when they need us most!
At Crossroads, we know our employees are our greatest asset. We pride ourselves on promoting from within. In fact, 75% of our senior leadership team have been with Crossroads for more than 10 years, and nearly 25% have been with us for more than 20 years.
Come grow with us!
We currently have Atlanta hospice RN job openings in a variety of roles.
Registered Nurses (RNs) at Crossroads enjoy:
Competitive wages
New hire sign-on bonus
Health, Dental, Vision, PLT, 401(k)
24/7 clinical manager support
Full and part-time schedules.
Opportunities for advancement.
Registered Nurse (RN) qualifications:
2 years nursing experience preferred
1-2 years of Home Health or Hospice experience preferred
Current, unencumbered State RN license.
A desire to see patients in both homes and facilities to support them with hands-on patient care.
Personal transportation, motor vehicle insurance, and an unencumbered driving record.
To learn more about our current hospice nurse job openings in the Atlanta area, call us at 1-770-270-9898 or submit your resume directly to our Executive Director via email.