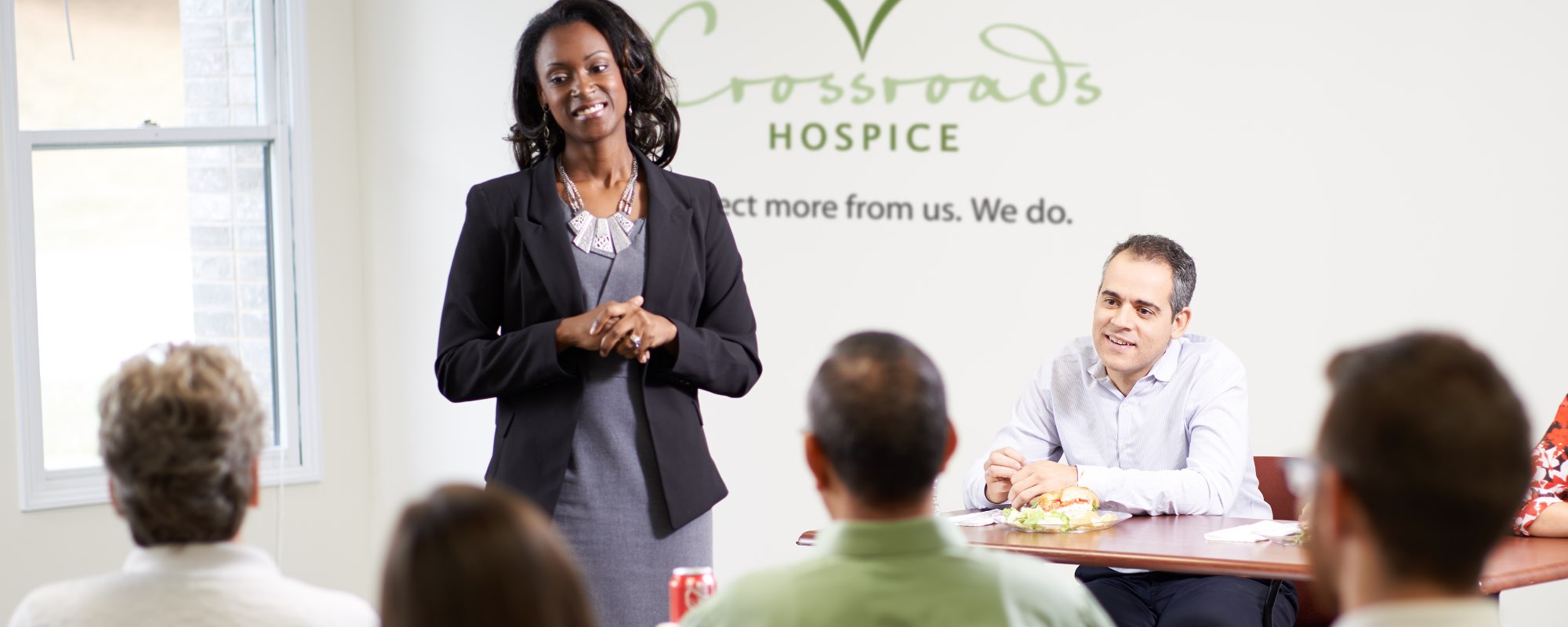 How Hospice Can Help Hospital Administrators
As a hospital administrator, you work to make healthcare facilities efficient and cost effective. Crossroads Hospice & Palliative Care can help by adding the support of experienced end-of-life professionals when patients require hospice care.   
We work to reduce or eliminate patient re-admittance by providing patients and their families: 
Access to Crossroads' 24/7 on-call clinical staff for pain and symptom management solutions 

 

Emotional support experts, particularly helpful when a patient feels overwhelmed 

 

A place to turn for answers to all medical and end-of-life related questions

 
Expedited discharge planning.
Crossroads also helps hospitals and healthcare administrators by offering expedited response time and discharge planning. We offer 24/7 availability with a response goal of one-to-two hours following the initial referral from your staff.  
Our team can help your staff save time and get patients the help they need quickly. We can arrange for transportation and order all necessary disease-related medications and durable medical equipment like hospital beds, wheel chairs, oxygen and other supplies like continence care, bandages and more. We will coordinate delivery to the patient's home or care facility.  
Crossroads is also able to care for high-acuity patients as a result of our years of experience. Our team can provide GIP support or coordinate discharge for fragile patients with challenging medical conditions and unique needs such as an ambulance or other type of vehicle for transportation, as well as terminally ill patients who wish to be weaned from a ventilator at home. 
How hospice supports your staff.
Our team is prepared to have the end-of-life conversation with the patient and family. Hospital staff and physicians may not feel comfortable or may not have the opportunity to discuss the end-of-life process. Crossroads will discuss the physical, psychological, emotional, and spiritual process of dying. Our team includes social workers and other hospice professionals who can gently but accurately walk a patient and their family members through this difficult process. 
Once a patient is on service with Crossroads, we will provide a plan of care and keep your staff informed each step of the way. All care is documented and shared with the healthcare facility.   
We encourage patients and their families to call with any concern. We are always available to answer the phone, or send out a clinical professional to address their problems. Patients should never feel like their only option is to go to the emergency room.  
Avoid unnecessary emergency room visits.
To that end, we work to avoid unnecessary emergency room visits that can lead to re-admittance. Our on-call clinical team members, a Registered Nurse (RN) or Licensed Practical Nurse (LPN), will be available any time, day or night to help make the patient feel comfortable, reassure them of the end-of-life process, answer questions, and diffuse what would otherwise be a stressful situation. This relieves hospital staff and healthcare administrators from worrying about frequent flyers and the financial repercussions that result from patients returning within a 30-day window.  
Another way we do this is by checking in with patients and their families every day for the first five days on service with us, between the hours of 5PM to 7PM. These hours, as well as late nights and weekends, are shown to be the most problematic, leading to re-admittances. Our focus is to stay ahead of pain, symptoms, and emotional turmoil by having a hospice professional check in and provide guidance or reassurance in this time of uncertainty. 
Specialized for end-of-life.
Crossroads is not just a healthcare provider – we are a healthcare specialist. Our professionals are prepared for a variety of specific, complicated situations that include symptom management as well as emotional and spiritual care.  
If a patient has an issue, instead of them going to the ER, we will be available to assist with all needs including concerns like vomiting, shortness of breath, or other physical distress. 
Crossroads' clinicians are always available to speak to a patient or their family via phone or go to their place of residence. Our team can solve a variety of problems through a hospice emergency kit provided to the patient upon admission. The purpose of this kit is to assist patients or family members in controlling pain and symptoms without visiting a hospital or emergency room.  
By partnering with Crossroads, you are providing your patients with an extra level of care and support, freeing up your staff to focus on other needs.  
The hospital staff can feel confident that once Crossroads admits a patient that they are safe, well taken care of, and unlikely to be readmitted to their healthcare facility. 
Hospice allows the patient and their family to enjoy the time they have left.
Our team is ready to step in and take on the responsibilities of personal care such as bathing, grooming, dressing and diaper changes as well as providing general physical, mental, and emotional comfort. Crossroads works to treat patients with the dignity and pride they deserve.  
Hospice allows residents, patients

,

and their families to enjoy the time they have left.
The role of hospice is to create a caring, comfortable experience for the patient and their family. Pain management and emotional support are the two primary concerns of the Crossroads team. Healthcare administrators can feel assured that not only are a patient's medical needs and physical symptoms being addressed, but also that their spiritual needs are being satisfied and their personal relationships and wishes are being supported, all from the comfort of wherever a patient calls home. Crossroads does this through programs like Gift of a Day, Evenmore Care, Veterans Recognition, Life Journals, and more. These programs, which are unique to Crossroads, provide patients and their families with dignity and a celebration of their life. 
Why should
hospital administrators
consider Crossroads?
Hospice helps hospital administrators by serving as a welcome lifeline to patients with a life-limiting illness. But why should healthcare professionals choose Crossroads over other hospice care providers? 
Our team is available 24/7. Our dedicated shifts ensure there is always an experienced clinical professional accessible to assist in patient comfort. This includes nights and weekends when demand can be particularly high.

 

During the patient's final days, our hospice team visits the patient more frequently than the national average. As patients decline and need an increase in emergency visits, Crossroads is there. 

 

We facilitate difficult conversations with the family and loved ones.

 

In addition to symptom management, Crossroads provides emotional and spiritual support to the patient and their family.

 
Refer a patient to Crossroads today.
Learn more about how hospice care can benefit your patient. Click here to fill out a patient referral form, or call us 24 hours a day, 7 days a week: 855-327-4677.