What Is The Caring More Award?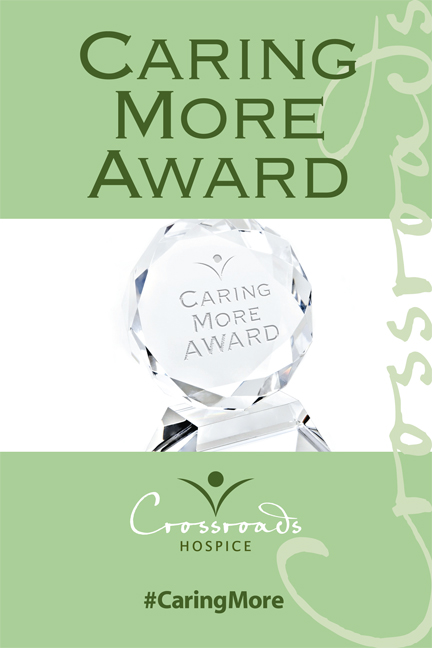 When you think about what it takes to help an ailing patient recover, you may think of the nurse with a warm, welcoming smile, who provides round-the-clock support to patients. Or the physician, whose diagnoses and treatment recommendations we trust. Social workers are a key part of this care team – helping patients and families understand diagnoses, process major life changes such as transitioning to a new environment, and coping with issues around terminal illness, communicating end-of-life wishes, and bereavement.
Social workers give so much to our patients every day, but rarely receive special recognition for all they do to connect patients with resources, counsel families, and give people the special time and attention they need.
From facilitating end-of-life planning discussions to helping families complete advance directives, social workers are committed to helping patients navigate emotional healthcare decisions to achieve their highest quality of life. Social work is also one of the fastest growing fields in the healthcare industry – expected to grow by 34 percent in the next ten years, according to the U.S. Bureau of Labor Statistics.
Social workers are the unsung heroes we depend on every day, and their hard work and dedication surely does not go unnoticed. To honor social workers and their advocacy, Crossroads Hospice is presenting the 2013 "Caring More" Award.
The "Caring More" Award is presented to outstanding social workers who go above and beyond to improve lives through their work with patients and in the community. The award includes a $500 prize to the charity of the recipient's choice, and a breakfast banquet in their honor with invited colleagues, family, friends, and a distinguished panel of judges during National Social Work Monthin March.
The "Caring More" Award began in 2010 in Dayton and Philadelphia. In just two years, it's grown to honor outstanding social workers at ten Crossroads Hospice locations in 2013.
Last month, organizations from each market were asked to nominate star social workers with a proven track record of going above and beyond in delivering patient care and sharing a commitment to the community – someone who truly embodies the idea of "Caring More." The panels of expert judges are comprised of key leaders in the area of social work and healthcare communities, such as executives from disease associations, nursing home administrators, elder care attorneys, representatives from professional social work associations, and chairs of social work departments from local universities. The candidates are scored around three areas: Professional Accomplishments, Advocacy for Patients, and Community Involvement.
Once the judging process is complete, the winner will be notified by Crossroads Hospice. Join us as we celebrate these unsung heroes for #caringmore onTwitter and Instagram.
Also check out our Past Winner's Gallery here.