Real Heroes Wear Dog Tags: The Battle of Trauma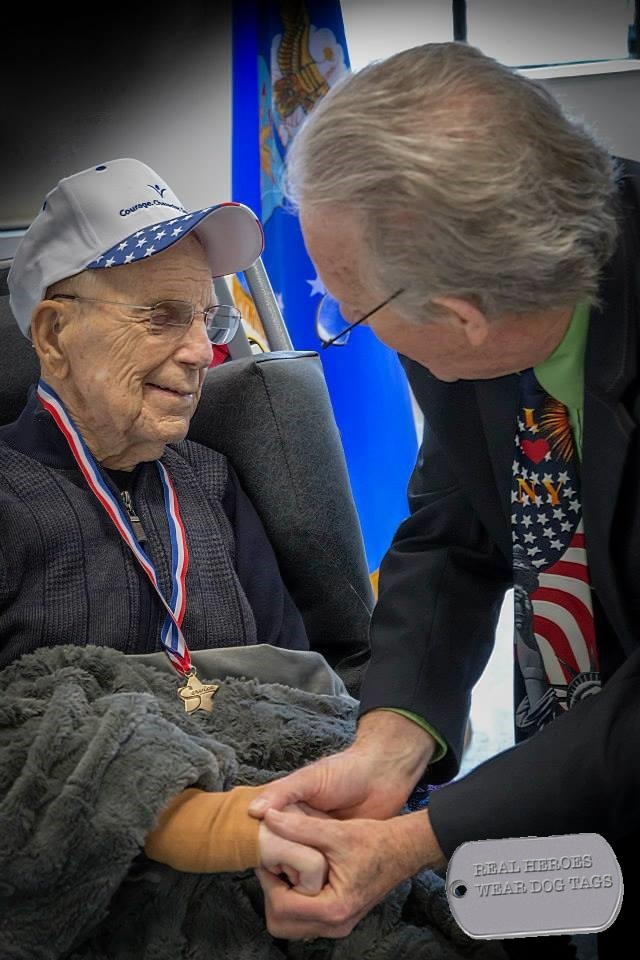 "We need to remind people that the real heroes wear dog tags." — Chaplain Scalf, Crossroads Hospice, Akron-Canton, OH.
Post-Traumatic Stress Disorder (PTSD) isn't a problem that only Veterans face, but it is very common within the Veteran community. With Independence Day this weekend, it is important that we, as Americans, remain considerate of the problems that these Veterans are facing—and how our celebrations may play a part.
Chances are, regardless of how you celebrate the Fourth of July, your day ends in one way: with fireworks.  Before you set them off this year, your local Veterans want to remind you to be respectful with these celebrations as they can often trigger symptoms of PTSD.  The loud sounds of fireworks can remind Veterans who suffer from PTSD of their experiences in combat.
While PTSD affects approximately 7.8 percent of Americans at some point in their lives, it affects up to 20 percent of Veterans and, according to Dr. Edward MacPhee, an Outpatient Psychiatrist with a specialty in PTSD at the Department of Veterans Affairs, this figure notably increases within clinical settings.
Returning home — to civilian life— is not easy for these men and women who have defended our nation. We can never really repay them for their service. We can never really repay them the things they've had to go through and the things they've had to see. But we can try — and we can try to understand their struggles.
This condition is difficult to deal with, treat and many times even detect. When a lot of us think of PTSD, we may often think of the quintessential flashback scenes from some of our favorite war movies and television shows. It's so much more than that.
This condition was first brought into the public eye after doctors observed symptoms exhibited by Vietnam War Veterans. It has become something far beyond only Vietnam War Veterans, whose number of homeless now outnumbers the count of service people who died during the war. Post-Traumatic Stress Disorder is something that lives and breathes with Veterans of all ages in our communities. Although they are no longer on the battlefield, they continue to battle these symptoms on a regular basis:
Avoidance.

This includes isolation, wanting to be alone and the loss of the ability to trust and connect with loved ones. PTSD victims also tend to avoid anything that may trigger their memories of the traumatic event — even psychologically by creating gaps in their memory. The loneliness as a result of these symptoms can often lead to depression.
Flashbacks.

When reminded of the horrific event that this person experienced, they often can involuntarily revisit and re-experience that moment. This can include flashbacks, intrusive memories and night terrors.
Hyperarousal.

Severe anxiety makes the victim easily startled and riled up. It can become difficult for them to sleep, be around other people and let their guard down. The anger and irritability as a result of this can often track back to the tendencies of avoidance and isolation.
It's common for those suffering from PTSD to develop other health conditions like alcoholism, depression and other late stage diseases they've developed due to a neglect of treatment (avoidance). These health conditions can often land them on hospice.
Kathleen MacPhee, a palliative care consultee at the Department of Veterans Affairs, says that rates of post-traumatic stress disorder at end-of-life are higher than we would expect. It is, of course, a difficult thing to study due to patients' strong pathways in avoidance, denial and the "fight or flight" mentality.  She also notes that is important in these settings to ask questions about their service. If they answer truthfully — talk to them and listen.
"Veterans, in part of their whole life review process, like to talk about their history and service." MacPhee said. "It can be a way for a hospice team to establish rapport with the patient by showing a genuine interest."
Talking and hearing others' stories goes a long way. If it's what we can do to help our Veterans—we owe them that.
So remember: be respectful and considerate in your celebrations this holiday.  If you're planning to set off fireworks this weekend, check with your neighbors first for two reasons: 1.) to be generally polite and 2.) to find out if any Veterans live nearby.  Also, stay on the lookout for these signs.  But most of all—be sure to have a happy Independence Day!
The Real Heroes Wear Dog Tags series began in 2013. Read previously featured Veterans' stories and learn more about how Crossroads recognizes and cares for our Veterans.
If you found this information helpful, please share it with your network and community.
Copyright © 2015 Crossroads Hospice. All rights reserved.