Navy Veteran Finds New Life as a Hospice Volunteer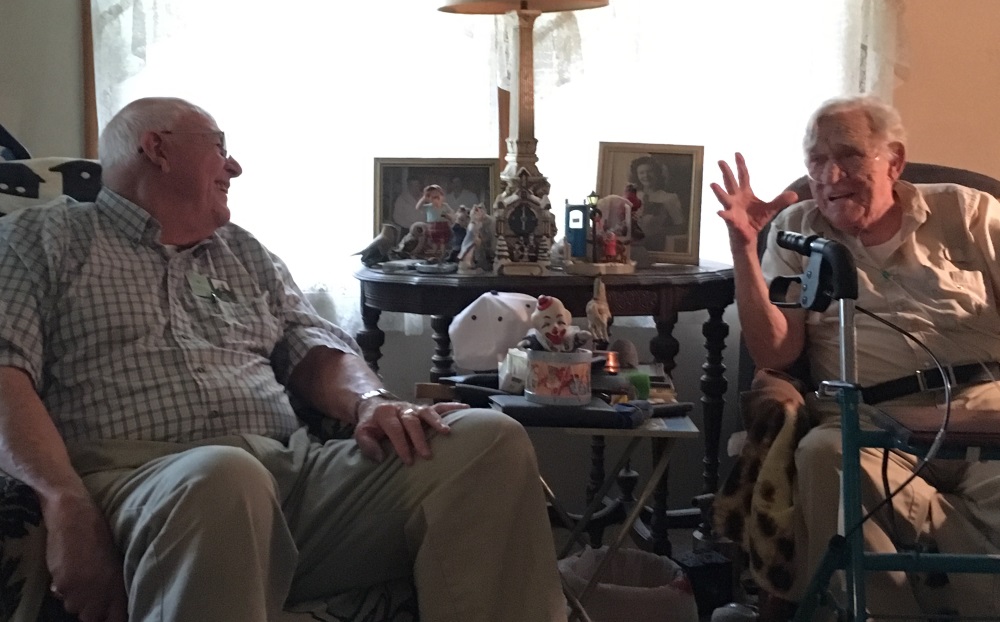 Before 84-year-old Navy Veteran Bill McCrea joined our hospice volunteer team in Lenexa, KS, he was at a bit of a loose end.
"I found myself getting so bored, almost to the point of depression," he said. "My wife and I had moved to a retirement community, and after she passed away from Parkinson's Disease, I didn't have anything to do. I needed to get out a little."
That led him to Crossroads Hospice & Palliative Care. He first came to us for bereavement support, joining a Grief Recovery Group led by Bereavement Coordinator Stella Ruiz. As time went on, Bill found himself wanting to do more. "Stella did so much for me, I thought I ought to pay something in return."
Volunteering with Crossroads Hospice & Palliative Care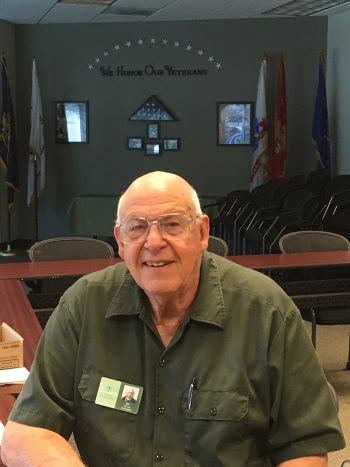 Soon Bill was volunteering in the Crossroads office.
"I went through the training course and got all the shots. I didn't want to be involved with patients. I just worked on mailings and other office tasks."
That didn't last long.
"I helped out with a Veterans event, and [Volunteer Manager] Veronica Evans spoke to me about the Vet-to-Vet program. Before I knew it, we were going out and meeting people. It was such a blessing! I really enjoy meeting and talking with the patients."
"He was so friendly, and I thought he and the patients would enjoy each other's company," said Veronica. "I matched him with one Navy Veteran and then another patient. It is an effortless visit with Bill. He is so humble and such a great listener that conversation can go on for hours!"
Bill agrees.
"I first visited a Navy Veteran," he recalled. "He likes to talk so an hour went by in a hurry. I've gone back two or three times, and we haven't run out of things to talk about yet!"
"On one visit, they started talking about the difference in oceans," Veronica shared. "They started comparing the Atlantic, the Pacific. Bill said the Bering Sea was the worst."
Bill served with the United States Navy himself during the Korean War, spending a year in Adak, AK before being deployed to Korea and Japan.
A Hospice Volunteer Goes Home
Currently, Bill  lives in Mission, KS, but he was born and raised in Richmond, KS. He recently went with Veronica to visit patients in his hometown.
Along the way, they took in the sights of his old stomping grounds.
"He made my day," Veronica said, smiling. "The joy on his face as he told me stories about the local sites was priceless."
"I'd love to go back again," Bill shared. "We visited two patients and talked about the town's history."
To anyone considering becoming a Crossroads Hospice & Palliative Care Volunteer, Bill has this to say: "I would recommend it highly. If I wasn't volunteering, I'd be home, lonely, with nothing to do. It gets me out for awhile, and I enjoy meeting new people."
If you'd like to learn more about becoming a hospice volunteer, please call us at 888-564-3405 to speak with a Volunteer Manager.
If you found this information helpful, please share it with your network and community.
Copyright © 2016 Crossroads Hospice & Palliative Care. All rights reserved.