Up, Up and Away for the Perfect Day
It's a safe bet that the last thing Ruth Fuqua expected on a sunny day in late March was to have champagne poured on her head. But the 79-year-old who lives in Emma, Missouri happily went along with the long-held balloonist tradition of welcoming her back to earth after soaring the skies over Missouri in a hot air balloon for her Gift of a Day from Crossroads Hospice and Palliative Care.
The "champagne" was actually sparkling cider – and family and friends gathered around to toast Ruth in celebration and hear about her adventure.  
"We were high! And people holler at you and wave!" Ruth exclaimed, her huge smile and twinkling eyes confirming that she'd just had the perfect day.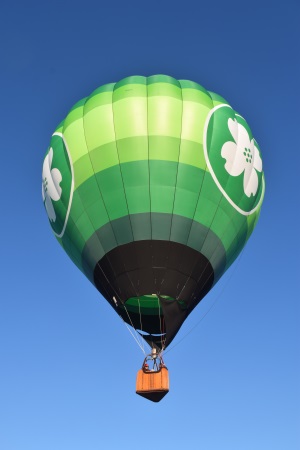 The adventure was orchestrated by Pam Burnham, Gift of a Day program coordinator at Crossroads in Kansas City.  A Gift of a Day is designed to give terminally ill patients the opportunity to have one perfect day doing something they love. Patients share their personal vision of what that day might be. The Crossroads team does everything possible to bring that vision to life.
Ruth had always wanted to go up in a hot air balloon, so Pam got to work. There are no balloon operators in rural Emma, so Pam reached out to the nearest one she could find – Balloon Stormers, located an hour's drive away in Columbia. Having fulfilled similar wishes for other hospice patients and knowing the joy it brings, owners Janice and Gary Sines were immediately on board with the idea. Janice would be their pilot.
Balloon Stormers client Central Bank of Sedalia supported Ruth's Gift of a Day by donating their corporate balloon – which, fittingly, also happens to be Crossroads green. Pam printed special t-shirts with "We're not foolin' – She went hot air balloonin'!" for Ruth and her family to wear. Ruth's daughters, Brenda Boyd and Sandra Gautreaux, agreed that one of them would join her for the ride in the two-passenger basket.
Months of planning came together; now it was up to the weather to cooperate. Rain and high winds in the last days of March brought challenges, but on March 31st, Ruth's family got the call: We're ready to go!
The family drove to Columbia where they met Pam and her Crossroads colleague social worker Sarah Wyatt and the Balloon Stormers. Once the balloon was inflated, Ruth's grandson Alex Boyd lifted her into the basket, alongside his mother, Brenda. Final preparations were made, and they were off.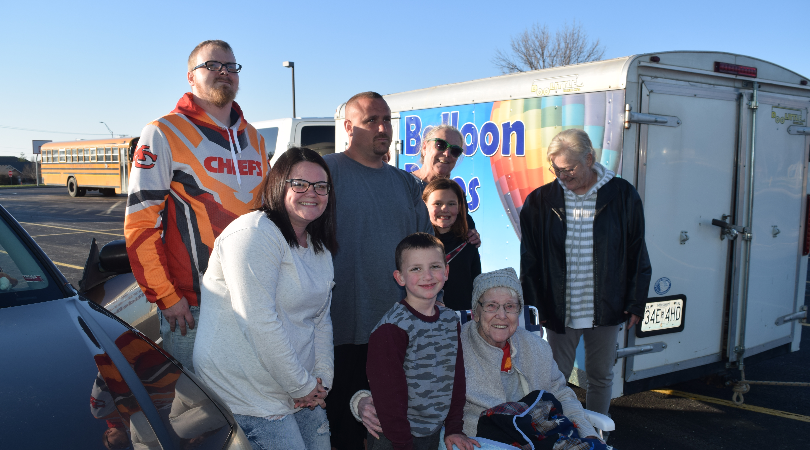 "Up, up and away!" Ruth's great-grandson Westen cried, as the balloon rose to the cheers of the crowd below.
Then, like a scene from a storm chasers video, the whole crew got into their vehicles to track the majestic green balloon as it sailed the skies. It eventually touched down in a nearby park, where Ruth and Brenda were reunited with their loved ones for the sparkling cider toast and recitation of the Balloonist's Prayer.  
"It was everything we ever expected it to be," said Ruth's daughter Brenda, who also had a few drops of cider sprinkled on her head. Mother and daughter were excited to see everyone honking horns and waving at them from below, and to share this once-in-a-lifetime experience as the family made special new memories together.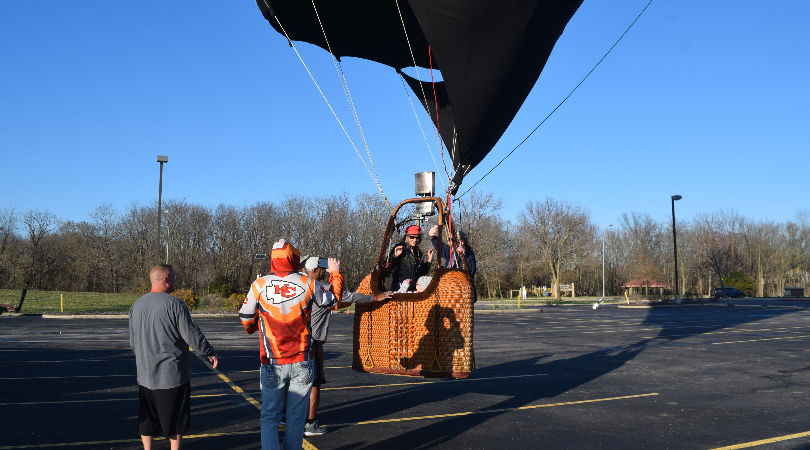 For Pam Burnham, the day was all about giving back and helping others.
"[With a Gift of a Day], you're lifting their spirits and hopes for a short and special time. I understand how valuable that is to the patient," Pam said.
"What is really important is the camaraderie of the community that comes together to help fulfill this day," Pam said. "That's what's magnificent about it. It's humanity."
Read more Gift of a Day stories.
To learn more about how Crossroads supports terminally-ill patients, please call 1-888-564-3405.
 If you found this information helpful, please share it with your network and community.
Copyright © 2019 Crossroads Hospice & Palliative Care. All rights reserved.