Inside a Veteran's Recognition Ceremony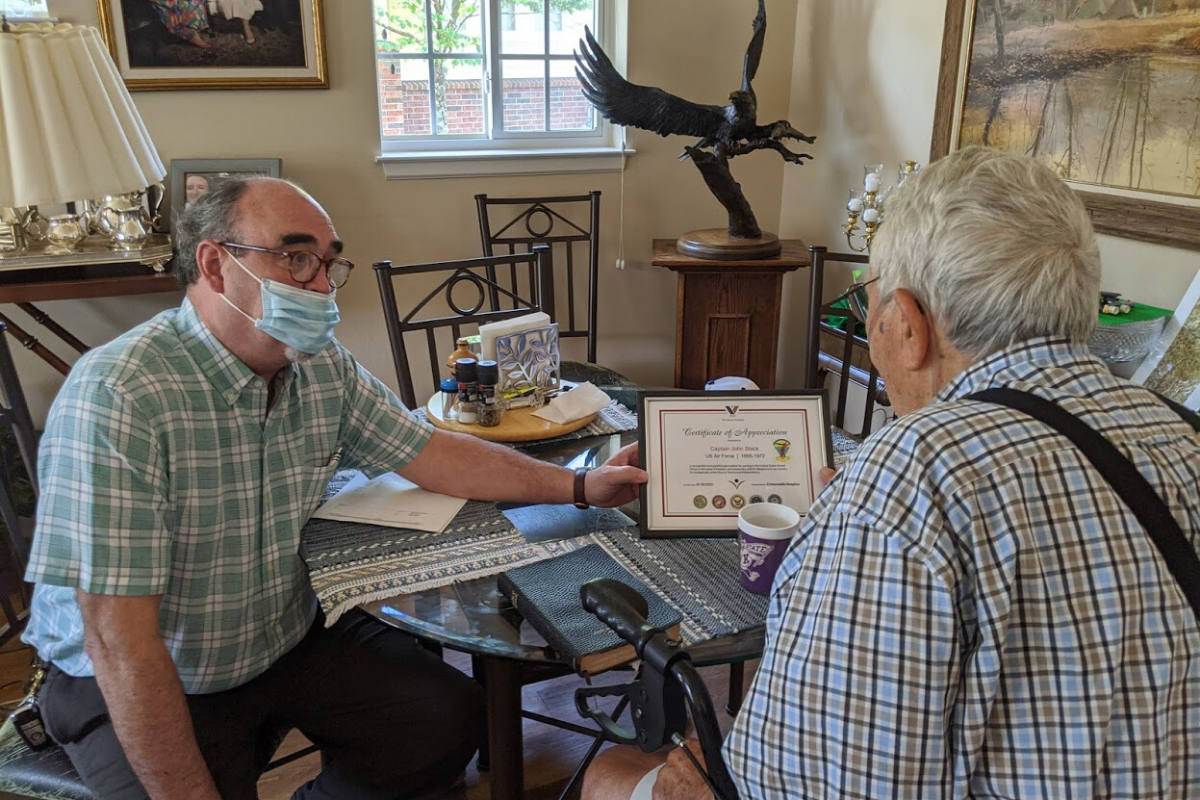 We'd like to give you a glimpse inside a Crossroads Hospice Veterans Recognition Ceremony with Chaplain Clark Smith in Kansas.
John, we're here today to thank you for your military service. You served active duty in the US Air Force from 1955-1956 in the 442nd Troop Carrier Wing and continued serving in the Reserves until 1972. We appreciate your service.
John: "Well that's nice of you, but I don't think I did anything significant."
Let's think about that. John, you gave up a lot of activities to serve in the ROTC while you went to college. Then when you graduated, you landed your dream job immediately at a major company. But you put your career on hold to serve America in the Air Force. John, when you took the Oath of Enlistment, you did three things that strike me as very significant.
First, America is all about Liberty, but you put your personal liberty on hold to take orders from your superiors. Second, Americans love our Land, but you agreed – if ordered to do so – to leave this land and serve abroad. Third, and most important, human Life is precious, but when you took the Oath of Enlistment, you put your own life at risk so you could protect the lives and freedoms of others. John, I think you did something very significant when you agreed to serve in America's military. And though you did not serve at a time to end a war as some of your friends and family did, you served to prevent a war during an incredibly tense "peace time" in American history.
John, on your certificate of appreciation, I added the insignia for your unit. It shows an airplane putting a troop on a target, in other words, getting the right people to the right place at the right time. The 442nd has had a decisive role in American military history, especially when the unit delivered troops in the thick of the D-Day operation at Normandy. And I was struck with the motto on the insignia: Si jeunesse savait, si vieillesse pouvait! It means, "if youth knew, if age could." That's an odd saying to choose as a unit motto, but there you have it.
I've learned that you soloed in a trainer exactly 65 years and 5 days ago. And speaking of anniversaries, Jack, you and your dear wife are about to celebrate your 64th wedding anniversary.  Because your military service had you stationed in Texas, the day you got married in late June it was 114 degrees outside! You wanted to vacation in New Orleans, but chose Colorado instead to try and beat the heat.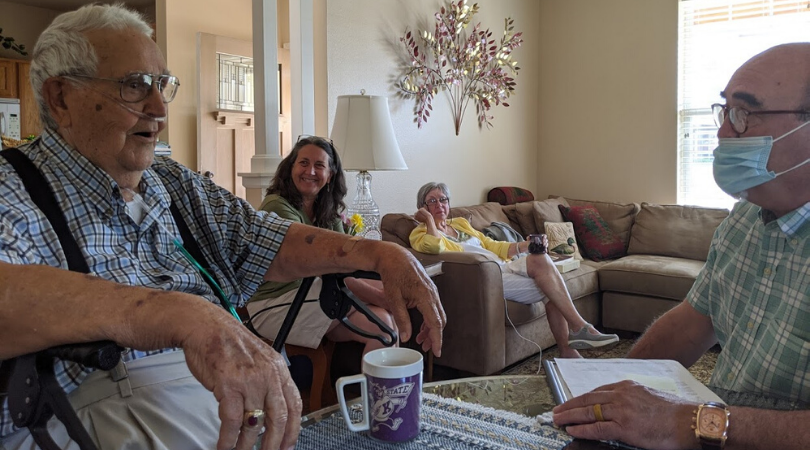 John: "Well, all that happens to be true, but how do you know about all of it." John's daughter adds: "Daddy, I'm hearing some of these stories for the first time."
John, a few years ago you devoted yourself to writing the story of you and your family's life. I've enjoyed reading it and gleaning the things that are important to your family.
John: "Well, you've brought me to the point of tears. Thank you very much for making a fuss over me."
America is a great country, John, because of those who have served to keep her free and safe. We're glad to take the time to tell you personally that we appreciate you service.