What is Evenmore Care?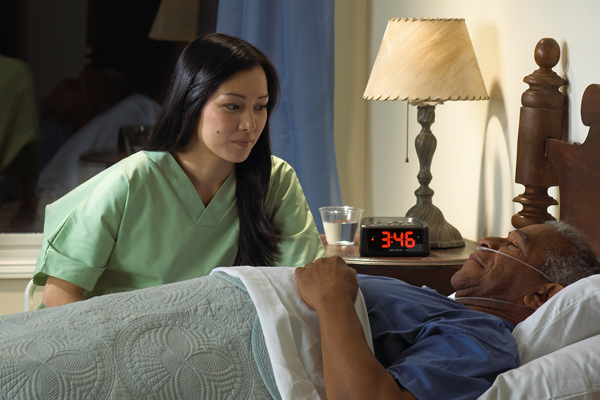 As an employee with Crossroads Hospice for 17 years, I have seen changes in the hospice industry. I have also seen amazing changes in Crossroads as well. As a registered nurse, my primary focus is clinical. With this said, I can honestly say that one of my favorite programs offered by Crossroads Hospice is our Evenmore Care program.
Years ago, we realized there was a gap in the levels of care offered by hospice, and we wanted to bridge this gap. So, we implemented a unique program not "funded" by insurance, Medicare or Medicaid. Evenmore Care is offered to every patient and family member to ensure that ALL needs are met – regardless of how long it takes or that there isn't a "financial" incentive to these services.
Evenmore Care is provided to patients at anytime during their admission. The hospice nurse "orders" Evenmore Care when he/she sees a change in the patient's condition that warrants "Evenmore". This may be something such as a symptom (headache, nausea, backache, and cough) that isn't out of control, but motivates the nurse to keep a closer eye on the patient. Evenmore is frequently initiated when the patient's death is imminent, and the nurse wants to be sure that Crossroads is there to offer comfort and support. It is also implemented to provide emotional support for the family, if needed.
Evenmore Care is provided "around the clock" for either a few hours, or much longer periods of time. The hospice will "staff" personnel to stay with the patient, and staff might change if Evenmore Care is extended – allowing another person to relieve the current employee. This ensures the patient has the utmost attention at all times. The specialty or discipline of the hospice staff may also change based on the needs of the patient. A registered nurse may be with the patient for a set period of time, but may be relieved by a hospice aide, Chaplain,social worker, bereavement support staff member, or volunteer; ensuring that the patient receives the benefits of an interdisciplinary approach to care.
Another benefit to Evenmore Care is that is isn't "timed or limited." If the patient requires Evenmore Care but then stabilizes, Evenmore Care can always be implemented again.
I lost my mother two years ago, this December. She was my best friend and I miss her every day. I talked to her doctor and asked for hospice care – but due to her location, I knew it wouldn't be with Crossroads. I'm sure that attending to my mother were caring healthcare providers, but I felt cheated that my family – especially my mom – couldn't experience the added benefits of Evenmore Care. Because I have seen first-hand the difference Evenmore Care makes in our patient's and family member's lives, I knew what we were missing. My hope is that if you ever need hospice care for you or a loved one, you will call Crossroads Hospice. I can honestly say, that I have seen (both professionally and personally) the difference EvenMore Care can make during those difficult times.
By,
DeAnna Looper RN, CHPN, CHPCA
Chief Corporate Clinical Consultant