Art Therapy Intern Paints A Picture of the Hospice Experience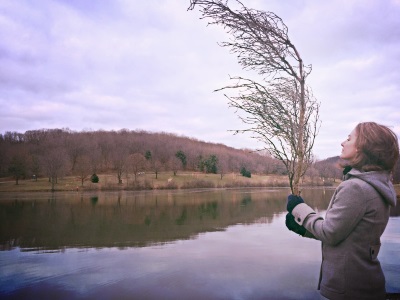 In March 2014, Drexel University of Philadelphia asked their first year Creative Arts in Therapy and Counseling master's students to begin the process of selecting an internship for the following academic year. This is a big step for many master's students. The process calls for self-reflection on both our strengths and our weaknesses as studying art therapists-to-be.
As one of those students, I personally felt drawn toward palliative, as well as, end-of-life care.
This past spring, I wasn't certain whether the magnetism I felt toward this specific population was in response to the patient's or the caregiver's experience. Now it's February, and I have been with Crossroads Hospice as an art therapy intern for four months. Though the past few months have flown by, I have already accrued a bounty of experiences.
There have been special moments that I hold dear to my heart, along with the more concrete learnings that come with tackling an internship. There are ups and downs, which I try to welcome equally. A mentor of mine often paraphrases the group therapist Irvin Yalom's idea that "It's all grist for the mill," meaning that all my experiences will likely serve me well at some point.
It's already served me well. I realized that the magnetism I felt toward this population last spring was in response to both the patients and the caregivers; both their joint and individual experiences. My skills in therapy counseling can help both these groups immensely. Art therapy is an emerging trend in end-of-life care, and reduces anxiety, and helps to address the emotional and spiritual pain of patients and caregivers alike."
I currently collaborate with The Birches at Arbour Square of Harleysville, PA to provide four art therapy groups weekly for residents. I also meet with a handful of individuals at The Birches.
In addition to the groups and individual visits at The Birches, I facilitate a weekly art therapy staff-caregiver support group at the Crossroads Hospice office in Plymouth Meeting, PA.
I've already witnessed special moments in groups, which I perceive as little victories for those involved. Some moments occur when a patient with dementia recalls a special memory through the process of his or her art-making. Other moments emerge when a caregiver recognizes and expresses the importance of community or validation for him or her.
Still others occur when an otherwise withdrawn or depressed member heartily laughs or contributes to the group conversation or project. Sometimes tears are shed, and they are received by other members, acknowledged and normalized.
The art-making that takes place in these groups invites members to reflect, gather their thoughts and sometimes come to realizations. Whether I'm facilitating an art therapy group or meeting one-on-one, I consider myself a guest in the space. I'm honored to receive and reflect on their life stories and current experiences when permitted.
I'm looking forward to expanding collaborations with other facilities, meeting new faces and hearing their stories, and hopefully witnessing many more little victories in the coming months.
Natasha Dubinsky
Art Therapy Intern
Crossroads Hospice