Activities for Dementia Patients: Valentine's Day Heart-Shaped Bird Feeder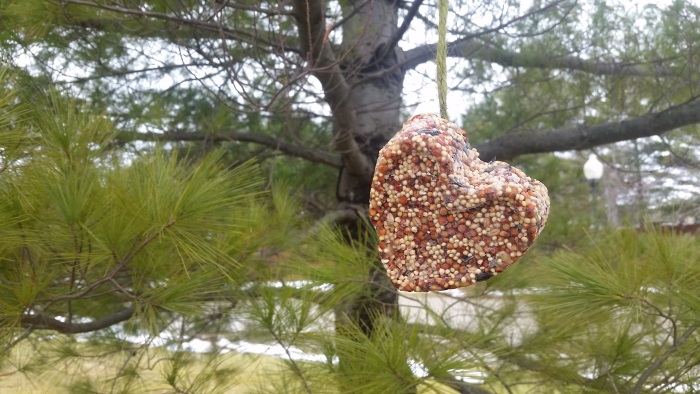 Almost anyone can enjoy birdwatching and the activity can be particularly relaxing for individuals with Alzheimer's disease or other dementia. Lure more birds to your yard by making a heart-shaped bird feeder.
Birdwatching has proven so soothing to those with dementia that the National Audubon Society has partnered with dementia consultant Randy Griffin, RN, MS, HNC, on a program called Bird Tales. This program combines education and programming around the needs of people with dementia and native bird populations.
Once you've made your heart-shaped bird feeder, place it in an area where your loved one can easily see it. Watching the birds each day will become an enjoyable and engaging activity, reducing agitation.
What You'll Need:
3 cups of birdseed
2 packets of unflavored gelatin
Water
Heart muffin pan
Twine or ribbon
Steps:
Add two packets of gelatin to ½ cup of cold water.
Allow the water to sit for a few minutes as the gelatin is absorbed.
Heat 1 ¾ cups of water on the stove.
Add the gelatin mixture and stir until dissolved.
Stir in birdseed and allow it cool until the gelatin coats all the birdseed.
Pack birdseed halfway into each heart in the muffin pan.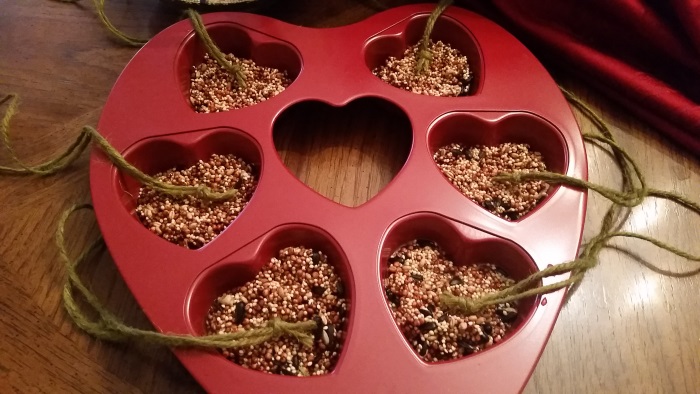 7.Tie the twine into a circle and lay it in the hearts.
8. Fill the remaining space in the hearts with birdseed.
9. Place in the refrigerator or freezer until the hearts become solid.
10. Remove birdseed hearts from muffin pan and hang outside.
Caregiver tips:
If a muffin pan is not available, use a heart-shaped cookie cutter placed on a piece of wax paper.
Wait until birdseed has set and dried completely before attempting to hang them.
Get your loved one involved by starting the activity yourself and asking them to join in.
Activities have the best chance of success in the morning between breakfast and lunch when your loved one is well rested. Short winter days can add to the development of sundowning, so make the most of daylight hours. If they don't want to participate or get frustrated, don't force it. Try again at another time.
Remember that the goal is for you to have fun doing the activity. Don't worry about what the end result looks like.
If your loved one has dementia, ahospice care team can provide support for both the patient and family. This added assistance can be key in avoiding caregiver burnout.
See more dementia craft ideas and caregiver tips on ourPinterest board.
If you found this information helpful, please share it with your network and community.
Copyright © 2016 Crossroads Hospice. All rights reserved.