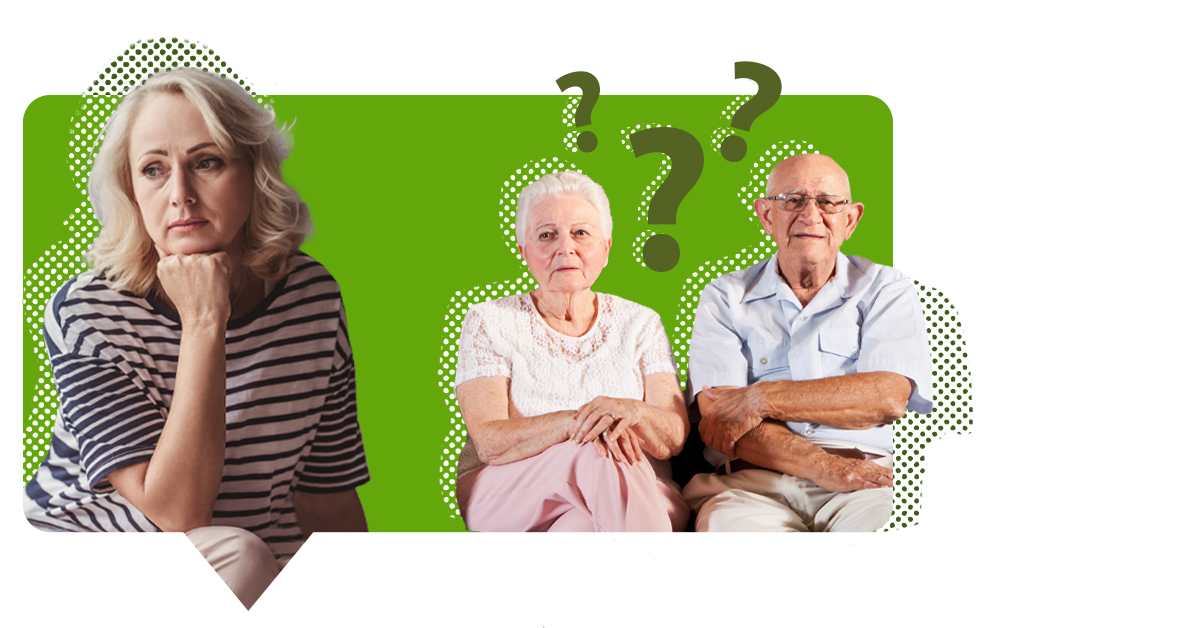 Dear Crossroads,
I'm writing because I'm at a loss, and I don't know where else to turn. Over the last couple of years, I have watched my father's Alzheimer's Disease go from bad to worse. It started with the typical symptoms of forgetfulness and memory loss, but it has now taken over his entire life. 
Then, in the last few months, I have noticed my mom going down the same path. Sometimes she retells the same stories or asks questions about something we just spoke about. One time, she forgot where she was going while she was driving to the grocery store. When I'm in a room with both of them, sometimes it's almost too much. 
I thought caring for one parent with dementia was tough, but I'm riddled with anxiety and  overwhelmed when I think about having to take care of them both. What can I do in this situation? I feel so confused and sad – and it feels like my family is slipping away.
Sincerely,
Forgotten Child
Dear Forgotten Child,
Thank you for reaching out. I'm so sorry that you feel like your family is slipping away from you. Caring for any family member with Alzheimer's Disease can be very hard. The disease can progress in a way that is tricky to understand and it can make family caregivers feel like their loved ones – and the memories they share – are gone forever. 
Please know that the team at Crossroads Hospice & Palliative Care is here to help you through this challenging time. These are the type of circumstances our teams are trained for, so we are ready to begin providing you with the emotional support and guidance you may need.
It's important that you recognized the signs and symptoms of early-onset dementia in your mother's behavior. Dementia is the 'umbrella' term we use to describe a set of symptoms like confusion, short-term memory loss, and cognitive decline that can lead to a disruption of daily life. In the early stages of dementia, a loved one can go from being perfectly independent to forgetting how to tie their shoelaces in one afternoon. These types of "forgetful" moments also happen during the normal aging process. But with dementia, and eventually Alzheimer's, they may become more frequent. 
Your team of nurses and doctors will be happy to provide you more information about what your mother is experiencing. With their help, you can observe the trajectory of her condition more closely, and anticipate the subtle changes that may occur. Sometimes knowing what comes next in an illness can be helpful with managing the anxiety of these situations.  
If it's any relief to you, approximately five million Americans aged 65 or older are living with this illness, according to a 2014 study from the CDC. In the coming years, that number is expected to triple. Many families are experiencing the challenges of this disease, and our team of Crossroads social workers can connect you to people in your community who may be facing a similar journey. Having someone to talk to can be helpful to ease the burden and help you feel less isolated on hard days. 
In the near future, one thing I'd recommend for you to take advantage of is our respite care benefit. This benefit provides a five-day break for you to take care of yourself while your mom or dad are temporarily admitted to a Medicare-approved inpatient nursing facility or hospital. We'll handle all of the logistics for placing the patient – while you take some much-needed time to care for yourself. We understand that having a break to rest and recover is important to providing quality care.
A more simple way to relieve stress is to engage your parents in an activity for dementia patients like arts and crafts. This can be an easy way to get everyone involved and engaged in a conversation. You can do something as simple as finger painting or something more involved like decorating crafts for an upcoming holiday. Staying mindful during the activity will help you see that this is still your family, even if things feel different. You might even create new memories.
Something I often tell my patients is that your parents will always be your parents. Inside that person is someone who loves you, and no one can take that away. We here at Crossroads are here to walk this journey with you.  
Sincerely,
Ashley McNally
Site Educator
Crossroads Hospice & Palliative Care
For more information on how Crossroads supports patients at the end of life, give us a call at 888-564-3405.
If you found this information helpful, please share it with your network and community. Copyright © 2021 Crossroads Hospice & Palliative Care. All rights reserved.