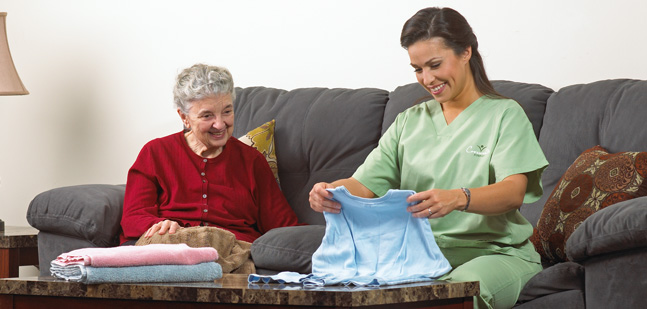 Neurological Hospice Eligibility Requirements.
Patients with an end-stage neurological condition including Non-Alzheimer's dementia, Parkinson's, MS, ALS, Huntington's disease and other neurological conditions are eligible for hospice care. View the symptoms for end-stage neurological conditions below.
Hospice eligibility requirements for neurological conditions: 
Structural/functional impairments
Impaired mental function
Impaired sensory function and pain
Impaired neuromusculoskeletal and movement functions
Impaired communication
Impaired mobility
Self-care deficit
Activity limitations
Comorbid and secondary conditions also contribute to a terminal prognosis.
Neurological Condition symptom management.
While each neurological condition has its own disease progression, Crossroads Hospice & Palliative Care is trained to support individuals with neurological conditions by address their symptoms and unique needs.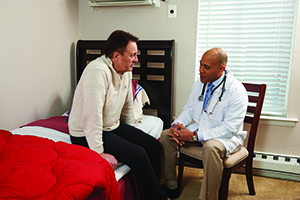 Once a patient meets the neurological hospice eligibility criteria and begins treatment, all medications, medical supplies, and medical equipment are provided at no cost to the patient. This includes equipment and supplies like hospital beds, geriatric chairs, and positioning tools to help increase the patient's comfort. Our team of experts will work to address pain management and any other symptoms the patient is experiencing.
In addition, our aides will work with family caregivers or facility staff to provide personal care to patients. The limited mobility of patients with advanced neurological conditions means special care must be taken to address skin breakdown, muscle atrophy, and any decubitus ulcers in addition to daily grooming needs.
Our emotional support team including social workers, chaplains, bereavement counselors, and volunteers address emotional and spiritual needs. Social workers can also assist with end-of-life planning and connecting patients and their families to additional resources and support in their community.
For primary care physicians.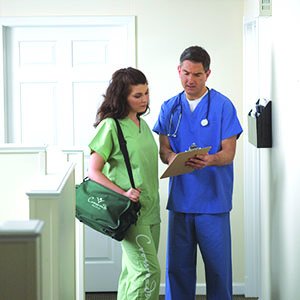 Crossroads Hospice & Palliative Care is an extra layer of support for your patients and their families. We partner with primary care physicians to ensure the patient's needs are being met in the location of their choice – whether that is their family home, an assisted living facility, or an inpatient unit.
As a neurological condition progresses and the patient meets the hospice eligibility criteria, they will need more and more support. Crossroads is able to provide whole-patient care with our multidisciplinary team of registered nurses, hospice aides, social workers, bereavement coordinators, chaplains and volunteers.
If a patient does not yet qualify for hospice, Crossroads Hospice & Palliative Care is still able to provide much-needed assistance in the home with our palliative care program. Our palliative care nurses and social workers visit patients between doctor visits to help manage symptoms and side effects.  
When to call hospice.
Crossroads Hospice partners with a patient's primary physician to create an individualized plan to meet each patient's unique needs. A team of nurses, aides, social workers, chaplains, volunteers, and bereavement counselors support both the patient and their families. Hospice care services for kidney failure patients can be provided in home, at an assisted living facility, or hospital as the patient prefers.
If a patient is experiencing some of the neurological hospice eligibility criteria listed above, please contact us at 1-888-564-3405 for a hospice consultation.