Seashell Monogram Shadow Box: A Craft for Dementia Patients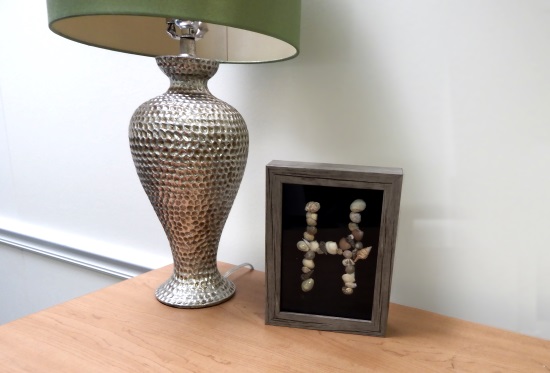 Keep your summer beach memories alive all year long with a Seashell Monogram Shadow Box made of shells you collect at the beach (or your local craft store).
For those with dementia, a craft project like this serves many purposes.
You may already notice that your loved one with dementia will run their hands along different surfaces or play with their clothing. Studies have shown that stimulating the sense of touch can soothe restlessness in those with dementia. The shells in this craft have ridges and alternating rough and smooth edges, which can provide excellent stimulation.
Additionally, art, music and crafts have been found to help dementia patients connect with ideas and memories that they have difficulty expressing at other times. The activity itself is also socially engaging, providing your loved one with an interesting and fun project that they can do with family or other caregivers.
What You'll Need:
Seashells
Shadowbox (approximately 5 by 7 inches)
Wooden letter, which could be your loved one's first or last name initial or whatever letter they'd like (3 to 4 inches in height)
School glue
Steps:
Make sure you have enough shells to cover your wooden letter by arranging them on it before adding glue.
Once you have a general idea of what will work, begin gluing each shell into position.
Allow the letter to dry as you talk about yourfavorite beach memories with your loved one.
Once the shells have had time to dry, glue your letter into place in the shadow box.
Caregiver tips:
If you don't want to use glue, you can create a variation on the project by affixing an old photo of your family at the beach onto the back of the shadow box. Then shells can be piled at the base to give it a similar summer feel.
Get your loved one involved by starting the activity yourself and asking them to join in.
Be flexible and don't criticize. Enjoy the activity even if the end result isn't perfect.
While doing the craft, engage your loved one in conversation.
Activities have the best chance of success in the morning between breakfast and lunch when your loved one is well-rested. If they don't want to participate or get frustrated, don't force it. Try again at another time.
If your loved one has dementia, a hospice care team can provide support for both the patient and family. This added assistance can be key in avoiding caregiver burnout.
See more dementia craft ideas or caregiver tips on ourPinterest Board.
If you found this information helpful, please share it with your network and community.
Copyright © 2015 Crossroads Hospice. All rights reserved.