Volunteer Spotlight: Meet Artist Anita Gish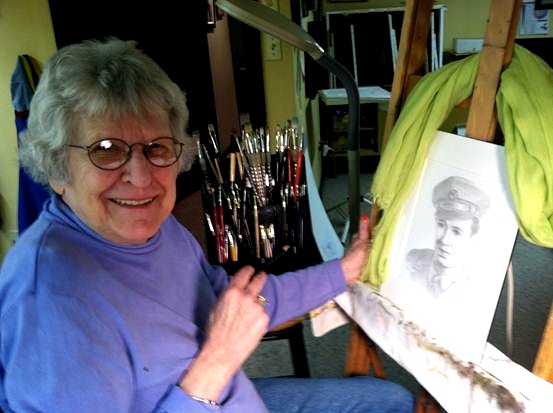 Volunteer Anita Gish has been an artist for 30 years. She currently teaches oil painting at Johnson County Community College in Overland Park, Kansas. Anita contributes to our volunteer efforts by creating portraits of veterans on our hospice service for their families.
Anita heard about the Crossroads Hospice from an article in the local paper about artists doing portraits of veterans. "I wanted to do something for our veterans that gave so much for our country. I hope by doing portraits of hospice veterans that I have repaid a little of the service they gave to our country," says Anita.
Veronica Evans, Crossroads Hospice Volunteer Coordinator, enjoys seeing a family's reactions when receiving their loved one's portrait. Reactions range fromuncontrolled smiles to tears of joy. One patient was surrounded by his daughters as his finished portrait was unveiled. His daughters cried as they watched their father stare at his picture for a long time. Finally, he said, "I was a handsome man."
We are so thankful to have the opportunity to work with volunteers who are always giving of themselves to help others. Visit the volunteering section on our website to see how you can share your unique talents.