Activities for Dementia Patients: No-Carve Halloween Crafts
Whether you're in the cooler Midwest or East Coast, or if you're in the sunny South, October ushers in a fun, fall spirit. Pumpkins are everywhere this time of year, and while sometimes it doesn't always make sense to add pumpkin to a dish or treat, it's always a great idea to use them as crafts and decorations.
You can get the whole family involved - from kids to elderly loved ones and even loved ones with dementia - in pumpkin decorating. Crafts improve social interaction and dexterity in people with dementia. Plus, with this featured craft you don't have to worry about knives or the mess of pumpkin guts! Remember: "There is no good and bad art," says Natasha Dubinsky, a Crossroads Hospice volunteer studying for her Masters Degree in Art Therapy at Drexel University in Philadelphia, PA. "If someone is happy when they're doing it, that makes all the difference." "The outcome matters for the elderly, so keep the goal loose enough that it's fun no matter what it looks like," Dubinsky explains.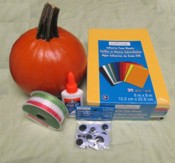 What you'll need:
Pumpkin/Gourds

Sticky back foam

Plastic eyes

Glue
Steps:
Find pumpkins and gourds that are unique shapes and fun colors.

Attach the eyes using glue.

Cut the foam into shapes like mouths, arms or wings.

Remove the backing and attach the foam shapes like a sticker.

Use the fabric to make a scarf or a hat for the pumpkin or gourd.
Special tips:
●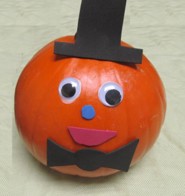 Worried about using glue or scissors for your loved one's craft project? Use Mr. Potato Head pieces to decorate instead!
● Get your loved one involved by starting the activity yourself and asking them to join in.
● Assist with difficult steps, but be flexible and don't criticize. Enjoy the activity even if the end result isn't perfect.
● While doing the craft, play music they enjoy and engage them in conversation.
● Activities have the best chance of success in the morning between breakfast and lunch when your loved one is well-rested. If they don't want to participate or get frustrated, don't force it. Try again at another time.