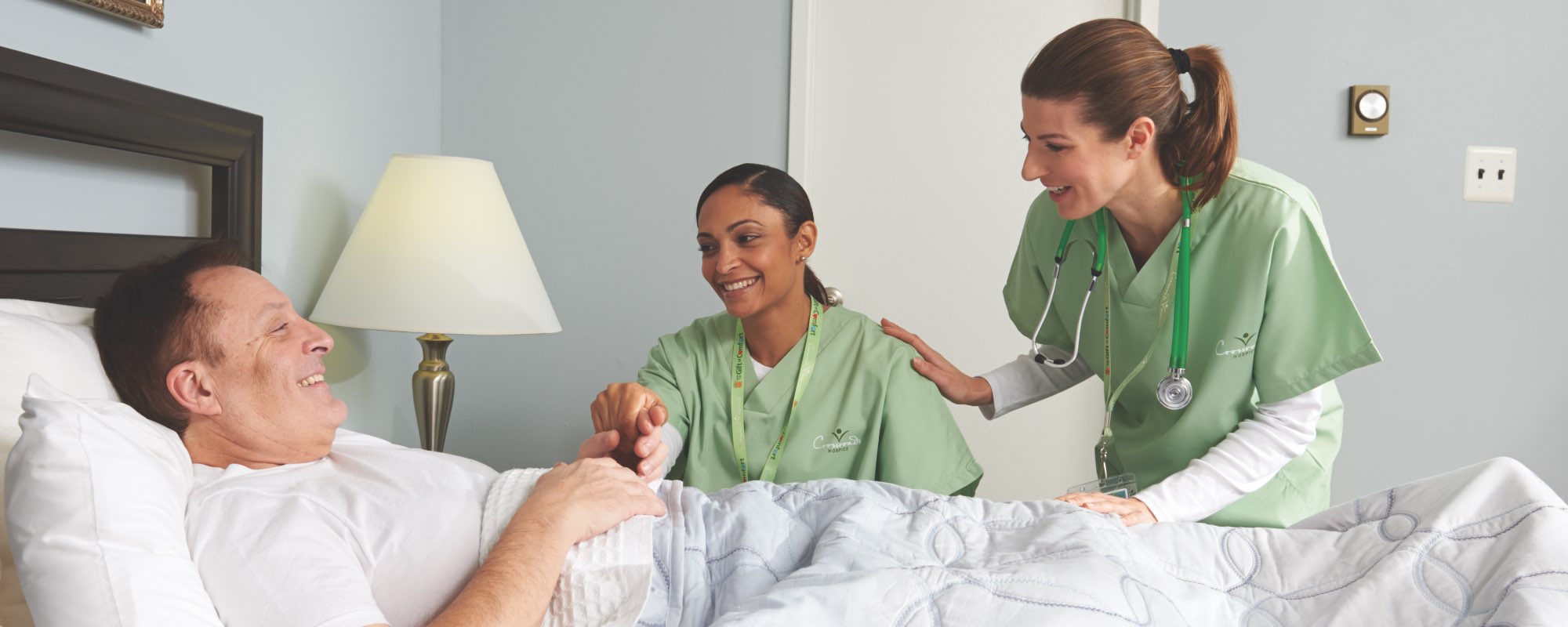 Here's How Crossroads Hospice Can Help Nursing Home Residents and Skilled Nursing Patients
Hospice plays a vital role at the end of life for nursing home residents and skilled nursing patients. The goal of hospice is to make the patients and their families as comfortable as possible in their final months. At Crossroads Hospice & Palliative Care, we recognize the attentive and affirming care you provide your patients and residents, and also know how demanding it is to be everywhere for every resident at once. That's why Crossroads partners with assisted living communities, nursing homes, and healthcare professionals to provide specialized end-of-life care. We provide a team of healthcare professionals and specialists for our patients, with the goal of providing compassionate care for them as well as their loved ones. 
The services Crossroads provides at nursing homes and assisted living communities.
Crossroads Hospice helps nursing home residents, skilled nursing patients, and others in need of end-of-life care. Crossroads is available 24/7/365 to assess and admit patients because we understand urgency. We offer resources like a dedicated, on-call clinical team available to help your residents remain comfortable day and night. If an emerging need arises, like nausea or vomiting, excessive pain, or a patient falls - we're ready and available to help. 
More visits.
The goal of Crossroads is to go above and beyond for our patients. So, while many hospices only provide what is required by Medicare, such as two Registered Nurse (RN) visits per month, we strive to provide two RN visits per week. By seeing a patient more frequently, we can identify physical changes that indicate a patient is in decline. This is where we'll institute our Watch Program, providing increased visits to more closely monitor pain, symptoms, and vital signs. When we recognize that death is imminent, our Evenmore Care program provides a Crossroads team member at the bedside, through the final hours and moments, to support the patient and family members.
More guidance.
Families commonly think that accepting or enrolling in hospice care is giving up. As specialists in end-of-life care, we are available to facilitate difficult conversations with the family about the choice of hospice and its benefits. And if a family becomes anxious or concerned about their loved one's condition, we can help them understand the process, and signs, of dying. 
More services.
Our team is ready to step in and take on the responsibilities of personal care such as bathing, grooming, dressing and diaper changes as well as providing general physical, mental, and emotional comfort. Crossroads works to treat patients with the dignity and pride they deserve.  
Hospice allows residents, patients

,

and their families to enjoy the time they have left.
The intent of hospice is to make the patient as comfortable as possible while getting to spend as much time as possible with family and friends. In fact, at Crossroads, we're all about celebrating life. We even provide a special program called Gift of a Day that provides our patients with "the perfect day." 
Why should nursing homes and skilled nursing professionals consider Crossroads?
Skilled nursing patients and nursing home residents should live without pain or fear of the unknown. At Crossroads, we make it our mission to provide exceptional comfort care to patients and family members. Our care plans include emotional and spiritual support by our chaplains to calm fears, guide conflict resolution, or simply provide companionship; and our social workers can help families connect with any resources they may need. Still curious as to why you would choose Crossroads? Here are a few more reasons:  
Experienced in long-term care. We've been partnering with long-term care facilities since 1995. 

 

During the patient's final days, our hospice team visits the patient more frequently than the national average. 

 

The Crossroads Evenmore Care program ensures a Crossroads team member is at the patient's bedside during their final moments. Patient's family members are also supported through this final transition.

 

In addition to symptom management, Crossroads provides emotional and spiritual support to the patient and their family.

 

Crossroads offers a number of unique programs, including the aforementioned Gift of a Day as well as Life Journals, which celebrate the patient's life and make lasting memories.

 

And of course, we provide 24/7 support, so we can be there when you (and your patient or resident) need us.

 
Refer a patient to Crossroads today.
Crossroads is not just a healthcare provider – we are a healthcare specialist in end-of-life care. Our professionals are prepared for a variety of specific, complicated situations that include physical medical care and emotional care for both patients and their families. By partnering with Crossroads, you are providing your patients and residents with an extra level of care and support. We can be there when you can't be, and serve as support when you are. 
Curious about how hospice can help your nursing home residents or skilled nursing patients? Click here to fill out a patient referral form, or call us 24 hours a day, 7 days a week: 855-327-4677.