Staff Spotlight: Sandy Wilson, From Missionary to Crossroads Team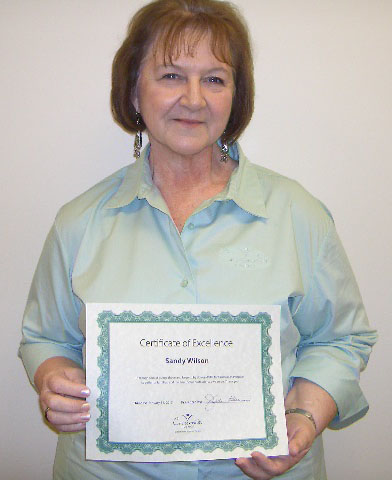 Memphis'

Volunteer Coordinator Sandy Wilson

 

has committed a lifetime to doing more for others. A missionary in Africa for 28 years, Sandy lived in Kenya, Nigeria, Nairobi – serving as a teacher and mentor to local children and regularly organizing collection drives for the communities.
When she returned to the United States, Sandy's mission was to find a path that allowed her to help others.She found Crossroads Hospice. "I started with the admissions team and experienced a life-changing event. A woman called us for information, but we hadn't heard from her in several days. I ended up visiting her and when the door opened I introduced myself and she fell to the floor crying. Her estranged daughter was terminally ill, and had just moved to the area. This woman was alone with a cell phone that had just lost battery, and desperately needed someone to talk to about her daughter. It was a time where I experienced the power of hospice."
When Sandy's role with Crossroads evolved into Volunteer Coordinator, it was a natural fit. "As a missionary, we worked with volunteers all the time. You are matching people with open hearts with people in great need. In hospice you help volunteers see that the person has not always been a patient, and is not an illness."
Sweet Celebrations, Veteran's Quilts, and Finding the Bright Moments:
Sandy encourages her volunteers to help patients find every reason to celebrate. "Our volunteers love to prepare the patient's favorite dessert for all special occasions like anniversaries or birthdays. We average 30 cakes a month and during holidays we create special gift baskets. Sometimes, a 'fun' day might not be possible, but maybe a brighter day is."
During her four years at Crossroads, Sandy has inspired a group of women from her church to make quilts for patients who are veterans. What started as the occasional patriotic lap blanket has grown into six-eight quilts a month after Sandy invited the women to experience one of Crossroads' Veteran's Recognition Ceremonies. "When the ladies' quilt was presented, the veteran had tears in his eyes. From then on the group made more and more quilts. Several have been draped over caskets, or displayed as wall hangings in families' homes. This project is very meaningful to both our families and volunteers."
Sandy also mentors students from area universities as they complete Life Journals chronicling patient's histories through photos and cherished memories. "It's a wonderful feeling to help students discover how they can connect with older generations."
During Volunteer Appreciation Month in April, Sandy hosts a Volunteer Appreciation Banquet to thank her volunteers for their time and dedication. Whether visiting a volunteer with chicken soup if they're not feeling well, or giving them cards on their birthdays, she goes the extra mile to make everyone around her feel special.
Sandy Wilson is committed to creating bright moments for patients, their families, and her volunteers. "Whether I'm taking a volunteer to meet a patient for the first time, making a gift basket with a volunteer or a Life Journal with a student, I'm working with so many people who have good hearts who want help. There's nothing better."
To join outstanding staff members like Sandy in serving Crossroads Hospice patients and their families, visithttp://www.crossroadshospice.com/volunteering/default.aspx.