Up & Away: A Hot Air Balloon Gift of a Day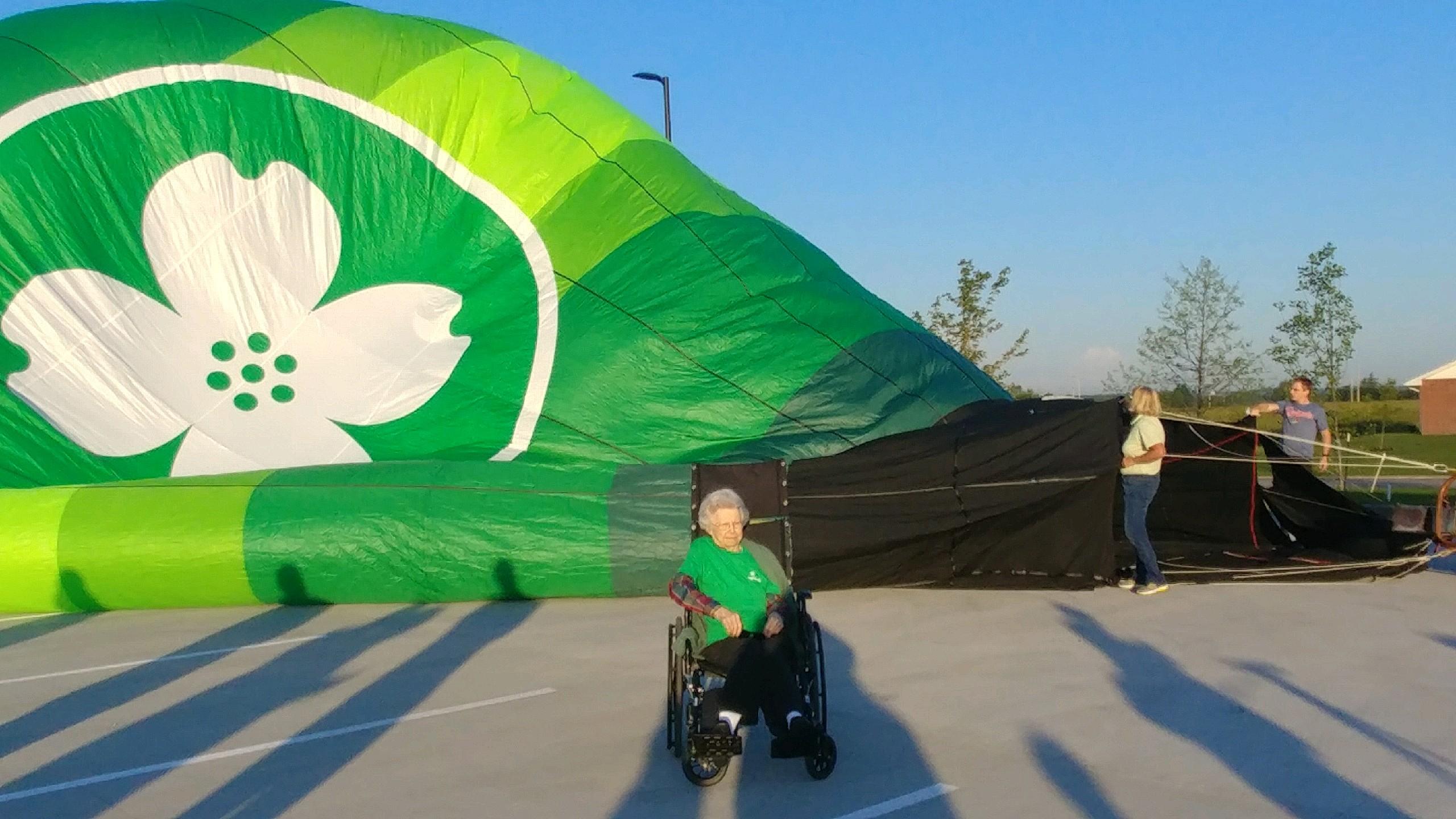 The wind was quiet in the pre-dawn hours, and Reta Warren's Crossroads Hospice & Palliative Care team got word that her Gift of a Day was a go. Weather conditions were ideal to make 96-year-old Reta's life-long dream of a hot air balloon ride come true.
As she waited for the hot air balloon to be prepared, Reta spoke with members of the media who had gathered for the occasion including Fox 4 News and The Sedalia Democrat.
The sun rose in the east as Reta climbed aboard the hot air balloon with Crossroads social worker Addison Eckles and BalloonStormers pilot Gary Sines, waving to those assembled below. Then, the green balloon took off, and they were up, up, and away, the hot air burner roaring.
Fox 4 News streamed the takeoff live: 
The trio sailed 1,500 feet above the rural countryside, taking in the sights of the community as Reta's family, her Crossroads Gift of a Day team, and Fox 4 News chased the balloon in their car.
The balloon landed after about 20 minutes at the Missouri State Fairgrounds, and Fox 4 News was on hand for Reta's reaction: 
Reta passed away just a few weeks after her flight. It was an honor to help make this dream come true for her.
Gift of a Day Program 
The Gift of a Day program was inspired by Jim Stovall's book, The Ultimate Gift. It is designed to give patients one perfect day. The Gift of a Day is offered to each patient and built into their plan of care as a quality-of-life program. In Reta's case, that perfect day included fulfilling a long-held dream. Our staff worked with the community to make that dream come true, including the event sponsors, Central Bank of Sedalia, and BalloonStormers of Columbia, MO.
To learn more about our Gift of a Day program, please call 1-888-564-3405.
Recommended Reading:
Musician Josh Turner Gives Hospice Patient a Night to Remember
Irish Dancers Add Extra Joy to Patient's Gift of a Day
Community Generosity Makes Gift of a Day Events Possible
If you found this information helpful, please share it with your network and community.
Copyright © 2017 Crossroads Hospice & Palliative Care. All rights reserved.