25 Shades of Green: Introducing Volunteer Manager Olivia Courtney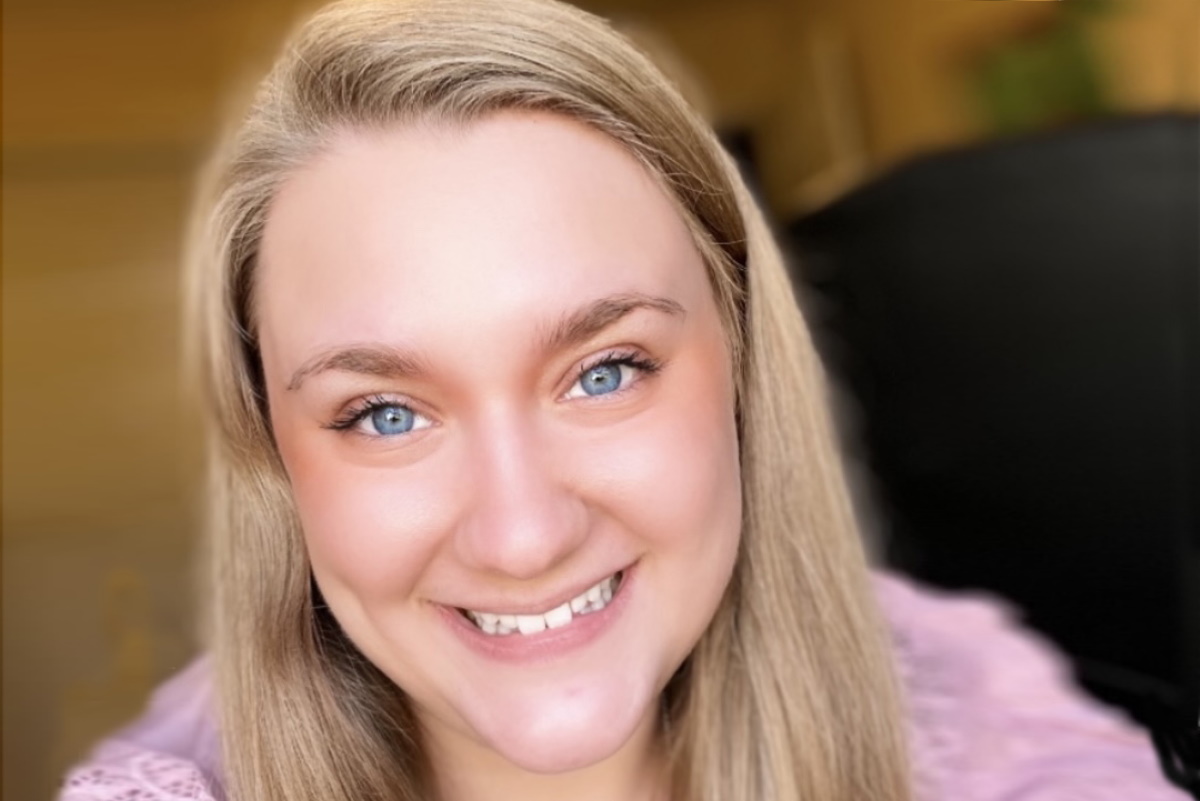 Olivia Courtney graduated from Ohio's Bowling Green State University in May of 2015 and shortly thereafter became a volunteer manager with Crossroads Hospice & Palliative Care's Cincinnati site. Olivia wasn't a stranger to Crossroads when she was hired.  Like so many professionals in Crossroads' Patient Support Services department, Olivia joined Crossroads as a college intern.
A Desire to Do More
Olivia's journey towards working in end-of-life care began much earlier as a seven-year-old second grader when her grandmother, who lived nearby and took care of her after school while her mom worked, had a double knee replacement. 
Olivia accompanied her grandmother to physical therapy (PT) several times a week and initially began studying PT at Bowling Green before switching majors.  Ultimately, she graduated with a Bachelor of Science degree in Gerontology, a perfect fit for someone who "has a passion for older adults."
With more than five years at Crossroads under her belt now, Olivia said, "I really try to make the most of my position."  She continued, "I believe in what Crossroads does.  I want to spread joy and happiness.  I want to do more."
Crossroads unites all team members around a shared promise to always strive to achieve the highest ethical and service standards and to provide compassionate end-of-life care that consistently exceeds patients' and families' expectations.
Life Journals are a Lasting Legacy
Volunteer managers, like Olivia and her colleagues at Crossroads' 11 locations in seven states, oversee the innovative Life Journals initiative. 
A Life Journal is a beautiful hardbound leather book with photos that highlights a patient's life story.  It is a lasting legacy – a keepsake that is cherished by loved ones after a patient passes.  That's why Life Journals are affectionately known as the "Gift of Gratitude."
Olivia embraces Life Journals with energy and humility.  She personally spent "hours and hours on one that meant so much to a family" but was also very personally meaningful for Olivia.  She was honored to have an intimate view into a family in end-of-life care.
"We captured a couple's love and an entire life in the Life Journal we created," Olivia explained.  Multiple copies of the Life Journal were ordered by the couple's 10 children and enjoyed by their many grandchildren and great grandchildren.
"They were so thrilled," Olivia said.
That, in turn, thrilled Olivia.
Volunteering In Her Free Time
So how does Olivia spend her free time?  An owner of two dogs and a cat, she is a longtime animal lover who volunteers at a local animal shelter. 
Recently, she discovered a new passion to enjoy with friends who aren't furry: axe throwing.  Olivia knows every place you can throw axes in the Cincinnati area and she goes frequently, even weekly, to enjoy her new found sport. 
"It's fun and it's a really good workout," she said.
Olivia is enthusiastic about everything she does.  Going above and beyond for Crossroads' families and fellow employees is something she is known for.  Olivia will always help out wherever and whenever she can, even if that means stepping outside her volunteer manager role. 
"I'm very team-oriented and I like to work together with others," Olivia said. 
But first and foremost, Olivia considers herself a passionate advocate for hospice and palliative care, both internally at Crossroads and in the community at large.
Note:  Olivia Courtney is being featured in our 25 Shades of Green blog about employees who exemplify Crossroads' culture of "doing more."  These 25 fine professionals are being celebrated in recognition of Crossroads' 25th Anniversary.  
To learn about more of the hospice team at Crossroads, give us a call at 1-888-564-3405.
If you found this information helpful, please share it with your network and community.
Copyright © 2020 Crossroads Hospice & Palliative Care. All rights reserved.