Dementia  Resources & Alzheimer's Disease Information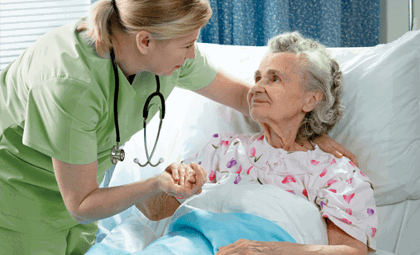 Dementia is a not a specific illness but rather a term for the loss of memory, problem-solving, language and other mental abilities that are severe enough to interfere with your daily life. The most common form of dementia is Alzheimer's. In early stages, a person with dementia may still be able to live independently despite memory lapses or trouble planning and organizing. As the illness progresses, there will be increased memory loss, moodiness, confusion, personality and behavior changes, and an increased risk of wandering and getting lost. In late stages, people with dementia typically lose awareness of their surroundings, have trouble communicating, lose the ability to walk, sit, and swallow, and will need 24-hour care. The dementia resources below offer Alzheimer's help and information for patients and their families. Palliative care can help patients with dementia coordinate care, address comorbidities and manage symptoms to improve quality of life, while hospice care is designed to recognize and treat symptoms of discomfort and pain even if the patient can no longer communicate their needs.  
Additionally, here are some hospice and palliative care financial resources for dementia patients:  
Community resources and Alzheimer's help 
near you. 
Crossroads has listed a variety of national dementia resources for patients and their families below. However, there may also be local and regional resources available to you, including in-person and online support groups, food services (e.g., Meals on Wheels), and more. We recommend researching more city and state level dementia resources, as well as browsing the Crossroads website for resources in your state. 
Resources for Dementia patient 
families and caregivers.
Being a caregiver of a loved one with dementia can be incredibly stressful. The list of Alzheimer's resources and information below can help ease the burden of caring for your family member. 
Additional 
Dementia resources 
and information. 
Crossroads is available to help 24/7, and can be reached by phone, email, or live chat through the website. Contact us now for information and advice on dementia, including comfort care options, patient care information, and more. 
You can also explore additional dementia and hospice/palliative care resources here:  
(Please note that Crossroads does not endorse any of the organizations linked above. Patients and their families should conduct their own research before making any healthcare decisions.)