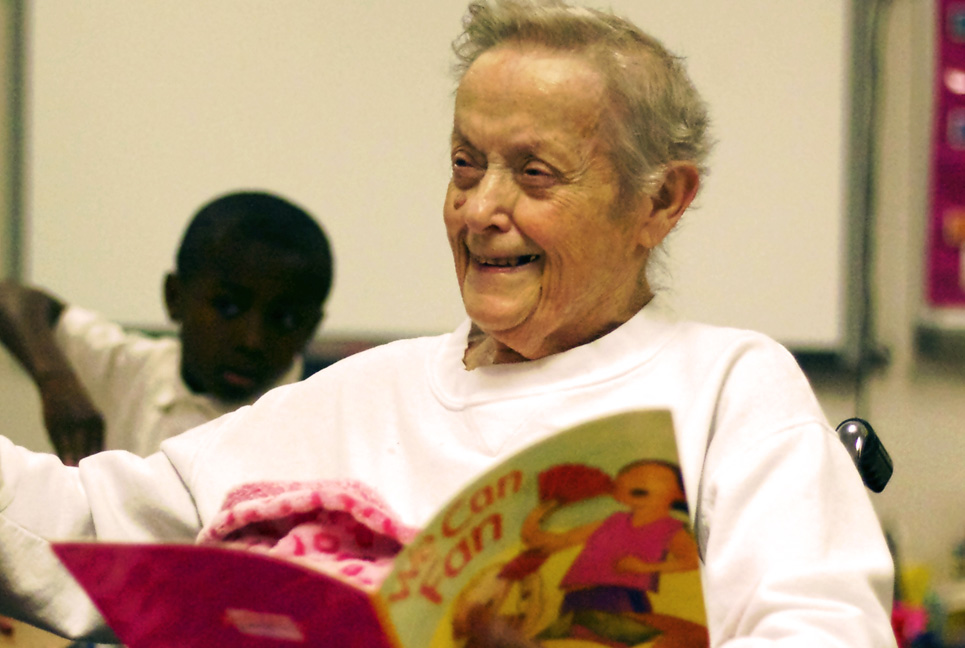 Gift of a Day Feature Story
June 2014
Beloved Teacher Goes Back to School
Few people get really excited about returning to school after a break, but for Katherine Macre – a former elementary school teacher of children with learning disabilities – going 'back to school' was a wish come true.
Teaching is all Katherine ever talked about with her Crossroads team. Each August, she grew almost giddy with excitement in anticipation of the new school year ahead – even after 30 years. New students, new challenges, new stories, new lessons…it brought Katherine pure joy.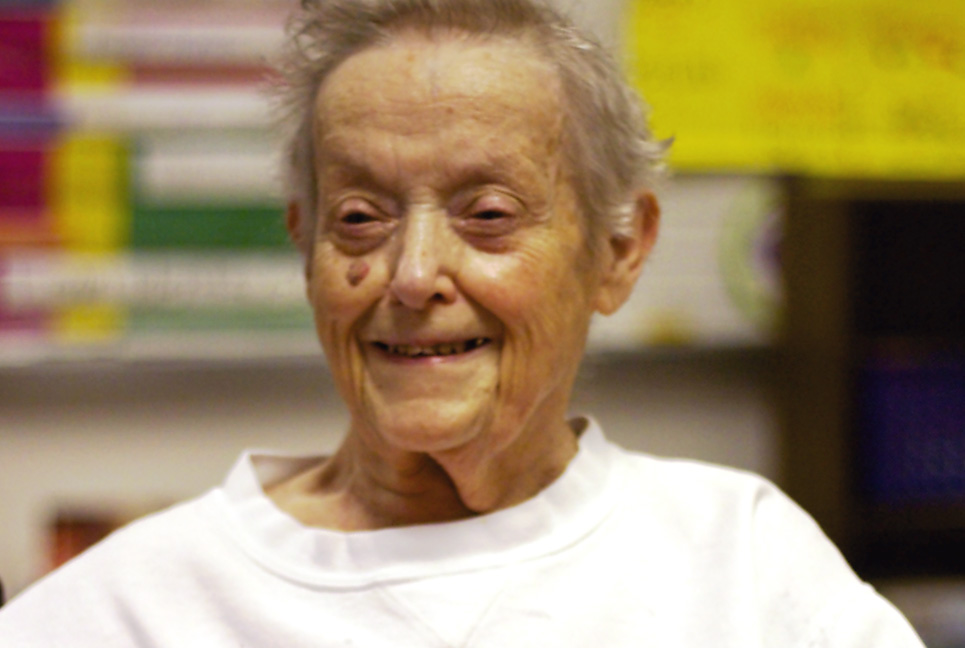 Katherine's zest for teaching and love for children kept her feeling young well past the days of her youth, and it showed. She was that special kind of teacher who would stay late to help a struggling student and sacrificed her lunch hour or dinner plans to plan a creative way to explain a new concept. Even at age 86, Katherine – struggling with dementia – never stopped thinking about her days in the classroom.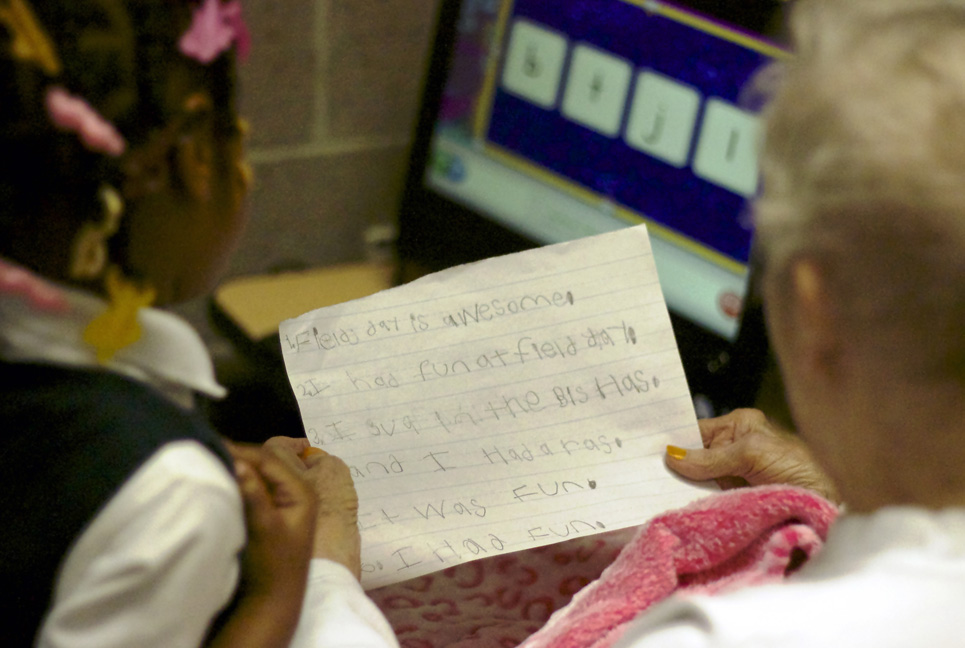 So, to honor Katherine, an unsung American hero, Crossroads surprised her with a trip back to school! As easy as A, B, C, 1, 2, 3 – Katherine slipped into teacher-mode before a bubbly class of Kindergarteners who were sitting 'crisscross applesauce' style in a circle. They greeted Katherine in unison, "Good morning, Ms. Macre." It was music to her ears. A knowing but wide smile flashed on Katherine's face as she got down to business. In just a couple of minutes, Katherine showed the children how to hold a pencil properly, gently reminded one student to 'wait your turn' and playfully corrected their spelling.
Katherine next read to the students, slipping easily into her soothing sing-song voice. Soon, the rowdy bunch was entranced and hanging on to every word. Later they sang songs together, and one exuberant boy dedicated a 'solo' to her. The students proudly showed Katherine their classroom's new technology – a Smart board to replace the chalkboard; a tablet to replace a…well, tablet. Katherine was impressed not just at the modern technology but also by how advanced the children were in their education.
As was her special way, Katherine praised the students' work, making each child feel extraordinary.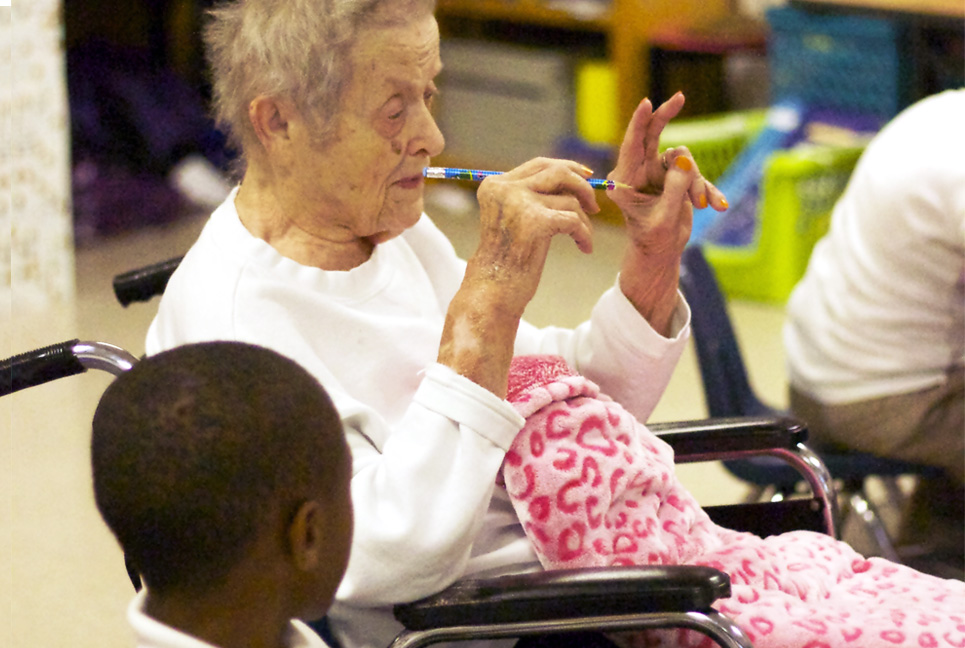 It's still uncertain whether or not Katherine believed that she, indeed, was back in her classroom teaching again (on the car ride home, though, she did mention that she had papers to grade). But the joy that Katherine experienced during her time at school was crystal-clear. Crossroads took Katherine on a journey back in time to a place where she felt happiest and a time when she made a big impression on the most impressionable. It was the greatest gift for Katherine, but the honor was all ours.